Sailboat for sale in
Seattle, Washington
2002 Macgreggor
Year: 2002
Make: Macgreggor
Model:
Type: Day Sailer
Length (feet):
Beam (feet):
Hull Material:
Rigging:
Keel:
Trailer: Included
Use:
Engine Type:
Engine Make:
Primary Fuel Type:
Fuel Capacity:
For Sale By: Private Seller
Hull ID Number:
California Prop 65 Warning:
CLICK HERE TO VIEW THE PRICE
MORE DETAILS ON THIS BOAT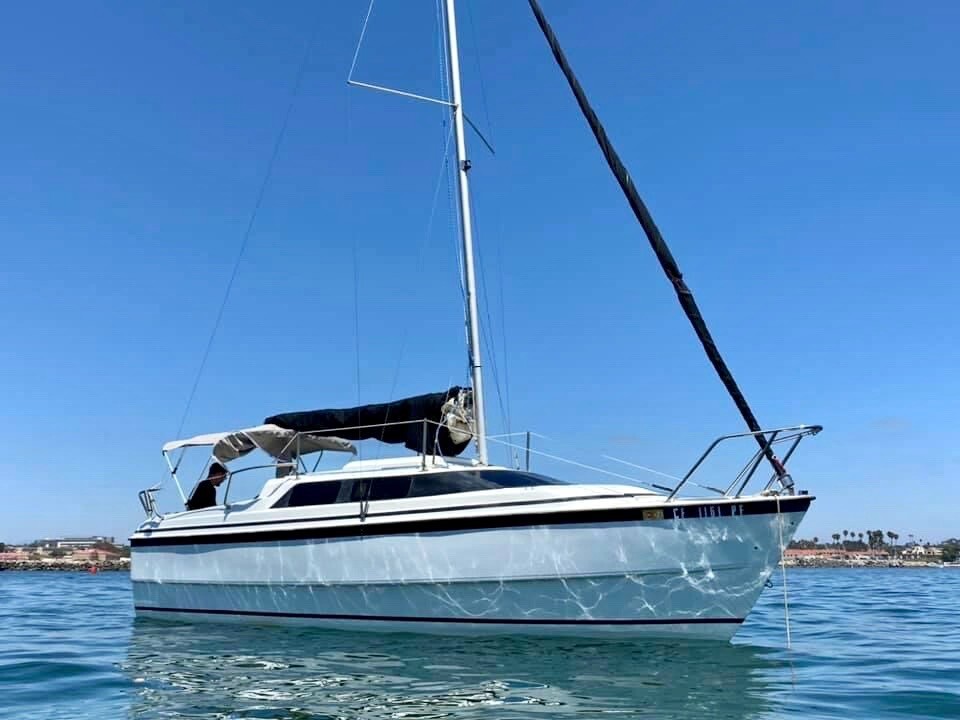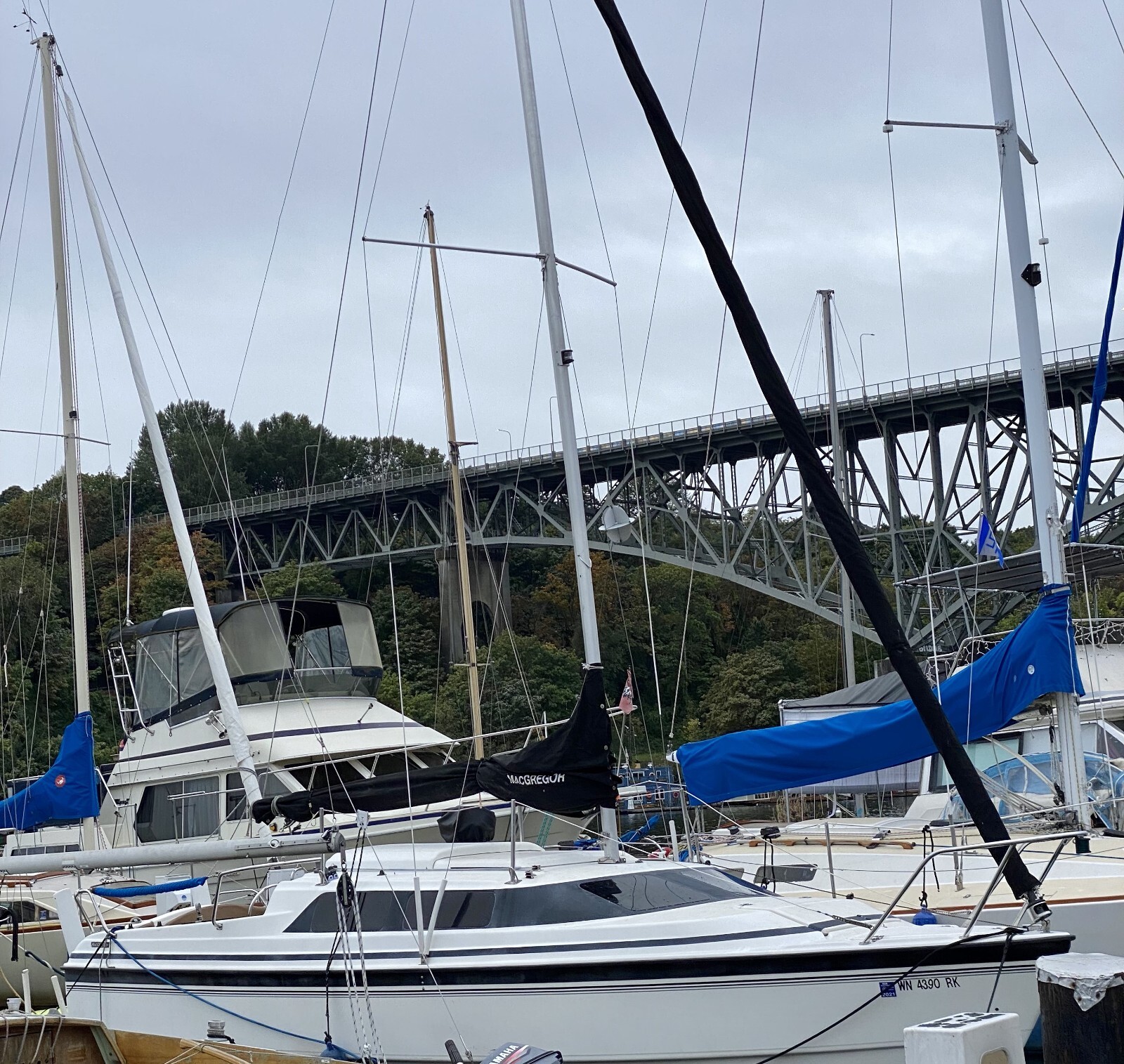 Do you want to see more pictures of this boat? Click Here
Very nice MacGregor 26X Motorsailer with Trailer. These boatsare legendary for their ease of use and low cost of ownership. The MacGregor 26X is a trailer able power sailing vessel. The MacGregor 26X is a true motor-sailor capable of coming to a plane like aspeed boat with its water ballast drained or sailing with the ballast-filled. Includessingle axel trailer, you can take your MacGregor anywhere without a large truckas towing weight is just over 3,000 lbs. It is easy to get in the water or takeout. The rigging can be assembled quickly and you can be on your way with orwithout wind. Currently moored on Lake Union for easy access to downtown.Great way to avoid those rainy commutes. Includes stove, heaters, fans, sink,cooler, chemical toilet. Dimensions· LOA: 24′ 10″· Beam: 7′ 9″· Draft: 1′ Board up, 5'9″ centerboard down· Displacement: 2550 lbs· Motor: Nissan (Tohatsu) NSD 50A Direct Fuel Injection· Ballast: Fixed 300 lbs, Water 1150 lbsConstruction· White fiberglass hull· White fiberglass non-skid deck· Black fiberglass bottom · Centerboard swing keel · Transom Hung Dual rudder· Bow pulpit· Single lifelines· Hatch· Wheel· Full EnclosureAccommodations· This boat sleeps 6 (4 adults)· One head with manual flushing and portable holdingtank. · There is a sink and vanity.· Cabin Lighting · Dinette · Dinette Table· The galley has a single fiberglass sink andalcohol stove. Easy to attach a fresh water pump faucet for the sink.· The exterior upholstery is beige and theinterior cushions blue. Electronics· 2 12-volt batteries· 110 volt- shore power with cord· Circuit breakers· Invertor· Cabin, Navigation and Anchor lights· VHF – Standard Horizon (fixed plus binnaclemount in cabin)· Lowrance Elite 4 DSI Sonar depth finder· Starting Type (Electric)· Throttle/shift: Mech (Included)Sails· Main Sail (Included)· Jib (included)· Sail covers for both (Topsail and Mainsail)· Rigged for Single Handed operation Propulsion· Nissan (Tohatsu) Outboard TLDI 50.0 hp(original)· Model: NSD50A· Includes Owners Operating Manual TLDINSD50A (95pg.)· Includes Parts Catalog TLDI NSD50A (110pg.)· Nissan · Direct Fuel Injection· 195 pounds· 3 Cylinder· TLDI- T – Two Stroke- L – Low Pressure- D – Direct- Total Power 50hp· Includes Owners Operating Manual TLDINSD50A (95pg.)· Includes Parts Catalog TLDI NSD50A (110pg.) Deck Gear· Anchor · Anchor Rode (Chain and Rode)· Bench Seat· 3 pole Bimini top kit, and Sun Shade BoatCanopy. The sunshade may be lowered towards the rear of the cockpit when not inuse. When up, the position is ideal to protect the helmsman from the sun whileunder sail or power· Large Canvas Dodger, (Companionway sun and rainshade). Sunbrella cloth with vinyl windows and aluminum frame. Front window hastwo zippers to allow the front section to roll up for airflow and improvedvisibility. The large dodger leaves just enough space outside to walk forward.The winches are on the inside.· Bow Rail· Cleats – Fixed· Cockpit Seating· Rub Rails· Steering Wheel· Swim Ladder Additional Gear· Anchor locker· 4 life jackets· Dock lines· 4 fenders· Fire extinguisher· Boat hook· Air Horn· Flare gun· Portable Solar Panel· Engine Kill Switch (Included)- Owner's Manual(Included)· Full canvas enclosure – MacGregor SunbrellaCanvas mainsail cover· MacGregor canvas headsail sock· CDI Flexible Furler4/6 with owner's manual· Mast Raising System with winch. This is thenewer winch style mast raising system for use on all MacGregor boats. IncludesBock and Tackle, Side Support Wires, (Baby Stays), line, and angle brackets Trailer- MacGregor with surge brakes – Titan60· Trailer w/winch, & jack (new tires and spare& recent bearings serviced and only used twice since servicing)Walker Bay 8 Dinghy· Traditional hull shape can be rowed, motored orsailed· Durable one-piece, roto-molded, high-impactpolypropylene construction· Round hull, wide (4'4″) beam and highlapstrake-style gunnels offer stability· Non-skid, draining floor with rowing footrest· Includes exclusive Hydro Curve oars· Up to 2hp motor capacity· Up to 425lb. or two-person capacity· 2 oars· Walker Bay 8 RID (Rigid Inflatable Dinghy)conversion kit· Electric motor with 12v Battery Rigging· Aluminum spar and aluminum boom· Rudder (2 flip up)· Retractable Centerboard allows 1' draft or 5'9″ centerboard down· Backstay (Included)- Boom (Included)· Lifelines (Included)· All Rigging Hardware (Included + extra set)· All Running Rigging (Included + extra set)· Standing Rigging (Included)· Winches – 2 deck and one for Mast Raising system= 3/8″ x 48′- Main Halyard = 5/16″ x 66′ – Topping Lift = 1/4″ x 66′ – Boom Vang = 3/8″ x 17′ – Jib Sheets = 3/8″ x 44′ – Main Sheet = 3/8″ x 31′ – Roller furling line = 3/16″ x 32' – Boom preventer = 1/4″ x 50′ – Centerboard line 5/16 x 16Mast top wind vane and Masthead light needs replacement.Electrical for Masthead Light is operational. This is part sailboat and part powerboat. On a windless daythe max rated 50 HP Outboard the boat will do 12 mph and when the wind isblowing, the boat sails very well. She'swater ballasted, so the empty weight of the boat is only 2,350 lbs. The traileris another 710, so the towing weight is just over 3,000 lbs – no large towvehicle needed. Not bad for a boat with loads of interior comfort to includeberths for 6 (one of them is king-sized) and a completely enclosed, privatehead as well as a complete galley. 5'6"headroom. The cockpit is large, self-bailing and has wheel steering .Thehelmsman seat is hinged so entry into the water, or the ground when on thetrailer (or also to gain access to the outboard) is simple. The mast is deckhinged and the boat can be rigged in about 10 minutes. The roller furling makesfor easy sail handling – no need to go forward to pull out, or pull in the Jib.