Boat for sale in
Jacksonville, Florida
Make:
CLICK HERE TO VIEW THE PRICE
MORE DETAILS ON THIS OTHER BOATS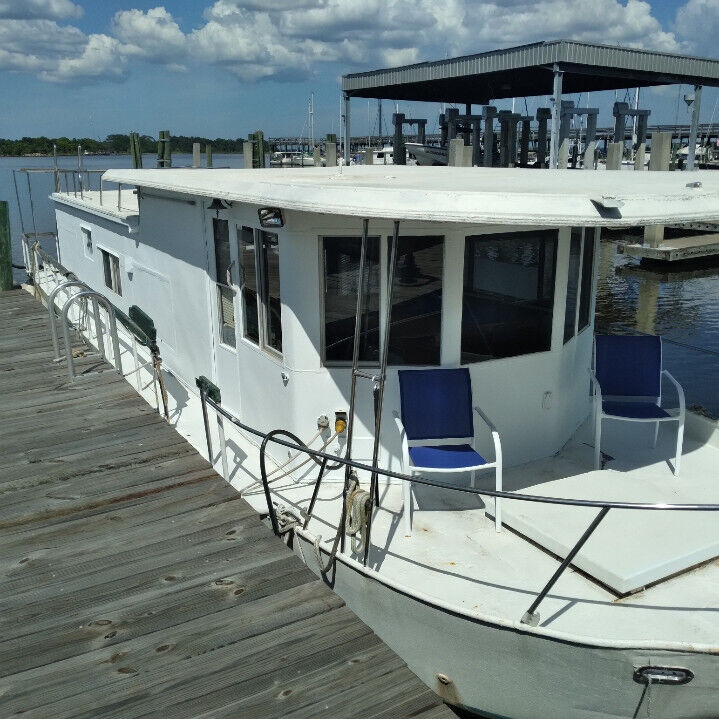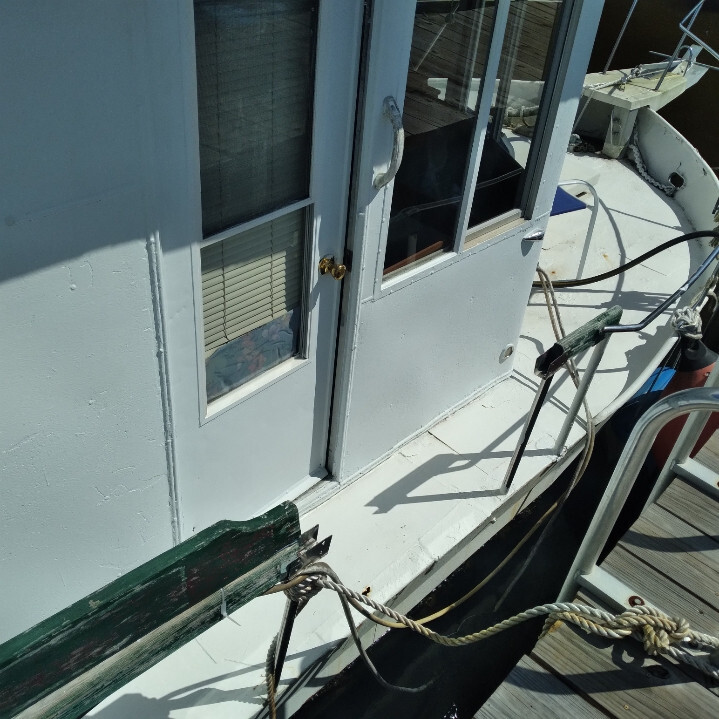 Do you want to see more pictures of this boat? Click Here
1968 52′ Houseboat for sale in Florida. Big, strong, clean, reliable, loaded with character and merely miles from the beach. Houseboat Dimensions (per Certificate of Documentation): 52′ (L) x 12′ (W) x 3.1′ (D) Houseboat Features (inside): 2 queen beds (captain's quarters; daybed in LR converts to optional queen); leather, full-reclining chair; a clean functional kitchen (cold refrigerator, 2-burner stove, cooker/oven, double sink w/spray gun, under-cabinet lighting); full bathroom (Shower, sink, toilet), two clean and chilly AC's (large in main; small in captain's quarters); hot water heater for all bathing and other-cleaning needs. There are windows, shelving and storage bins–throughout the house boat–including a few hand, below-deck access points (via hatches), one (front room) of which is pictured in the pictures. All of that helps to keep the houseboat organized, practical, airy, and voluminous. (Who really wants a dark, cramped, small-house functionality and aesthetic?!) Houseboat Features (exterior): The hull and deck are safe and solid (no one is falling through it!) That said, the deck does have 5-10 small holes, not one of which exceeds 6″ (I am inclined to think 4″, but am not certain). All holes have been steel-brushed, treated with rust hardener, and covered with 22-gauge steel plates. The entire deck has received 3 coats of Killz 1/2 within the past year – for added protection. As for the roof itself, it has received, as well, two treatments of roofing sealant – as a preventative measure (that was not occasioned by any leaks). The front can easily accommodate a couple of lawn chair-filled folks, and assorted decorations. All deck treatments have been applied within the previous 15 months. The chrome trim? Superb in its sheen and strength (much value here). Those guard poles and rails? Strong and reliable. Onshore power: 2 x 30 AMP. Offshore power: 12-Volt w/easy access (housed in the Houseboat Features (below-deck): I would put the volume safely at 250 cubic feet (5′ x 5′ x 10′ storage unit) for the area covered by the two external hatch accesses. Possibilities Each sleeping area has a separate entrance, a queen-sized bed, an AC, and a separate deck. Each deck has a frame for a canvased enclosure for added shade and privacy; each room benefits from having a centrally located kitchen area. Add that the houseboat is a big one, which does not require walk for upstairs (a challenge for many persons), and: An opportunity for a couple and/or small family? A cool, retro Airbnb money-maker? A start-up food-service vessel? Eat on the deck? A place for the kids/family to have fun, when they come to town? Some combination of the above? Houseboat (+ Florida + beach?) = inexpensive, convenient and healthy living, either way… Caveats: My boat has neither a motor (entirely removed prior to purchase – a good thing, in that it lightens its load and increases storage space?) nor a trailer. Consequently, you would have to get it up the St. Johns river and/or out of the water, if not inclined to keep it situated at the marina in its (awesome, relatively private and noise-free) slip – which may be a possibility (I have no clue). (In that vein, I have been told by a few houseboat owners that even a 75 HP motor could get it up the river, if one does not want to tow it.) There is a lift nearby which, to my knowledge, could easily help to accommodate a land transport. The front window also has a crack/fracture in it. Although not pretty, it has survived very high winds, and appears quite strong. The wooden floors have some discoloration in areas – nothing major, here; a matter of simple staining. Thank your for time, today. My boat is tough, safe, and not without a solid history: it was purchased from the harbor master himself… Its deck, hull, and steel frame – each has been unfazed by at least a couple of hurricanes. It is also sanitary (no stinky boat smell, mites, grunge – filth). I absolutely love it; however, as I love my family more, I need to let it go: $. If you do call it home, I will be there keys and paper work in-hand, with a day's worth of free labor, should you need it: to help you get oriented and situated. (We'll also be able to check out some cool knick knacks which come with your new houseboat.) It is understood that you will be picking up the boat within 3 days of final purchase, unless we work out an agreement!