Offshore Saltwater Fishing Boat for sale in
Annapolis, Maryland
1994 LUHRS TOURNAMENT 320 Tournament Sport Fishing Cruiser
Year: 1994
Make: LUHRS TOURNAMENT 320
Type: Sport Fisherman
Model: Tournament Sport Fishing Cruiser
Length (feet): 34
Beam (feet): 13
Hull Material: Fiberglass
Trailer: Not Included
Use: Salt Water
Engine Type: Twin Inboard/Outboard
Engine Make: Dual Chevrolet 454 Big Block Engines
Engine Model: MARINE POWER 454s
Primary Fuel Type: Gas
Fuel Capacity:
For Sale By: Private Seller
Hull ID Number:
CLICK HERE TO VIEW THE PRICE
MORE DETAILS ON THIS OFFSHORE SALTWATER FISHING BOAT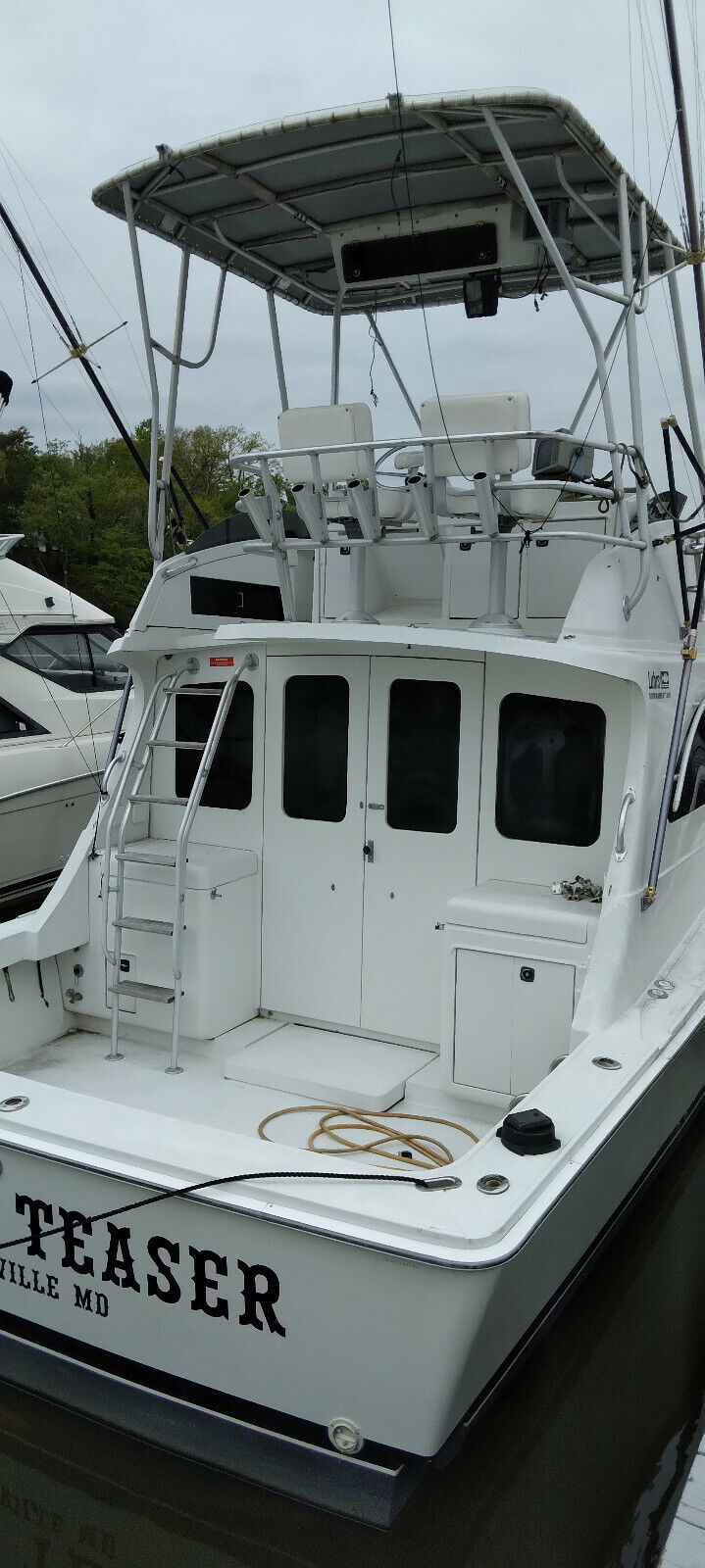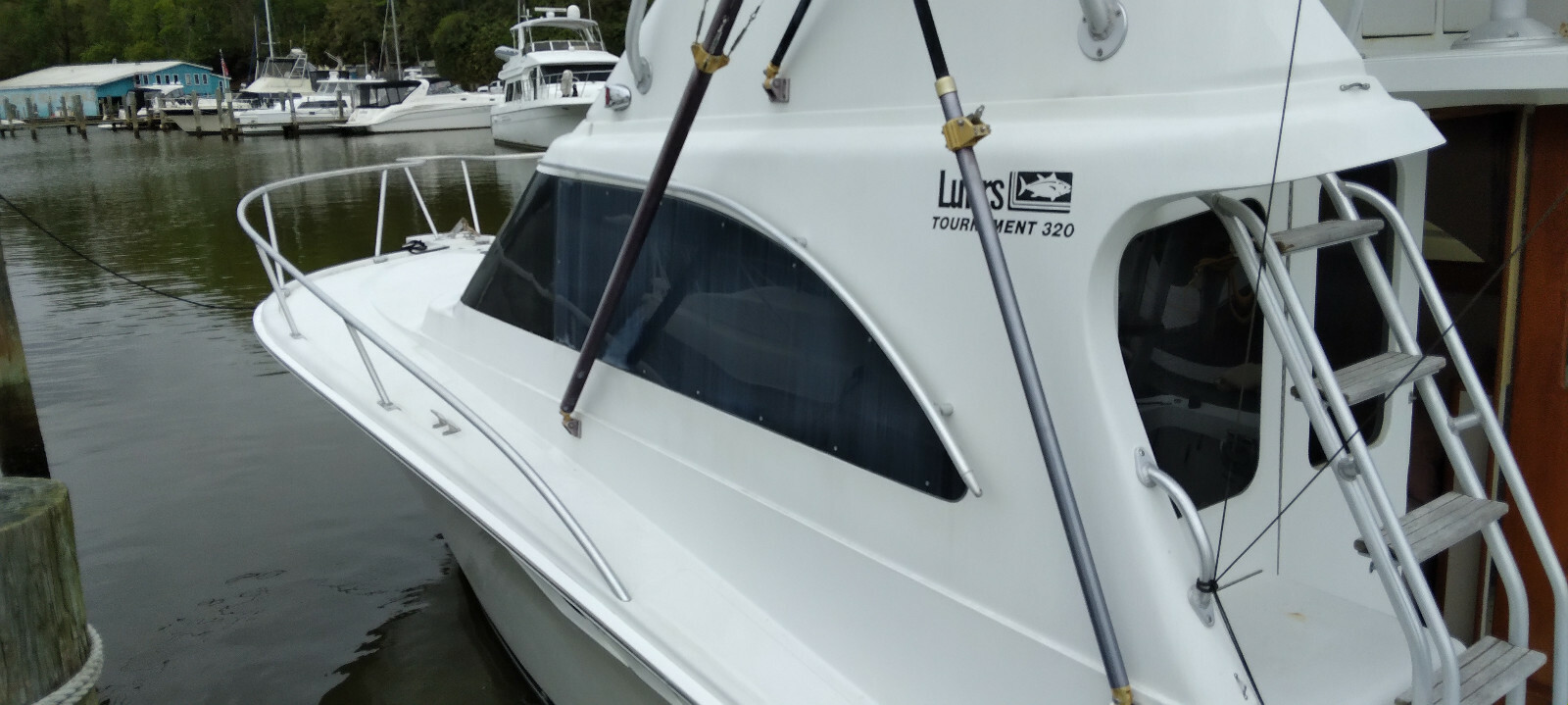 Do you want to see more pictures of this boat? Click Here
Do a google search for Luhrs 320 For Sale and look at the sisterships available around the world. Unless you want to go for the 50 year old Luhrs Super 320 for sale in Virginia for $27,999, the cheapest modern Luhrs 320 for sale anywhere on the brokerage sites is the one in the 320 Tournament (sistership for this vessel) for sale for $42,500. All the other Luhrs 320s (Tournaments, Opens and Convertibles) are between $50K to $150K. Why do the twenty five year old models of Luhrs 320 sell for as much as a five year old vessels of the same size in a less reputable brand? This is because Luhrs has earned its reputation as one of the finest brands in the world for sport fishing ocean cruisers. They are very well built and well appointed vessels. HISTORY OF LUHRS YACHTS. The history of Luhrs can be traced back to the 1830's when a a man by the name of Henry Luhrs immigrated to the United States from Germany. Henry almost immediately became involved in the marine trade upon his arrival, supplying ships in New York City. Luhrs eventually owned his own chandlery, selling supplies and equipment for boats and ships and he even bought a ship of his own, The Sophia R. Luhrs. His grandson, another Henry, shared the same love of the sea and continued the family heritage by building and repairing boats on the New Jersey coast. About 100 years after Henry Luhrs started his business, his grandson, also a Henry who had a love for the sea, opened a small shipyard in Morgan, New Jersey. There, he continued his family heritage by building and repairing boats. Soon Henry's shipyard grew into a thriving business which he named the Henry Luhrs Sea Skiff Company. As the company grew, Henry's sons became involved and before they knew it business had boomed into production of over 1200 boats a year. In 1965, Bangor Punta, a large timber company, Bangor Punta, offered to buy Henry's business for an amount that he couldn't refuse and Henry Luhrs Sea Skiff Company was sold. Soon after the sale, sons John and Warren ventured out on their own and purchased Silverton Sea Skiffs, a fledgling builder in Tom's River, New Jersey. Following in their father's footsteps, the brothers were very successful and were soon ready to expand. Warren, who was also an avid sailor, knew they could design boats for the sailing market as well. That realization led to the founding of Hunter Marine in 1973 and was soon followed by Mainship in 1978. The family finally reclaimed the Luhrs name in 1985 and began production under it in 1986. A new production facility was opened in St. Augustine, Florida in 1987 to accommodate the brand's growth and the demand for Luhrs boats. The St. Augustine facility has since been expanded several times and a new facility in Midway, GA was added in 1999 to help meet demand. The Luhrs Corporation, now employee owned, continues to serve the needs of sportfisherman by building some of the best mid-size fishing boats in the world. Speed & Distance Cruising Speed 25kn Max Speed 35kn Dimensions Length Overall 34ft Beam 13ft Miscellaneous Windlass Electric Windlass Tanks Fresh Water Tank 60 gal () Fuel Tank 300 gal () Holding Tank 15 gal () Accommodations Single Berths 4 Double Berths 1 Cabins 1 Heads 1 Half Price Yachts ARE YOU TRYING TO BUY TWICE THE BOAT YOUR BUDGET CAN AFFORD? NEED TO SELL RIGHT AWAY NO MATTER THE PRICE? GIVE US A CALL! HALF PRICE YACHTS (970) 319-6408 At Half Price Yachts we specialize in helping normal people achieve exceptional purchasing power. We help boat buyers embrace an exceptional lifestyle that normally might be beyond their financial comfort zone. We help boat owners become boat sellers when they don't want to spend another two years of slip fees and maintenance costs waiting for a full price offer. If you want to join the yachting lifestyle or perhaps to make an upgrade in length or quality from your existing yacht, but without paying full price, we are America's connection to affordable vessels that need a bit of TLC and elbow grease investment in exchange for savings of tens of thousands of dollars off fair retail market pricing for the same vessel in turn-key condition. Nearly every vessel we sell has some amount of "elbow grease savings" built into its situation. Usually this also comes with a backstory. We specialize in yachts whose former owners fell on hard times for whatever reason (divorces, estate sales, back surgery…all sorts of crazy stories). Or sometimes they simply became too busy with work or had a spouse that insists that its time to sell the boat for whatever price it can fetch this week as a compromise toward buying that new beach condo. Every vessel has a story. The one criteria we have in picking which boats we either purchase to re-sell or boats we represent, is that with a little investment of sweat equity and a few bucks a buyer will have the opportunity to acquire a vessel for half the price of what every other vessel of that make, year and model sells for through a traditional yacht listing service or yacht brokerage. If you want a 50% off deal you've found your connection to make that possible. Whether you want to acquire a million dollar yacht for a mere 500K or to obtain a $200,000 global cruiser for a mere hundred thousand or a real classic FIXER-UPPER for a mere ten thousand with a fair market value of twenty thousand in its current "project" status…you have come to the right place. Our team has a combined 45 plus years of experience in the used yacht marketplace in the United States and Internationally, and through our carefully cultivated network of connections we are the first folks who get an opportunity to purchase or list vessels anywhere in the US or globally that are able to be acquired for half off their fair market value. We have vessels at all stages of the acquisition and representation stage all across the US and in your favorite cruising grounds. If you have a vessel you wish to sell quickly and easily and you are willing to accept only 50% of its fair market value, give us a call and we will put it on our fast-track to connect your vessel with one of our eager buyers who are ready to drop quick cash to save 50% or more. If you are in the market to buy a particular type of yacht and you know that the boat you really want will likely cost "fair market" twice what you can afford to spend, give us a call 9-5 M-F (ET) and perhaps we will already have an inside track on just such a vessel with the sort of deep discount that will align your modest budget with your exceptional dreams. Half Price Yachts (970) 319 6408 IF A BOAT INSPECTION IS NECESSARY FOR YOU TO FEEL CONFIDENT ABOUT COMMITTING TO A PURCHASE PLEASE CALL TO ARRANGE A BOAT INSPECTION PRIOR TO PLACING YOUR BID. YOUR BID IS A LEGALLY BINDING CONTRACT TO PURCHASE THIS VESSEL IN AS IS CONDITION PLEASE SCHEDULE YOUR BOAT INSPECTION PRIOR TO PLACING YOUR BID. 970 319 6408 THE AUCTION CLOSES AT 1PM ET ON FRIDAY . FULL PAYMENT IS DUE WITHIN 36 HOURS AFTER AUCTION CLOSES SO MAKE SURE TO LINE UP YOUR FUNDS IN ADVANCE. SOMETIMES THE LAST FEW MINUTES OF THE AUCTION CAN DETERMINE THE WINNER OF THE AUCTION, SO IN ORDER TO SECURE YOUR OPPORTUNITY TO ACQUIRE THIS AMAZING CRUISING YACHT AT EBAY AUCTION PRICES MAKE SURE TO EITHER GET YOUR VERY BEST BID IN SAFELY BEFORE THE CLOSE OF THE AUCTION OR ELSE SET THE ALARM ON YOUR PHONE TO ALERT YOU TO LOG INTO YOUR ACCOUNT AND MONITOR YOUR BIDDING STATUS IN THE MINUTES BEFORE THE AUCTION CLOSES. A deposit of $1000 is due via Paypal right after the close of the auction to demonstrate your seriousness to follow through and have skin in the game. Payment in full is due within 3 days via Cash in Person, Bank Transfer, or Cashier's Check with managers receipt as proof of payment at any Wells Fargo Bank. If you are the high bidder at the close of the auction please call us right after auction closes to discuss the details of the transaction & us what name/ address you want on the Bill of Sale. 970 319-6408 CLEAR MARYLAND TITLE. 1994 Luhrs 32 Tournament Pros: Boat overall is in decent shape, it does need engine work starboard engine has a burnt valve. For about $1000 worth of engine work you can save 25-30K on this vessel compared to buying one of the same model in turnkey condition from a broker. Currently spark plugs are out of that engine , it needs a cylinder head on the one bank , used heads are available around $400. We did have it professionally diagnosed by a mechanic who suggested to buy a used head and he could install it . The engines are Marine Power 454's which are marine modified Chevrolet big blocks . Boat just had a professional bottom job done this spring which included having it taken back to the gelcoat, (no blisters found). Then the hull was barrier coated and fresh bottom paint applied .It has been in the water around 6 weeks. Has a nice canvas enclosure for the cockpit and a bimini cover for over the flybridge helm (currently stowed). Very nice condition interior overall. Cons: Needs cylinder head on 1 bank on Starboard engine. Elevated moisture on deck . The port side salon sofa has some plastic foam residue on the leather cover. It could be professionally cleaned or covered with a new sofa cover. Some minor water drip stains on by deck hatch and on the main cabin mattress and minor blemishes on exterior deck areas.