Sailboat for sale in
Annapolis, Maryland
1973 BUILT BY FAMOUS YACHTBUILDERS PEARSON YACHTS Legendary Designer Bill Shaw
Year: 1973
Make: BUILT BY FAMOUS YACHTBUILDERS PEARSON YACHTS
Model: Legendary Designer Bill Shaw
Type: Capable Blue Water Global Cruiser
Length (feet): 39
Beam (feet): 11.5
Hull Material: Solid Hand Laid Long Strand Woven Roving Fiberglas
Rigging:
Keel:
Trailer: Not Included
Use: Salt Water
Engine Type: Single Inboard/Outboard
Engine Make: Universal
Primary Fuel Type: Diesel
Fuel Capacity:
For Sale By: Private Seller
Hull ID Number:
California Prop 65 Warning:
CLICK HERE TO VIEW THE PRICE
MORE DETAILS ON THIS BOAT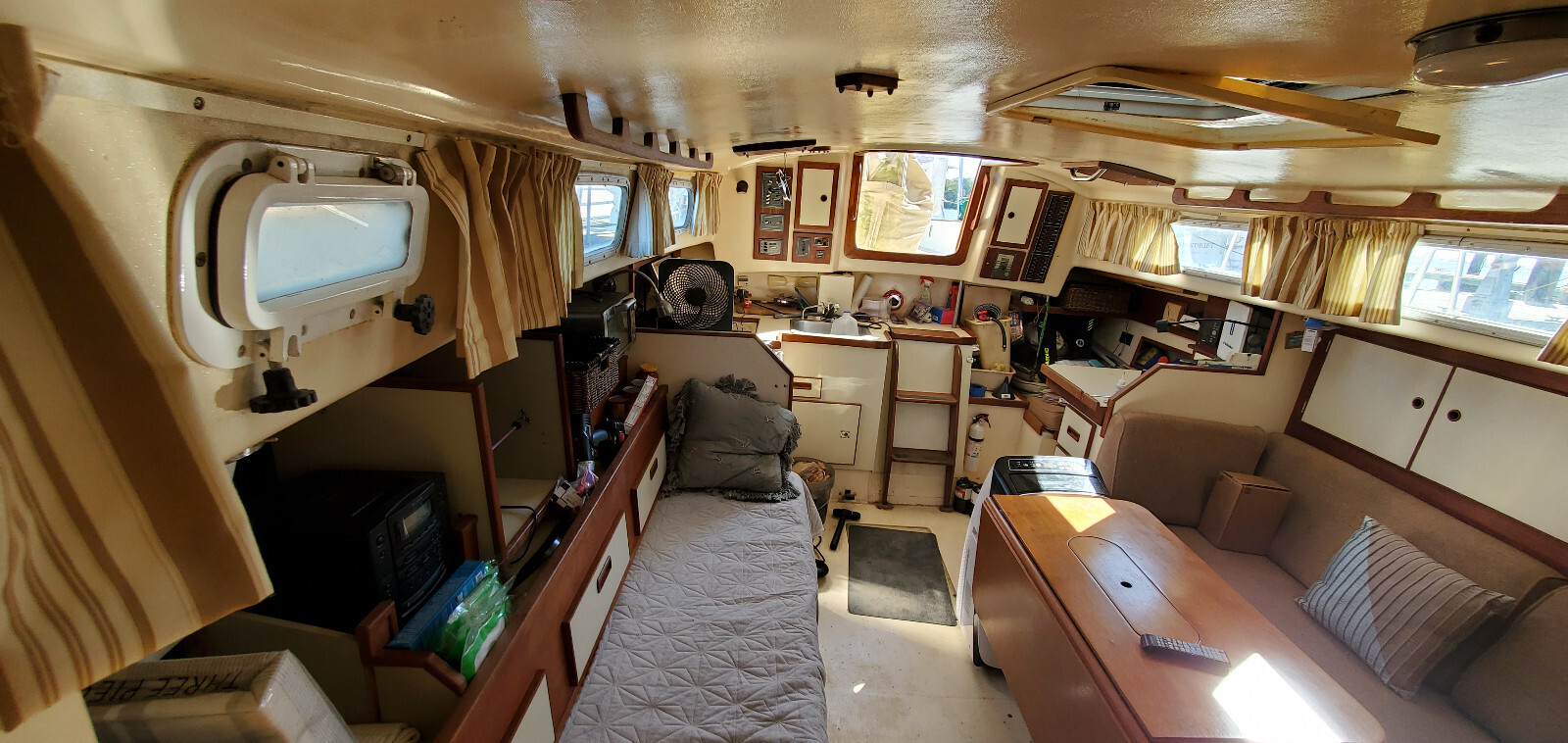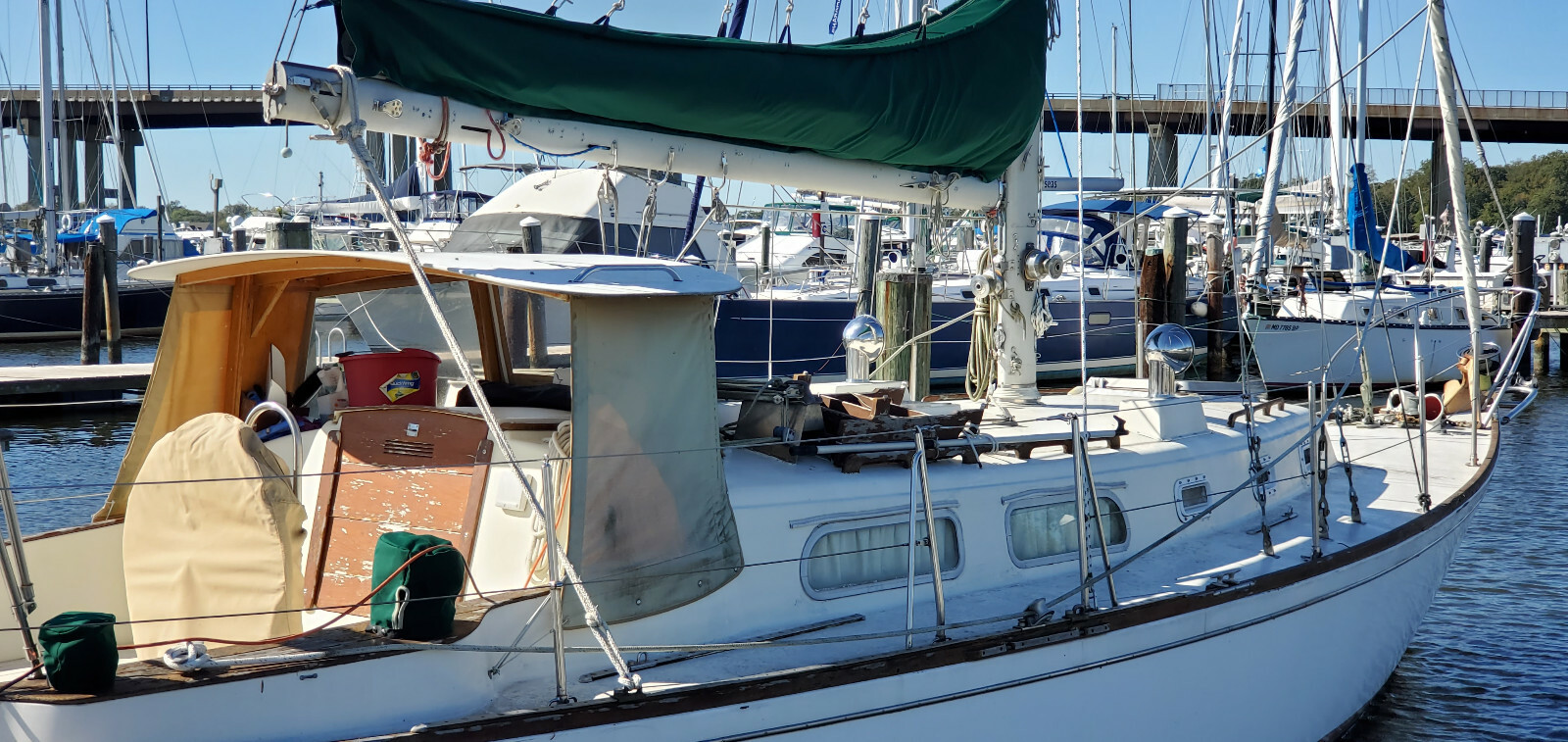 Do you want to see more pictures of this boat? Click Here
Condition Description: Very Good Condition for a classic used boat. Needs one plumbing repair and new varnish on the teak but otherwise seems to be a very well equipted global cruiser with a full equipment package ready to take out for shake down cruises. With a few weekends of sprucing up this yacht can easily be a 50K global cruising vessel and with classic lines that turn heads everywhere you sail. Has autopilot, roller furling, wheel steering, bimini, hard dodger, beautiful galley, stand up shower in the bathroom (head), windlass, good anchor with lots of chain, huge self tailing winches that cost nearly 3K each to have installed. Look from coast to coast and in every cruising harbor in the world and you will not find a better value vessel that has so much for a price point less than half price what other similar blue water capable vessels with this much gear usually sell for. Call for all the details. Will 970 319 6408. Slip is transferable. Dry storage is available nearby. Slip rent and storage both very affordable WHO YOU ARE BUYING FROM We are serious blue water ocean sailors with thousands of miles and many years experience offshore and doing coastal cruising. It is our passion to help other people discover the sailing lifestyle, and especially the more serious cruising lifestyle. Yachting is typically considered a rich man's sport, and it certainly is if you pay full price for everything and make the necessary investments in proper off-shore equipment and a safe "Blue Water Capable" vessel in turn key condition. However, there are ways to make this lifestyle possible and affordable to middle class people and retirees who don't possess a three million dollar investment portfolio. But doing that properly and safely and knowing where to find your savings and where to "not skimp" is the knowledge that can sometimes make the difference between catastrophe or pleasant exploring once you set out on your adventure of a lifetime. We are passionate about sharing our knowledge and helping people discover this amazing lifestyle…and doing so in a way that keeps them safe, happy and in the black. We already have our keeper boat and don't need another one, but every once in a while we discover through our friends and connections at boatyards, marinas and marine insurance companies a boat that is a terrific bargain that isn't getting the love and attention and exercise that it deserves, and we will try to help find a new home for it. This is one of those rare boats. If you want to call me and discuss your cruising or cruising plans and dreams and whether or not this boat might actually work to suit your needs I will be happy to speak with you and give you my honest opinion about the feasibility of your plans and whether this vessel might or might not work for you. Feel free to call and chat. WILLIAM AT 970 319-6408 MOVING A BIG YACHT WITH A BOAT MOVER CAN BE VERY EXPENSIVE. OFTEN $4 OR MORE PER MILE. I AM HAPPY TO HELP YOU UNDERSTAND THE OPTIONS IN THAT REGARD IF YOU WANT TO GIVE ME A CALL. By far the most affordable way to move a boat is by water, so please consider whether your location is accessible to move the boat by water or whether you will need to pay the higher cost of having it moved by truck and trailer. Also consider the time it will take to prepare for a voyage and whether your sailing skills or those of friends or other sailors you might find through the yacht crew websites are at the level necessary to make a safe voyage from the ocean where the boat is located to your home port. AND NOW IF YOU AREN'T YET TIRED OF READING A FEW INSIGHTS TO SHARE ABOUT BUYING BOATS AND CHOOSING THE RIGHT BOAT FOR LIVE-ABOARD CRUISING: A little about what we do: Our passion is to assist folks who are making a transition from day sailing or coastal cruising to becoming full-time live-aboard world cruisers. We also assist new sailors who are just getting into the sport of sailing by advising them on how to develop their skills and how to make plans to pursue the dream of cruising and world traveling full-time. We have extensive contacts and resources for finding good world cruising boats at far below their fair market value, and occasionally we discover an amazing neglected vessel at a price that we know may enable a cruising family or a retired couple on fixed income the ability to pursue the dream of cruising without the sort of means and savings normally associated with pursuing this lifestyle. In those cases, like this boat, we work to try and find a new home for a good "below market value" boat, with people who will fully restore the vessel, and hopefully use it for the serious cruising that the boat was designed for. There are many aspects of life where experience really matters, but none so much as global cruising. When you are planning to take a small boat across vast oceans and visit foreign ports of call on your own terms you must truly learn to become Master's of your Own Destiny. It doesn't matter how wealthy you are or how talented you are at managing large organizations or companies with dozens of staff people. When you are on a boat in the middle of the ocean, the choices you have made, the choices you will make and your own internal skills and the undeniable truth of how well or poorly you have planned for your expedition, are the factors that will determine whether your experiences become a positive adventure or a frightening (or even life threatening) catastrophe. When you are looking at a boat parked peacefully at a dock or on jack stands at a boat yard, you will be tempted to judge it based on whether the lines are nice and whether it is pretty or ugly and whether it is new or old and well kept or run down. The ocean however, operates according to immutable laws of physics. The ocean does not care whether it sinks a pretty boat or keeps an ugly one floating. It does not care whether you are a skilled sailor with dozens or years experience under your shade hat or whether you are an amateur on your first weekend pleasure cruise. You will be served exactly the same conditions of wind and waves whether you were born wealthy or if you were raised in a cave by baboons. The only control you have over these situations is knowing when to sail and when not to sail, and you can prepare yourself so that when the wrong situation strikes, if it ever does, you are skilled and prepared to deal with it and have a vessel that is prepared to handle the same. For people who are wanting to go cruising full-time, or who want to go from being pleasure sailors to competent seamen and seawomen, choosing the right boat is the first and sometimes ultimately most important decision of their nautical lives. Of course you can always sell or trade a boat and then buy a different one, but still the choice of each boat will influence the experiences you have and it will determine in many ways the capabilities or limitations of what you can or can't do while you have that boat for your home—even if it is only home for a few weekends here and there. There are many nuances and subtleties to sailing, as well as to each individual vessel. A boat that may be just exactly perfect for one sailor or family of sailors, may be completely the wrong boat to suit another person's dreams. By nature, boats require a lot of maintenance and upgrades, and if you are someone who wants all the possible bells and whistles, boating can be a very expensive occupation. However, there are also ways to save a lot of money and still pursue the dream effectively and safely and create a new floating paradise for yourself. But each person or each couple's needs are different. There is no such boat as a boat that is not a project boat. A cruiser friend I know well (a relatively wealthy man at the time) purchased a brand new Beneteau 46 for his family to live on for years and to cruise the world on, the first thing he did to a brand new half million dollar boat was to spend another $27K on equipment upgrades, new electronics installations and custom modifications. No boat, no matter how shiny and brand new, is exactly right for everyone's individual tastes and needs, and no boat comes straight from the factory completely ready to do anything other than Wednesday afternoon beer can races. I often get asked by people who are shopping for a used boat to go cruising the world, "Is this boat ready to cross the Atlantic?" or "Does it need anything before it is 'Ready to Sail." The very nature of that question is a showcase of their naivety. Even if the answer were "Yes, the boat is ready." (which would be impossible to have any boat ready unless you have spent thousands of dollars on a cruising chandlery and provisioning service ahead of time) the greater question is "Are such ignorant sailors who need to ask such questions ready themselves?" Even if they had the absolutely perfect boat, prepared ahead of time by die-hard professionals to get it ready to cast off the lines and sail to points distant and exotic, would the sailors know where everything is at on the boat and how to operate those systems and how not to break them with ignorant mistakes or how to fix them once broken? And if they knew all those things, would the boat be equipped with the necessary repair tools and supplies as part of the process of getting it ready to sail? So all these are big questions, and the only easy answer is that any sailor must become intimately familiar with their vessel prior to making long voyages beyond sight of land. The easiest way to become familiar with a boat so that it is not a stranger but rather a trusted old friend is to do a lot of weekend coastal cruising with it, while you work all the bugs out. Also, the more projects and upgrades you do yourself the more familiar you will be with how they work, how to maintain them and how to fix them again if anything every goes wrong. To depend on the expertise of professionals left behind in a port in a distant country you cleared out of months ago is only to invite future disaster…and its also much harder on the wallet. So any time you can add to your own skills and knowledge of your own boat by doing your own work, or hiring a professional to help you do it yourself, you are preparing yourself for future success as a cruiser. Any boat, even a brand new boat, will have things about it that you want to change or upgrade or move or install prior to making long voyages. The better questions to ask are: "What is the proper amount of maintenance and upgrades that I will make to my vessel prior to setting sail? How many things need to be changed or fixed before I leave the continental US? How many projects will I work on, as little projects along the way, when I have a slow day at a boring anchorage and there are no cruiser parties to attend and no interesting conversations of the side channels of the VHF. How many projects are absolutely vital to get accomplished before I begin actively using the boat as a full time residence and a floating RV that can sail to any country with a coastline?" How many projects do I want to tackle myself if it means I can save literally tens of thousands of dollars on the purchase price of a boat, and how much more ultimate value do I get for my money by buying a larger or more seaworthy boat with a few bigger projects to tackle than if I buy a smaller or more flimsy boat that is cleaned up nicer and has fewer problems to address. (Remember the ultimate cosmic law of boating – even if you can't see any problems at all with a boat, and no projects needing doing, as soon as you own it and begin to sail it, you will start to find those quirks and bugs) So don't fool yourself into believing that you can simply buy a shiny new boat from a broker at full market value, or even by paying more than boat blue book value, to avoid ever having to make repairs or upgrades. Any experienced sailor or boating professional other than someone selling fancy new boats will admit to you that there is no such boat other than a "project boat." The only question is "What are the projects and how much money will I save by doing them myself versus hiring someone else to complete them?" Every boat that I have ever bought or ever sold, which is now many dozens of them, had varying degrees of things needing to be improved about it. Even the brand new boats straight from the showroom floor or boat show sales dock will need bottom painting and new zincs and fuel cleansing treatments and oil changes and manifold and riser inspections within a matter or months of casual weekend use. The longer any boat sits without the proper level of loving regular maintenance the faster it will deteriorate, and tiny 15 minute projects will turn into hour-long projects and hour-long projects will turn into day-long or week-long projects due to continuing neglect. The quality of the build is also important. A cheap boat will have cheap boat problems, and it will have serious issues far faster and more frequently than a very well built boat from an esteemed yacht designer and builder even if the better boat looks worse initially. In many ways you are better off to buy an older and more well regarded vessel in worse "first impressions" condition than to buy a shiny and well kept cheaper new boat. In the long run the better boat will cause far fewer headaches once you have it restored fully and you are taking care of it yourself, whereas the cheap but glossy boat may still look new and shiny for years, but begin having serious and costly problems that cannot be seen even while it still looks great in Facebook boat pictures. Boating is like riding a horse or driving a high performance sports car. You always have to be involved in the life of your boat whether you use it frequently or not. But this is not a bad thing, because it is part of the pride of ownership, and the regular maintenance and upkeep and small projects is what enables you to avoid the big ones or to at least know which big ones you need to do sooner and which ones can wait till later. — As you will guess by now, I'm a bit of a philosopher sailor when it comes to helping folks find just the right boat to serve their needs. I am currently writing a book on that very topic which will be called, "The Seven Questions of Cruising (or) the Seven Questions you should ask yourself before buying a Boat." Here is a quick preview of the questions you should be trying to answer from the introduction to my new book. — When you go to buy a boat, especially if it is your first boat, there are a lot of decisions to be made and hard choices to figure out. Before you begin searching for the correct vessel to serve your needs, you need to first ask yourself, (and your cruising partners/ spouse etc) some important questions which will help you immensely in the quest to find the perfect small ship to suit your needs. Question # 1- Where do you want to sail to (now and also possibly in the future)? #2 – Who might be going with you and/or who might want to visit you and stay on the boat with you once you get to that exotic foreign port (if global cruising is your goal) or that incredible weekend getaway spot (if weekend cruising is your thing). #3 – How much do you want to spend on this adventure called boating/sailing/? Also, how much "can" you afford to spend if you happen to take a wrong turn with the adventure and "need" to spend more money to fix a problem or get yourself or your stalwart side-kick (your boat) out of trouble? #4 – How handy are you? (i.e. – Are you someone who naturally takes pride in your ability to figure it out yourself, or are you the person who would rather call an "expert" and pay them to solve whatever problem you are having? #5 – How much time do you have to save yourself money, because in sailing, as well as in life in general "time often equals money." #6 – Are you a weekend warrior and/or charter sailor, or do you want to cruise full time? #7 – Do you care more about Getting There or more about "Being There" once you have arrived? **** Standard Legal Disclaimer – Vessels are sold "As Is" with no warranty either express or implied. The Company listing this vessel for sale offers the details of this vessel in good faith but cannot guarantee or warrant the accuracy of this information nor warrant the condition of the vessel. A buyer should instruct his agents, or his surveyors, to investigate such details as the buyer desires validated. This vessel is offered subject to prior sale, price change, or withdrawal without notice. IF A BOAT INSPECTION IS NECESSARY FOR YOU TO FEEL CONFIDENT ABOUT COMMITTING TO A PURCHASE PLEASE CALL ME TO ARRANGE A BOAT INSPECTION PRIOR TO PLACING YOUR BID. YOUR BID IS A LEGALLY BINDING CONTRACT TO PURCHASE THIS VESSEL IN AS IS CONDITION. PLEASE SCHEDULE YOUR BOAT INSPECTION PRIOR TO PLACING YOUR BID IF THAT IS A CRITERIA FOR YOUR DECISION MAKING PROCESS. Deposit due right after the close of auction via Paypal or Venmo or Ebay system. Balance due within 48 hrs via Cash in Person at the boat, Venmo, Bank Transfer, or Cashier's Check with managers receipt as proof of payment at any Wells Fargo Bank. If you are the high bidder at the close of the auction please call me right after auction closes to discuss the details of the transaction & tell me what name/ address you want on the Bill of Sale. Will 970 319-6408 CLEAR OWNERSHIP PAPERS. THE HISTORY OF PEARSON YACHTS The Idea The year was 1953. It started, naturally enough, with an idea. In 1953 Everett Pearson, who had his first boat at 8 years old, was a Junior at Brown University and his cousin Clinton was in the Navy. They had been sailing all their lives and on spring vacation they built a plug for an 8′ dinghy and started molding fiberglass boats that summer. Clinton came out of the Navy in 1955 and Everett went in and was based out of Newport. At that time Clinton started building an 8′ dinghy and a 15′ runabout behind the house out in Seekonk Massachusetts where he experimented before considering commercial production. Clint ran the operation pretty much by himself from 1955-1957, incorporated in 1956, then when Everett got out of the service in 1958. Production began as Pearson Plastic Corp., with classic models such as the sporty Marauder runabout and the Plebe sailing and Cub rowing dinghy. Clinton and Everett and fellow Brown alumnus Fred Heald started out with their headquarters located in the basement of a textile building in Bristol, Rhode Island. "We couldn't even stand up straight while working on boats because of overhead sprinkler pipes". They experimented with glassing techniques and resin formulae as they went along. They became proficient at the art of lofting fiberglass runabouts and dinghies. They built the 8′ dinghy and runabouts of 15′-20′ until 1959″, branded as Peerless Boats by Pearson. Up to 1961 were the toughest years of the business, as they used a timeclock and logged 93 hour weeks for four years. Everett said "It was a lot of work and a lot of fun. Selling the runabouts was a real rat-race, kind of like selling used cars, it was a real chore to survive while you bang the boats out in the spring and take them to the show to sell in the fall in a cyclical pattern. We really couldn't see the forest for the trees as to where we were really going. Then in 1959 Tom Potter came to us with the plan that he had, a Carl Alberg design. Tom had been with American Boat who was building the Vitesse 40′ Yawl, which became the Block Island 40'. Tom walked in with the plan and we jumped at it! We thought that this would be a goal and a real challenge for us." It was 1959 and the start of the Triton project and Pearson Yachts Incorporated. The Triton The flagship Pearson Triton was designed by Carl Alberg at the request for a "28-footer that sleeps four". It became one of the first fiberglass auxillary sailboats in the country. The design was brought to the Pearsons who worked with Alberg to adapt it to the fiberglass construction which resulted in a roomy interior unlike any comparable wooden boat of its size on the market at the time. They had the opportunity to bring hull #1 to the New York Boatshow in 1959. In preparation for the boat show Everett said "We worked 3 1/2 days straight to get the first boat ready for the show and slept aboard. We loaded it at 2 AM, rode the truck to NYC, the engine still not wired!" At that time, Pearson was down to less than 10 employees and could not come up with the cash for the $1500 balance of the display fee for the NYC Show until a family friend came up with a $3000 loan to get them there. They came back from the Show with 18 cash deposits, all sales direct – no dealers. "We came close to never having our boats." But the Triton went viral at that show with orders upwards of $170,000, so the loan was paid back and the company was off and running. The success of the Triton not only launched Pearson Yachts but also the career of the designer Carl Alberg. Eventually about 750 Tritons would be produced. A quote on Pearson's work in developing construction standards for fiberglass: "We designed the hull laminate from the waterline down so that the boat, laid over on its side with the entire weight of the boat resting on the keel and one square inch of the hull would yield not more than 1/2 inch and produce no structural damage to the boat". The Company In the early 1960's, Pearson Yachts, working in partnership with several famous designers, built a reputation for fine quality construction with sound designs and outstanding beauty and performance. They attracted the attention of Grumman Allied Industries who in 1961 bought a controlling interest in the company and brought stability to the fledgling company. And so began an era of continued steady growth. Everything grew bigger, including the boats themselves. There was a full line of powerboats, and a series of increasingly large and innovative sailing yachts. Among the powerboats was the 34-foot Sunderland; among the sailing auxilliaries, the Invicta 37 and the Rhodes 41. In true entrepreneurial spirit, Clinton left the company in 1964, bought out Sailstar and formed Bristol Yachts, who's first design was Alberg's Bristol 27. Everett left in 1966 to form Tillotson Pearson Inc. (TPI) in industrial applications and boats which included brands such as Freedom, J-Boats, Rampage and Alerion. In 1964 Pearson Yachts had hired a young Naval Architect by the name of Bill Shaw who had sharpened his design skills at the prestigious firm of Sparkman & Stephens, including serving as chief designer of the Americas Cup defender Columbia. He had also exercised hands-on experience building boats in the Far East. He combined the scientific mind of the engineer, the creative eye of the artist, and the realism of the builder and sailor. At Pearson Yachts he carried on the Pearson legacy by leading an in-house design team for a long line of production models at their newly built 100,000 square foot manufacturing facility in Portsmouth, Rhode Island. This location was one of the most prolific boatbuilding operations of their time, providing affordable yachts to the booming market. In Summary To this day, Pearson boats continue to sail the world's oceans and are readily available on the resale market. For a new generation of sailors it is an excellent opportunity for getting started in yacht ownership. Sadly the company closed its doors in 1991 in conjunction with a major recession in the boat building industry, and no more Pearson Yachts were produced. For more history you will find links below to interesting articles on the web. Perhaps to you a new Pearson Yacht is the finalization of a dream, an escape, family fun afloat. Or perhaps it's a shelf full of trophies. To us, however, each Pearson Yacht is a reflection of the philosophy that there's no place in boating for anything less than the highest integrity and quality. As one of the pioneers in fiberglass sailboat construction, all the experience we have goes into every yacht that comes out of the Pearson yard. Design, construction, performance… all combine to produce a yacht that will continue to do whatever you ask of her. No one deserves less. — Pearson Yachts Inc.