Sailboat for sale in
Yankton, South Dakota
1985 CATALINA 30 Most Popular 30ft Yacht of All Time 2001 SAILBOAT HALL OF FAME INDUCTEE C30
Year: 1985
Make: CATALINA 30 Most Popular 30ft Yacht of All Time
Model: 2001 SAILBOAT HALL OF FAME INDUCTEE C30
Type: Cruiser
Length (feet): 30
Beam (feet): 11
Hull Material: Fiberglass
Rigging:
Keel:
Trailer: Included
Use:
Engine Type: Single Inboard/Outboard
Engine Make: Universal
Primary Fuel Type: Gas
Fuel Capacity:
For Sale By: Private Seller
Hull ID Number:
California Prop 65 Warning:
CLICK HERE TO VIEW THE PRICE
MORE DETAILS ON THIS BOAT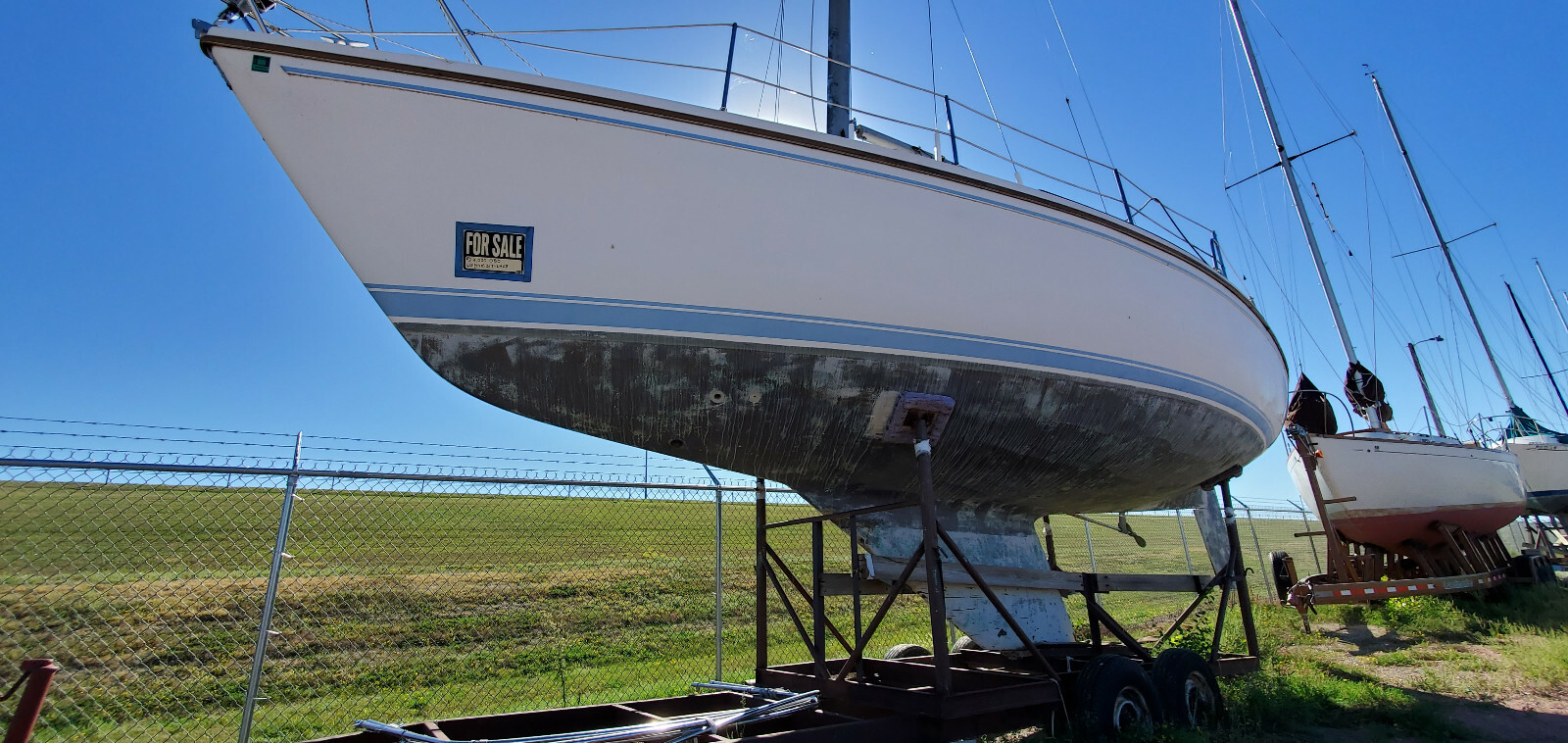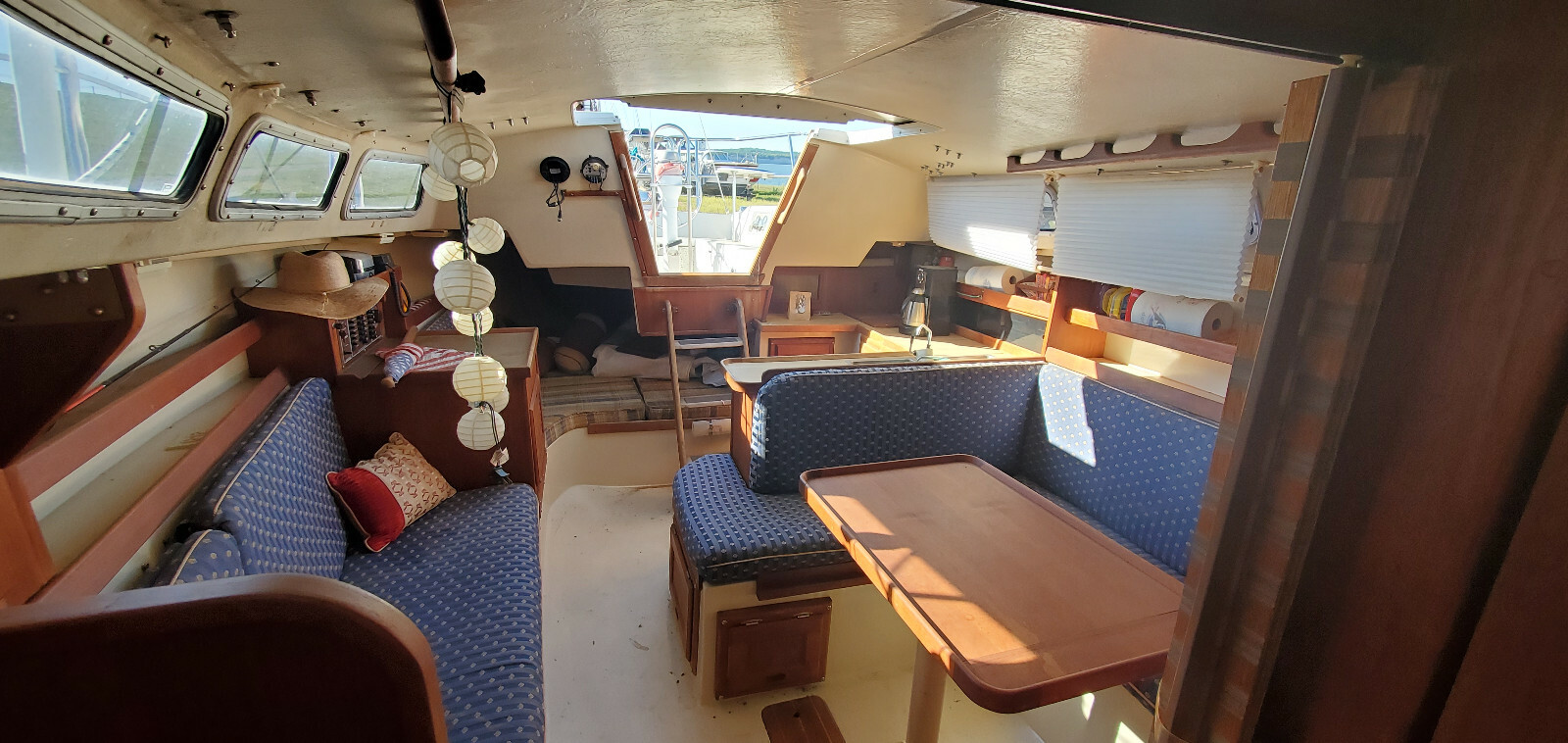 Do you want to see more pictures of this boat? Click Here
Vessel and Trailer are for sale on the private market for $23,750.00. But here on Ebay it is going to sell at a no reserve auction THIS WEEK ONLY unless it sells on the private market before the close of the auction. ROLLER FURLING GENOA, WHEEL STEERING, SELF TAILING WINCHES, EXCELLENT MOTOR, GOOD SAILS, GORGEOUS INTERIOR SLEEPS UP TO 7 — TRAILER INCLUDED SO YOU CAN GO SAIL THE CARIBBEAN ONE SEASON AND THEN TRAILER IT ACROSS I-40 AND SAIL THE CALIFORNIA COASTAL ISLANDS AND BAJA MEXICO THE NEXT SEASON. CONDITION DESCRIPTION THIS BEAUTIFUL VESSEL HAS BEEN PARKED ON ITS TRAILER FOR A COUPLE YEARS BUT IS WAY ABOVE AVERAGE FOR WHAT IT WILL LIKELY GO FOR HERE ON A NO RESERVE. INTERIOR IS JUST PLAIN GORGEOUS. ENGINE WAS PURRING PERRRFECTLY WHEN THE BOAT WAS LAST USED. SAILS ARE VERY GOOD USED CONDITION. TEAK MAY NEED SOME MINOR ATTENTION BUT OVERALL THIS BOAT IS IN BETTER CONDITION THAN 80% OF OTHER CATALINA 30S THAT ARE FOR SALE IN THE 20k to 30k PRICE POINT ON YACHTWORLD & SAILBOAT LISTINGS. GO CHECK FOR YOURSELF & COMPARE THE INTERIOR PHOTOS. But even as nice as this boat is, the best value of all is the fact that it comes w a dual axle trailer. No title for the trailer. It was used for hauling boat out to store for winter. It has one loose piece of steel that needs welding and probably will need new tires, but getting a trailer able to carry a 30 foot Catalina is: 1 – really hard to find, & 2 -a trailer that big usually will cost 5K to 15K for the trailer even if you can find one. ?s call Will 970 319-6408 Why do Catalina Yachts have a more stable re-Sale Value and greater customer following than any other brand of yacht ever built? Why is Catalina the best selling yacht brand of all time across every length/class of racer-cruisers? Why Have Catalina Yachts won Cruising World "Boat of the Year" for 16 different years? The story of Catalina Yachts is the amazing story of Frank Butler and his revolutions brought to the world of yachting. In the world of sailboats, Frank Butler fills the position of who Henry Ford was for the development of automobiles. In the 1950s and 1960s fiberglass sailboats were just beginning to take over from wooden boats. In the 1950s people still believed that wooden boats were stronger and would last longer than those crazy "new" plastic reinforced fiberglass (FRP) boats. But building from fiberglass could save an enormous amount of money on the boatbuilding side, enabling the upper-middle class to finally be able to afford their own small yachts, and yachting was becoming something other than a rich man's sport, which it had been for millenia up until the advent of fiberglass yachts. Boat prices in the 1950s for a new thirty-foot-long well-constructed wooden yacht (adjusted for inflation) would have cost between $500,000 to a million dollars. Given that wooden boats, even the good ones, might only expect to see a 10, 20 or 30 year life-span of active sailing, even with expensive regular maintenance and repairs, a boat owner might expect to pay $30,000 or $100,000 per year over the length of ownership for the privilege of having their own sailboat. The difference between a "yacht" and a fishing boat was obvious. A yacht had a teak interior, a wine cabinet, a chart table, a basic galley (kitchen), an indoor bucket style toilet and fancy cushioned seats and shelves and bronze winches and custom made triangle sails and steel or bronze rigging and all those luxurious appointments that have been associated with the luxuries of yachting for several centuries. With that said, a proper gentleman's yacht for sailing to and from New York City to Martha's Vineyard or the Hamptons might have still only been 28 or 35 feet in length and with a much smaller interior than modern fiberglass yachts of the same length. And in the early 20th century, if you were really lucky, your yacht might even have a small gasoline or diesel engine connected to a propeller shaft and propeller so that you could dock it without having to do the old fashioned kedging technique with a row boat and ropes and anchors in order to move your boat into a tight harbor or a marina dock. These were the luxuries which separated the wealthy gentlemen yachtsmen from the working fishermen who might own sailboats of the same size which were still a major annualized financial investment to acquire and maintain, but which had rough timber masts held in place by jute or hemp ropes and sailed mostly downwind on rough canvas square sails and had to be powered by oars to go upwind. But the fisherfolk owned "boats" and the wealthy owned "yachts." For both Jack London and Ernest Hemingway, buying their yachts was one of the most expensive purchases of a life-time and it only became possible for each of those men when their status as best-selling authors placed them in the realm of what we would think of today as a multi-millionaire. It was a status symbol of "having made it" as much as it was a boat. So when the first production fiberglass boats were introduced to the world by the Pearson Brother's and Carl Alberg in the 1950s (the Sea Sprite 23ft, 1955 and the Triton 28 foot, 1959) with a price point under $10,000 (adjusted for inflation around $80,000 for the Sea Sprite or $110,000 for a Triton in today's money) That seems like a lot of money to spend today on a 22.5 or 27.5 foot, very basic small sailboat, but you can understand from a historical perspective how that seemed like a real bargain to middle class families in the late 1950s and early 1960s. Finally, for the first time in history a middle class family might acquire their very own "yacht," complete with fancy finishes like non-skid painted deck and teak grab rails and opening bronze port windows. It was small, but it was in fact a real "yacht" and the Jones could now have a reason to join a yacht club and moor their new yacht just down the dock from the Kennedy's and the Rockefeller's. Perhaps the Jones kids could even meet the Kennedy kids after Saturday regattas…and eventually someday those connections might help them get into Yale or Harvard. This the history of yachting so recently that many of the older members of today's yacht clubs still remember going out sailing on their first weekend sail on a Sea Sprite or a Triton only a few decades ago, and back then, buying a 28 foot sloop was a major class leap for the owners of a Queen's apartment building or for the manager of an auto-dealership in Florida. Pearson, and Cal and Columbia, Morgan and all those other early Yacht manufacturing companies that sprang up in the 1960s to build $100,000 – $200,000 yachts (in today's money)…they all built relatively simple boats with small interiors, classic narrow beams, and these boats had finished interiors with mostly plywood construction and carpet or vinyl over rough fiberglass for the ceilings and walls. If you wanted a teak interior with luxury appointments and thick woven roving fiberglass construction and luxury features like fresh water tanks and holding tanks and stand up shower and a condenser refrigerator rather than only a counter ice box, then you would have to still spend half a million dollars in modern money to buy a luxury yacht brand such as Sparkman and Stephens, Herreshoff, Amel or Cape Dory. In 1961 a man named Frank Butler commissioned a fiberglass boat to be built by a newly formed fiberglass sailboat company. The company had financial troubles before completing the boat, and the builder in desperation borrowed more money from Frank Butler. When the builder still couldn't re-pay the loan and the new sailboat still wasn't finished, Frank Butler negotiated to take the molds and tooling as payment for the loan and he completed building his own vessel. He then continued producing more boats from the same mold and founded a company called Wesco which he later re-named Coronado Yachts. Wikipedia: "Among the first models built by Coronado were the Victory 21 and the Super Satellite. In 1964, the Coronado '25 was produced, becoming the first boat with a one piece interior, making the boat stronger, lighter, and less expensive than previous models. By 1969 the Coronado 27 and 30 foot models were being produced. In 1969, Frank sold Coronado to the Whittaker Corporation which had already acquired Columbia Yachts; Whittaker continued the Coronado line until 1974 producing the Coronado 34 with the center cockpit models 35 and 41. Frank remained with Whitaker for only one year then left to begin Catalina Yachts. The first model built by Catalina Yachts was a 22-foot design previously rejected by Columbia. By 1977, Frank had designed and produced three more models: the Catalina 25, Catalina 27, and the Catalina 30. The Catalina 22 and the Catalina 30 were both inducted into the now-defunct Sail America American Sailboat Hall of Fame in 1995 and 2001 respectively. In 1978 Catalina developed the Catalina 38 based on molds for a Sparkman & Stephens racing design purchased from the bankrupt Yankee Yacht Company. Frank redesigned the interior, he gave it a "Catalina deck", a taller mast, a shorter boom, and moved the rudder." All through the process of building the Coronado Yacht Company and then launching Catalina Yachts Frank Butler was obsessed by a singular overarching objective. He wanted to make yachts that were 90% as seaworthy and comfortable and luxurious and spacious as the luxury yachts costing 10 times as much, but still deliver his boats to clients for a price only slightly higher than a Cal or a Pearson or a Hunter. History testifies to the results of that quest. In 2013 Frank Butler was inducted into The National Sailing Hall of Fame. His original Catalina 22 design first built in 1969 has more hulls sailing than any other sub 25 foot yacht ever built, but a power or magnitudes of popularity. Not only was the Catalina 22 the most popular 22 foot sailboat of all time, it is something like ten times more successful that the next closest runner up in that category. The famous Catalina 25 also went on to become the best selling sailboat between 23 and 27 feet ever produced. The Catalina 27 was the best selling and most popular 27 foot sailboat ever built. And the ultra-classic Catalina 30 is far and away the best selling 30 foot yacht ever produced…again as with the other models, by an exponential measure of success. The reason for this success is simple. Catalina's may not be an ultra-luxury vessel or considered to be a true "Blue Water" boat as with brands like Island Packet, Tayana, Westsail, Swan or Oyster…but at literally one tenth the price tag Catalina's packed one heck of a wallop in terms of seaworthyness and luxury appointments on the deck and in the interior. What this also means is that more sailors in the world started sailing Catalina's and still sail on Catalinas than any other brand ever created. After 50+ years, Catalina is still building boats and selling boats. Many first time sailors buy their first Catalina and then when they grow into a larger they also buy a Catalina. Many long term sailors have owned 4 or 5 or 7 different models of Catalina's over the years. And the reason is clear. Catalina's have a better re-sail value than other boats because they have such a loyal following, and everyone who has ever spent more than a couple of afternoons on a sailboat knows what a Catalina is. If you have ever done sailboat PHRF racing, there is a very good chance that you have either sailed on a Catalina vessel or you have been beaten by a Catalina vessel. Spare parts are easy to acquire. People know how to maintain or make upgrades to these boats. And the market is stable. Everyone in sailing knows what they are worth and the only variation in pricing is relative to how fast a boat needs to sell and how well has it been maintained over the years. A classic 1970s or 1980s Catalina 22 in usuable condition is always going to be worth $3,000 to $10,000 depending on the various value factors. In our current market a Catalina 25 is always going to be valued at $4,500 to $12,000 depending on the year, the condition of the interior, condition of the sails and whether it has original rigging and deck equipment or moderized upgrades. A Catalina 27 will be $7,500 to $15,000. A Catalina 30 will be $20,000 to $40,000. And the legendary global cruiser, the Catalina 38 is always going to be priced somewhere between $40,000 to $80,000 depending on the same variables. These are the prices for the classic Catalina models. Or course a brand new Catalina 22 or 275 or 355 is still a great deal compared to a brand new vessel in many other brands, but the price point of a 2021 model will be more than 10 times the price of the same size vessel from the 1970s or 1980s. Since Cruising World Magazine began nominating vessels for "Best of the Year" in the early 1990s, Catalina vessels have won the Cruising World "Best of the Year" distinction for 16 different years. PLEASE CALL ME TO GET ALL THE DETAILS ON THIS FINE VESSEL OR TO ARRANGE A BOAT TOUR. Will 970 319 6408 Catalina 30One of the most popular, and least expensive, 30-foot cruiser-racers ever built,but there are some trade-offs.By Darrell Nicholson – Published: June 14, 2000 Updated: April 12, 20202 [Updated December 6, 2018] The Catalina 30 may well be the most successful 30′ cruiser-racer ever made. Since the Catalina 30 went into production in 1974, output has been steady, and thousands have been built. The success of Catalina is even more remarkable when you consider that the company does no advertising. You will not find a single ad for Catalina in any national magazine. The company depends on its extensive dealer network and on word of mouth promotion from satisfied owners. The average boat manufacturer spends between 5% and 10% of gross revenues on advertising. By eliminating that cost, Catalina may well be saving as much as $1,000 to $2,000 per Catalina 30. Any way you look at it, that translates into a lower price in the marketplace. Catalina 30 Specs The entire Catalina line is extremely popular with new boat dealers, who are required by Catalina to represent other lines as well. Usually, the Catalina line is priced about 5% lower than a comparably equipped boat of the same size and type from other manufacturers. Catalina owners frequently trade up through the line. Some dealers make a policy of offering the customer full trade-in value for a smaller Catalina traded up for a larger one within the first two years after purchase. A remarkable number of owners do. The line has grown over the years, and Catalina now makes a 22, 28, 30, 34, 36, 42 and 50, all available with either a fin or wing keel. The Catalina 30 is a typical, fairly light displacement modern design. The boat has a swept-back fairly high aspect ratio keel of the type made popular by IOR racing boats in the early 1970s. The high aspect ratio spade rudder is faired into the underbody with a small skeg. On a waterline length of 25, the Catalina displacement of 10,200 lbs is slightly above average for modern cruiser-racers. By way of comparison, the Newport 30 displaces 8,000 lbs, the Cal 31 9,200 lbs, the ODay 30 11,000 lbs. The boat is conventionally modern in appearance. She is moderately high-sided, with a fairly straight sheer and short ends. The cabin trunk tapers slightly in profile, and is slightly sheered to complement the sheer of the hull. When coupled with the tapered cabin windows-a Catalina trademark-this yields a reasonably attractive appearance compared to many modern boats.Catalina 30 Hull DiagramConstruction of the Catalina 30 The hull of the Catalina 30 is hand layed up of solid fiberglass. In areas of high stress, such as the tops of the cockpit coamings, where winches are mounted, the laminate has been reinforced with plywood. The external lead keel is bolted to the hull with stainless steel bolts. On most Catalina 30s we examined, there was slight cracking at the joint between the hull and ballast, which is typical of boats with narrow external ballast keels. The surface of the keel is roughly faired with polyester putty at the factory. This must be sanded properly fair by the owner or commissioning yard before the boat is launched, or light air performance will suffer. The hull must also be heavily sanded before paint is applied, or there is likely to be paint adhesion failure. The hull-to-deck joint is simple. The deck molding is wider than the hull molding. At the outboard edge of the deck, the molding forms a downwardfacing right-angle flange. This is slipped over the hull molding, and the joint filled with what appears to be fiberglass slurry. The joint is finished with a soft plastic rubrail held by an aluminum extrusion. The aluminum extrusion is held in place by stainless steel self-tapping screws, which reinforce the chemical bond. An integral solid wood sheerstrake, laminated into the hull, further strengthens the joint. This joint is suitable for use in a boat which is used for daysailing and coastal cruising. We would not choose it for an offshore boat. Any projection beyond the side of a boats hull can be subject to tremendous strains from bashing into a head sea, Despite the fact that the joint and rubrail project only about 1/2″ beyond the hull, there is some inherent weakness in this mode of hull-to-deck attachment. There was some play in the rudder stocks of every Catalina 30 we examined. This is similar to the problem found in the Pearson 30. It is more likely to be a minor annoyance than a serious problem. Lifeline stanchions are more closely placed than on almost any production boat we have seen. Double lifelines are standard, as are double bow and stern rails. Stanchions are through bolted, but with washers rather than the backing plates we prefer. Some owners report problems with leaking stanchions. This is easily corrected, as the stanchion fastenings are readily accessible from inside the boat. The rig is a simple masthead sloop, with a straight section aluminum spar, double lower shrouds, and, at least on older models, wooden spreaders. The mast is stepped on deck, supported by a wooden compression column belowdecks. All the boats we examined showed local deflection of the top of the cabin trunk in the way of the mast step. This varied from as little as 1/16″ to over 1/4″. There was no evidence of stress in the form of cracks around any of the steps, however. It is difficult to assess the method of attachment of the chainplates and bulkheads to the hull. The interior of the hull is completely lined, showing no raw fiberglass, nice to look at but preventing examination of the internal structure of the hull. Lower shroud chainplate attachments have been beefed up since the first hulls were produced. Owners warn that when considering the purchase of a used Catalina 30, be sure that the chainplates have the new reinforcements installed. A shoal draft model, drawing 11″ less than the standard model, is popular in some areas where the water is spread thin, such as Florida and the Chesapeake. A taller rig is also offered, and might be recommended in traditionally light air areas, such as Long Island Sound.Handling the Catalina 30 Under Sail With the standard rig, the Catalina 30 will be slightly undercanvassed in areas with predominantly light weather conditions. In areas with normally heavier conditions, such as San Francisco, the standard rig should yield good performance. The working sail area with the standard rig is 446 square feet. For comparison, the Pearson 30, with the same sail area, weighs 1,900 lbs less than the Catalina 30. To get good performance in light air, the boat will either have to be ordered with the taller rig, or very large headsails must be carried. If headsails larger than a 150% genoa are carried with the normal rig, turning blocks will have to be added aft in order to get a proper lead to the headsail sheet winches. The Catalina 30 is a very stiff boat. The combination of a high ballast/displacement ratio, extraordinary beam, a deep fin keel, and a fairly small sail plan produce a boat that stands on her feet very well. Owners consider the boat to be just about as fast as other boats of the same size and type. PHRF ratings suggest that the tall rig boat is substantially faster than the boat with normal rig. With the tall rig, and well-cut racing sails, the boat should be competitive with other cruiser-racers that are actively raced, such as the Pearson 30, the ODay 30, and the Ericson 30-2. Sails are available from the factory, and are cheaper than one is likely to find either from a local racing sailmaker or one of the big national names. If the boat is to be used only for daysailing and cruising, the factory-supplied sails are likely to be adequate. If, however, you are concerned with performance, it is always advisable to have sails made either by a national sailmaker with a local loft, or by a local racing sailmaker. The sailmaker who is familiar with local weather conditions, and who probably races himself, is most likely to provide a faster suit of sails for any boat than those provided as a factory option. The Catalina 30 does not have any particularly disturbing or exciting characteristics under sail. Like many wide modern boats, she rapidly develops weather helm when heeled. The boat should be sailed on her feet. Because she is quite stiff, headsail changes will not be as frequent as with a boat such as the Pearson 30.Handling the Catalina 30 Under Power The standard engine for the early Catalina 30 was the workhorse, 65 cubic inch Atomic-4 gasoline engine. For an additional $785, the boat could be delivered with a 31 cubic inch, 11 horsepower Atomic-Diesel. The small diesel is barely adequate power for a 10,200 lb boat. The 16 horsepower Atomic-Diesel might have been a better choice. In a flat calm, the small diesel will push the boat at about 5 knots. With the old Atomic-4, the boat should easily reach hull speed under power. Although the engine has flexible mountings and a flexible shaft coupling, there is substantial vibration under power with the small engine. This is felt most acutely in the cabin, because of the midships location of the engine. The engine box has no soundproofing. The main cabin is very noisy under power. Long periods of powering would be uncomfortable for the people belowdecks. With a fin keel and spade rudder, the boat is quite maneuverable under power, both ahead and astern. With the wheel steerer-one of the most popular options-very little steering effort is required.Deck Layout of the Catalina 30 The deck layout of the Catalina 30 is typical of small cruiser-racers. There is a small foredeck anchor well. Access to the hull-mounted running lights is via this well. The running lights are protected from damage inside the well by molded fiberglass covers. We are not fond of running lights mounted in the topsides, which often short out. Other manufacturers who mount the lights in the hull could take a lesson from Catalina, however. Neither C&C nor Cal protects their running lights on the inside of the anchor well. There are double bow cleats, but no bow chocks. There are also double stern cleats, but no stern chocks. Despite the wide cabin trunk, it is reasonably easy to maneuver on deck. The shrouds are placed far enough inboard to allow going outside them on the way to the foredeck. There are well-mounted teak grabrails on the cabin top. The cockpit is large and comfortable. With wheel steering, it easily accommodates the helmsman and four companions. There is a large sail locker under the port cockpit seat, and a smaller locker under the starboard seat. There is also a fair-sized lazarette locker. The sail locker is properly separated from the under-cockpit area. The cockpit is too large for offshore use. There are only two fairly small cockpit drains, whose size is greatly reduced by strainers. Despite the fact that the companionway has a fairly high raised sill, at least two of the three companionway drop boards would have to be in place to raise the sill to the level of the main deck. The strong taper of the companionway allows the drop boards to be removed by lifting them only about 1.5″. In a bad knockdown in really severe weather, the boards could fly out or float out much easier than if the companionway were more parallel-sided. The sliding companionway hatch is unnecessarily large. This is useful when sitting in a marina in a hot climate, such as southern California, but it is a disadvantage at sea. Because the main cabin bulkhead slopes forward, the drop boards cannot be left out of the companionway for ventilation when it rains. For this reason, boats used in rainy climates frequently have cockpit dodgers. Otherwise, they become stifling below in wet weather. There is no provision for ventilation below in rain or heavy weather. There is a permanently mounted manual bilge pump operable from the cockpit. Other manufacturers would do well to include such a pump as standard equipment. Not many do.The Catalina 30 Interior The interior of the Catalina 30 is roomy, and quite well laid out, The forward cabin has large, tapered Vberths which form a large double when used with a filler. A molded hatch which forms part of the front of the cabin trunk, will provide good ventilation in port, but is likely to be a leaker in heavy weather. The head is quite comfortable. The optional shower drains directly to the bilge. Toilet installations are all optional. There is good storage space for clothes in a hanging locker and drawers opposite the head. Interior bulkheads are teak-faced plywood. The hull is completely lined with fiberglass hull liners, yielding a very finished appearance. The main cabin is large and comfortable for a 30′ boat. There is an L-shaped settee to port, and a straight settee to starboard. The cabin table folds up against the forward bulkhead when not in use. The engine is mounted under the settee and part of the galley counter. Its a tight fit. Access for service is excellent through traps in the settee. The location of the engine in the lowest part of the bilge does make it vulnerable to bilgewater, however. Under the cockpit to starboard, there is a large double quarterberth. Unfortunately, the occupant of the inboard half of the berth had better be pretty thin and non-claustrophobic, for headroom over that portion is only a little over one foot. A large, U-shaped galley is to port. A gimbaled alcohol stove with oven is standard, as are double sinks. The icebox is uninsulated except for the side facing the stove, and it drains directly to the bilge. Storage space in the galley is plentiful, although not as much as it might first appear, for the lockers under the sinks are filled by hoses for the engine and water tanks. Batteries are well-mounted under the small chart table opposite the galley. The appearance of the interior is one of spaciousness and good design, This initial impression breaks down somewhat on careful examination of details. Interior finish is of average stock boat quality.Catalina 30 Price History GraphConclusions on the Catalina 30 According to Frank Butler, president and chief designer of Catalina, the companys goal is to provide as much boat for the money as we can. The Catalina 30 is definitely among the lowest-priced of the 30′ cruiser-racers. This boat is similar in price to the Hunter 30. For their displacements, these are two of the least expensive 30′ cruiser-racers on the market. It is not reasonable to compare these boats with more expensive 30-footers such as the Ericson 30+ or the Cal 31. There are tradeoffs to be made when one purchases a cheaper boat. In boats, as in most other things, you may not always get what you pay for, but you always pay at least for what you get. Darrell NicholsonPractical Sailor has been independently testing and reporting on marine products for serious sailors for more than 45 years. Supported entirely by subscribers, Practical Sailor accepts no advertising or any form of compensation from manufacturers whose products we test. Testing is carried out by a team of experts from a wide range of fields including marine electronics, marine safety, marine surveying, sailboat rigging, sailmaking, engineering, ocean sailing, sailboat racing, and sailboat construction and design. This diversity of expertise allows us to carry out in-depth, objective evaluation of virtually every product available to serious sailors. Practical Sailor is edited by Darrell Nicholson, a long-time liveaboard sailor and trans-Pacific cruiser with more than three decades of experience as a marine writer, photographer, boat captain, and product tester. Before taking on the editor's position at Practical Sailor, Darrell was the editor of Offshore magazine, a boating-lifestyle magazine serving the New England area. Darrell has won multiple awards from Boating Writer's International, including the Monk Farnham award for editorial excellence. He holds a U.S. Coast Guard 100-ton Master license and has worked as a harbor pilot and skippered a variety of commercial charter boats. Catalina 30 Reviews, Specs and more The Catalina 30 was introduced in 1974 by the Catalina Yachts Company in California. There have been three series of the Catalina 30 design: • Mark I – Produced from 1975 to 1986 • Mark II – Produced from 1986 until 1994 • Mark III – Produced from 1994 to 2006 All three revisions refer largely to revisions of the cockpit and redesigning the keel. There are three types of keels; the original 5′ 3″ deep keel is still preferred for all-around performance where water depth is no problem. The early 4′ 4″ shoal keel has been replaced by the modern 3′ 10″ deep wing keel. The Catalina 30 was the largest and longest continuous production keel boat in the world, with over 6,500 hulls produced. 2001 American Sailboat Hall of Fame Inductee. The Catalina 30 Used Boat Review Posted March 28, 2017 Several weeks ago I was preparing a survey of a Catalina 30 for a client and found myself looking for other Catalina 30s for sale to help me establish an approximate value. I quickly found more than 75 for sale and was again reminded of the remarkable popularity of this cruiser/racer. Quite frankly, I found myself a little surprised that I hadn't included a review of the Catalina 30 earlier in this series. Better late than never and perhaps even more appropriate now because 1998 celebrates the 25th year of production of the Catalina 30. Introduced in 1974, as the big brother to and natural step-up from Catalina's popular 27 footer, the original design remained nearly unchanged for 20 years. In 1994, Catalina introduced the Catalina 30 Mark III with some subtle changes in styling to give the boat a more "Euro" look. The hull was widened slightly from about station seven (70% of the waterline length) aft in order to incorporate a transom boarding platform, and ports were added to the hull sides. Since 1974, the principal dimensions have remained the same at LOA 29'11″, beam 10'10″, displacement of 10,200 lbs. and standard draft 5'3″. From 1977, shoal draft was offered as an option first with a fin keel drawing 4'4″, which was replaced with a winged keel design drawing 3'10″ in 1988. The displacement and ballast of shoal draft boats are 100 lbs. greater than the standard draft versions to compensate for the higher center of gravity of the ballast. By the end of 1997 more than 6,400 Catalina 30s had been built. This is an impressive number, but it becomes even more remarkable when looked at in perspective. Consider that you could combine the production of ten of the most popular 30' model sailboats built in the US over the last 25 years and still not approach the number of Catalina 30s built. Catalina literature boasts this is the most popular 30' boat worldwide, a claim that would be hard to argue. Catalina utilizes a standard lay-up of various types of fiberglass cloth and plastic resin in the construction of the hull. Deck construction includes either balsa wood or plywood sandwiched between fiberglass laminates. The deck is fitted over the hull in a shoe box fashion with a sealant in between. An aluminum rub rail and stainless steel self-tapping screws on about 3″ centers secure the deck and hull together. The keel is external lead fastened with stainless steel bolts. The rig is a simple deck-stepped masthead sloop with single upper shrouds and spreaders, double lower shrouds and split backstay. Some of the more common problems encountered include deteriorated deck cores, compression fatigue at the mast step, failed wooden spreaders, failure of lower chain plate attachments on older model boats, and leaks and separation at the keel to hull joint. There is also sometimes delamination and damage along the vulnerable deck to hull joint caused generally by minor docking incidents over the years. The engine of the Catalina 30, upgraded from 11 hp to 23 hp, is located midship beneath the dinette seat. This is, in fact, the best location for an engine in terms of weight distribution; however, it complicates the installation of the engine exhaust, leaves the machinery more vulnerable to bilge water and makes sound insulation more difficult. Except for sound insulation, these drawbacks can be overcome with careful maintenance. The accommodation plan of the Catalina 30 has been so popular that even though it is one of the easiest modifications for a builder to accomplish, the layout has remained unchanged for 25 years. The companionway opening is exceptionally wide, which, when open, makes the cabin appear even bigger than it is. A cockpit dodger or awning is a must with this design for adequate ventilation of the cabin in inclement weather. A combination of wide beam, good ballast/displacement ratio of .42, and relatively low sail area/displacement ratio of 15.1 makes the Catalina 30 a very stiff boat under sail. This is a feature many sailors find comforting. Other than developing considerable weather helm as she heels, the Catalina 30 doesn't have any particularly disturbing characteristics under sail. She is likely a bit slower than some of her contemporaries, such as the Pearson 30 or Ericson 30. If you're planning on racing, you may want to consider the optional tall rig which increases the sail area by 60 sq. ft. and the SA/D to 17.1. This should result in a much more lively and competitive boat. There are a number of construction and design features of the Catalina 30 that, in my mind, restrict recommended usage to coastal areas, lakes and bays, but then this is true of many production boats in this class. On the other hand, Catalina founder and president Frank Butler has been quoted as saying that the company goal is to provide its customer with "as much boat for the money as we can." Size-for-size and feature-for-feature the Catalina 30 is tough to beat. Reviewed in the July 1998 Issue of SpinSheet by Jack Hornor WHO YOU ARE BUYING FROM We are serious blue water ocean sailors with thousands of miles and many years experience offshore and doing coastal cruising. It is our passion to help other people discover the sailing lifestyle, and especially the more serious cruising lifestyle. Sailing is typically considered a rich man's sport, and it certainly is if you pay full price for everything and make the necessary investments in proper off-shore equipment and a safe "Blue Water Capable" vessel in turn key condition. However, there are ways to make this lifestyle possible and affordable to middle class people and retirees who dont possess a three million dollar investment portfolio. But doing that properly and safely and knowing where to find your savings and where to "not skimp" is the knowledge that can sometimes make the difference between catastrophe or pleasant exploring once you set out on your adventure of a lifetime. We are passionate about sharing our knowledge and helping people discover this amazing lifestyle…and doing so in a way that keeps them safe, happy and in the black. We already have our keeper boat and don't need another one, but every once in a while we discover through our friends and connections at boatyards, marinas and marine insurance companies a boat that is a terrific bargain that isn't getting the love and attention and exercise that it deserves, and we will try to help find a new home for it. This is one of those rare boats. If you want to call me and discuss your cruising or sailing plans and dreams and whether or not this boat might actually work to suit your needs I will be happy to speak with you and give you my honest opinion about the feasibility of your plans and whether this vessel might or might not work for you. Feel free to call and chat. WILLIAM AT 970 319-6408 IF A PHYSICAL INSPECTION IS A REQUIREMENT FOR YOU PRIOR TO MAKING PAYMENT, THEN INSPECTIONS SHOULD BE MADE PRIOR TO THE CLOSE OF THE AUCTION AND PRIOR TO PLACING YOUR BID. PAYMENT IS DUE IN FULL WITHIN 24 HOURS. SEE PAYMENT TERMS. MOVING A BIG SAILBOAT WITH A BOAT MOVER CAN BE VERY EXPENSIVE. OFTEN $4 OR MORE PER MILE. I AM HAPPY TO HELP YOU UNDERSTAND THE OPTIONS IN THAT REGARD IF YOU WANT TO GIVE ME A CALL. By far the most affordable way to move a sailboat is by water, so please consider whether your location is accessible to move the boat by water or whether you will need to pay the higher cost of having it moved by truck and trailer. Also consider the time it will take to prepare for a voyage and whether your sailing skills or those of friends or other sailors you might find through the yacht crew websites are at the level necessary to make a safe voyage from the ocean where the boat is located to your home port. AND NOW IF YOU AREN'T YET TIRED OF READING A FEW INSIGHTS TO SHARE ABOUT BUYING BOATS AND CHOOSING THE RIGHT BOAT FOR GLOBAL CRUISING: A little about what we do: Our passion is to assist folks who are making a transition from day sailing or coastal cruising to becoming full-time live-aboard world cruisers. We also assist new sailors who are just getting into the sport of sailing by advising them on how to develop their skills and how to make plans to pursue the dream of cruising and world traveling full-time. We have extensive contacts and resources for finding good world cruising boats at far below their fair market value, and occasionally we discover an amazing neglected vessel at a price that we know may enable a cruising family or a retired couple on fixed income the ability to pursue the dream of cruising without the sort of means and savings normally associated with pursuing this lifestyle. In those cases, like this boat, we work to try and find a new home for a good "below market value" boat, with people who will fully restore the vessel, and hopefully use it for the serious cruising that the boat was designed for. There are many aspects of life where experience really matters, but none so much as global cruising. When you are planning to take a small boat across vast oceans and visit foreign ports of call on your own terms you must truly learn to become Master's of your Own Destiny. It doesn't matter how wealthy you are or how talented you are at managing large organizations or companies with dozens of staff people. When you are on a boat in the middle of the ocean, the choices you have made, the choices you will make and your own internal skills and the undeniable truth of how well or poorly you have planned for your expedition, are the factors that will determine whether your experiences become a positive adventure or a frightening (or even life threatening) catastrophe. When you are looking at a boat parked peacefully at a dock or on jack stands at a boat yard, you will be tempted to judge it based on whether the lines are nice and whether it is pretty or ugly and whether it is new or old and well kept or run down. The ocean however, operates according to immutable laws of physics. The ocean does not care whether it sinks a pretty boat or keeps an ugly one floating. It does not care whether you are a skilled sailor with dozens or years experience under your shade hat or whether you are an amateur on your first weekend pleasure cruise. You will be served exactly the same conditions of wind and waves whether you were born wealthy or if you were raised in a cave by baboons. The only control you have over these situations is knowing when to sail and when not to sail, and you can prepare yourself so that when the wrong situation strikes, if it ever does, you are skilled and prepared to deal with it and have a vessel that is prepared to handle the same. For people who are wanting to go cruising full-time, or who want to go from being pleasure sailors to competent seamen and seawomen, choosing the right boat is the first and sometimes ultimately most important decision of their nautical lives. Of course you can always sell or trade a boat and then buy a different one, but still the choice of each boat will influence the experiences you have and it will determine in many ways the capabilities or limitations of what you can or can't do while you have that boat for your home—even if it is only home for a few weekends here and there. There are many nuances and subtleties to sailing, as well as to each individual vessel. A boat that may be just exactly perfect for one sailor or family of sailors, may be completely the wrong boat to suit another person's dreams. By nature, boats require a lot of maintenance and upgrades, and if you are someone who wants all the possible bells and whistles, boating can be a very expensive occupation. However, there are also ways to save a lot of money and still pursue the dream effectively and safely and create a new floating paradise for yourself. But each person or each couple's needs are different. There is no such boat as a boat that is not a project boat. A cruiser friend I know well (a relatively wealthy man at the time) purchased a brand new Beneteau 46 for his family to live on for years and to cruise the world on, the first thing he did to a brand new half million dollar boat was to spend another $27K on equipment upgrades, new electronics installations and custom modifications. No boat, no matter how shiny and brand new, is exactly right for everyone's individual tastes and needs, and no boat comes straight from the factory completely ready to do anything other than Wednesday afternoon beer can races. I often get asked by people who are shopping for a used boat to go cruising the world, "Is this boat ready to cross the Atlantic?" or "Does it need anything before it is 'Ready to Sail." The very nature of that question is a showcase of their naivety. Even if the answer were "Yes, the boat is ready." (which would be impossible to have any boat ready unless you have spent thousands of dollars on a cruising chandlery and provisioning service ahead of time) the greater question is "Are such ignorant sailors who need to ask such questions ready themselves?" Even if they had the absolutely perfect boat, prepared ahead of time by die-hard professionals to get it ready to cast off the lines and sail to points distant and exotic, would the sailors know where everything is at on the boat and how to operate those systems and how not to break them with ignorant mistakes or how to fix them once broken? And if they knew all those things, would the boat be equipped with the necessary repair tools and supplies as part of the process of getting it ready to sail? So all these are big questions, and the only easy answer is that any sailor must become intimately familiar with their vessel prior to making long voyages beyond sight of land. The easiest way to become familiar with a boat so that it is not a stranger but rather a trusted old friend is to do a lot of weekend coastal cruising with it, while you work all the bugs out. Also, the more projects and upgrades you do yourself the more familiar you will be with how they work, how to maintain them and how to fix them again if anything every goes wrong. To depend on the expertise of professionals left behind in a port in a distant country you cleared out of months ago is only to invite future disaster…and its also much harder on the wallet. So any time you can add to your own skills and knowledge of your own boat by doing your own work, or hiring a professional to help you do it yourself, you are preparing yourself for future success as a cruiser. Any boat, even a brand new boat, will have things about it that you want to change or upgrade or move or install prior to making long voyages. The better questions to ask are: "What is the proper amount of maintenance and upgrades that I will make to my vessel prior to setting sail? How many things need to be changed or fixed before I leave the continental US? How many projects will I work on, as little projects along the way, when I have a slow day at a boring anchorage and there are no cruiser parties to attend and no interesting conversations of the side channels of the VHF. How many projects are absolutely vital to get accomplished before I begin actively using the boat as a full time residence and a floating RV that can sail to any country with a coastline?" How many projects do I want to tackle myself if it means I can save literally tens of thousands of dollars on the purchase price of a boat, and how much more ultimate value do I get for my money by buying a larger or more seaworthy boat with a few bigger projects to tackle than if I buy a smaller or more flimsy boat that is cleaned up nicer and has fewer problems to address. (Remember the ultimate cosmic law of boating – even if you can't see any problems at all with a boat, and no projects needing doing, as soon as you own it and begin to sail it, you will start to find those quirks and bugs) So don't fool yourself into believing that you can simply buy a shiny new boat from a broker at full market value, or even by paying more than boat blue book value, to avoid ever having to make repairs or upgrades. Any experienced sailor or boating professional other than someone selling fancy new boats will admit to you that there is no such boat other than a "project boat." The only question is "What are the projects and how much money will I save by doing them myself versus hiring someone else to complete them?" Every boat that I have ever bought or ever sold, which is now many dozens of them, had varying degrees of things needing to be improved about it. Even the brand new boats straight from the showroom floor or boat show sales dock will need bottom painting and new zincs and fuel cleansing treatments and oil changes and manifold and riser inspections within a matter or months of casual weekend use. The longer any boat sits without the proper level of loving regular maintenance the faster it will deteriorate, and tiny 15 minute projects will turn into hour-long projects and hour-long projects will turn into day-long or week-long projects due to continuing neglect. The quality of the build is also important. A cheap boat will have cheap boat problems, and it will have serious issues far faster and more frequently than a very well built boat from an esteemed yacht designer and builder even if the better boat looks worse initially. In many ways you are better off to buy an older and more well regarded vessel in worse "first impressions" condition than to buy a shiny and well kept cheaper new boat. In the long run the better boat will cause far fewer headaches once you have it restored fully and you are taking care of it yourself, whereas the cheap but glossy boat may still look new and shiny for years, but begin having serious and costly problems that cannot be seen even while it still looks great in Facebook boat pictures. Boating is like riding a horse or driving a high performance sports car. You always have to be involved in the life of your boat whether you use it frequently or not. But this is not a bad thing, because it is part of the pride of ownership, and the regular maintenance and upkeep and small projects is what enables you to avoid the big ones or to at least know which big ones you need to do sooner and which ones can wait till later. — As you will guess by now, I'm a bit of a philosopher sailor when it comes to helping folks find just the right boat to serve their needs. I am currently writing a book on that very topic which will be called, "The Seven Questions of Cruising (or) the Seven Questions you should ask yourself before buying a Boat." Here is a quick preview of the questions you should be trying to answer from the introduction to my new book. — When you go to buy a boat, especially if it is your first boat, there are a lot of decisions to be made and hard choices to figure out. Before you begin searching for the correct vessel to serve your needs, you need to first ask yourself, (and your cruising partners/ spouse etc) some important questions which will help you immensely in the quest to find the perfect small ship to suit your needs. Question # 1- Where do you want to sail to (now and also possibly in the future)? #2 – Who might be going with you and/or who might want to visit you and stay on the boat with you once you get to that exotic foreign port (if global cruising is your goal) or that incredible weekend getaway spot (if weekend cruising is your thing). #3 – How much do you want to spend on this adventure called boating/sailing/? Also, how much "can" you afford to spend if you happen to take a wrong turn with the adventure and "need" to spend more money to fix a problem or get yourself or your stalwart side-kick (your boat) out of trouble? #4 – How handy are you? (i.e. – Are you someone who naturally takes pride in your ability to figure it out yourself, or are you the person who would rather call an "expert" and pay them to solve whatever problem you are having? #5 – How much time do you have to save yourself money, because in sailing, as well as in life in general "time often equals money." #6 – Are you a weekend warrior and/or charter sailor, or do you want to cruise full time? #7 – Do you care more about Getting There or more about "Being There" once you have arrived? **** Standard Legal Disclaimer – Vessels are sold "As Is" with no warranty either express or implied. The Company listing this vessel for sale offers the details of this vessel in good faith but cannot guarantee or warrant the accuracy of this information nor warrant the condition of the vessel. A buyer should instruct his agents, or his surveyors, to investigate such details as the buyer desires validated. This vessel is offered subject to prior sale, price change, or withdrawal without notice.PAYMENT TERMS – Payment due within 24 hours after close of auction via Venmo or Cashier's Check with managers receipt as proof of payment at any Wells Fargo Bank. Paypal deposit due immediately after close of the auction. If you are the high bidder at the close of the auction please call me right after auction closes to discuss the details of the transaction & tell me what name/ address you want on the Bill of Sale. Will 970 319-6408 CLEAR OWNERSHIP PAPERS.