Powerboat for sale in
Big Pine Key, Florida
1978 Seacamper 225D
Year: 1978
Make: Seacamper
Model: 225D
Type: Houseboat
Length (feet): 24
Beam (feet): 8
Hull Material: Fiberglass
Trailer: Included
Use: Fresh Water
Engine Type: Single Inboard/Outboard
Engine Make: Volvo Penta
Engine Model: Volvo Penta 225D w/ 280 outdrive
Primary Fuel Type: Gas
Fuel Capacity:
For Sale By: Private Seller
Hull ID Number:
CLICK HERE TO VIEW THE PRICE
MORE DETAILS ON THIS POWERBOAT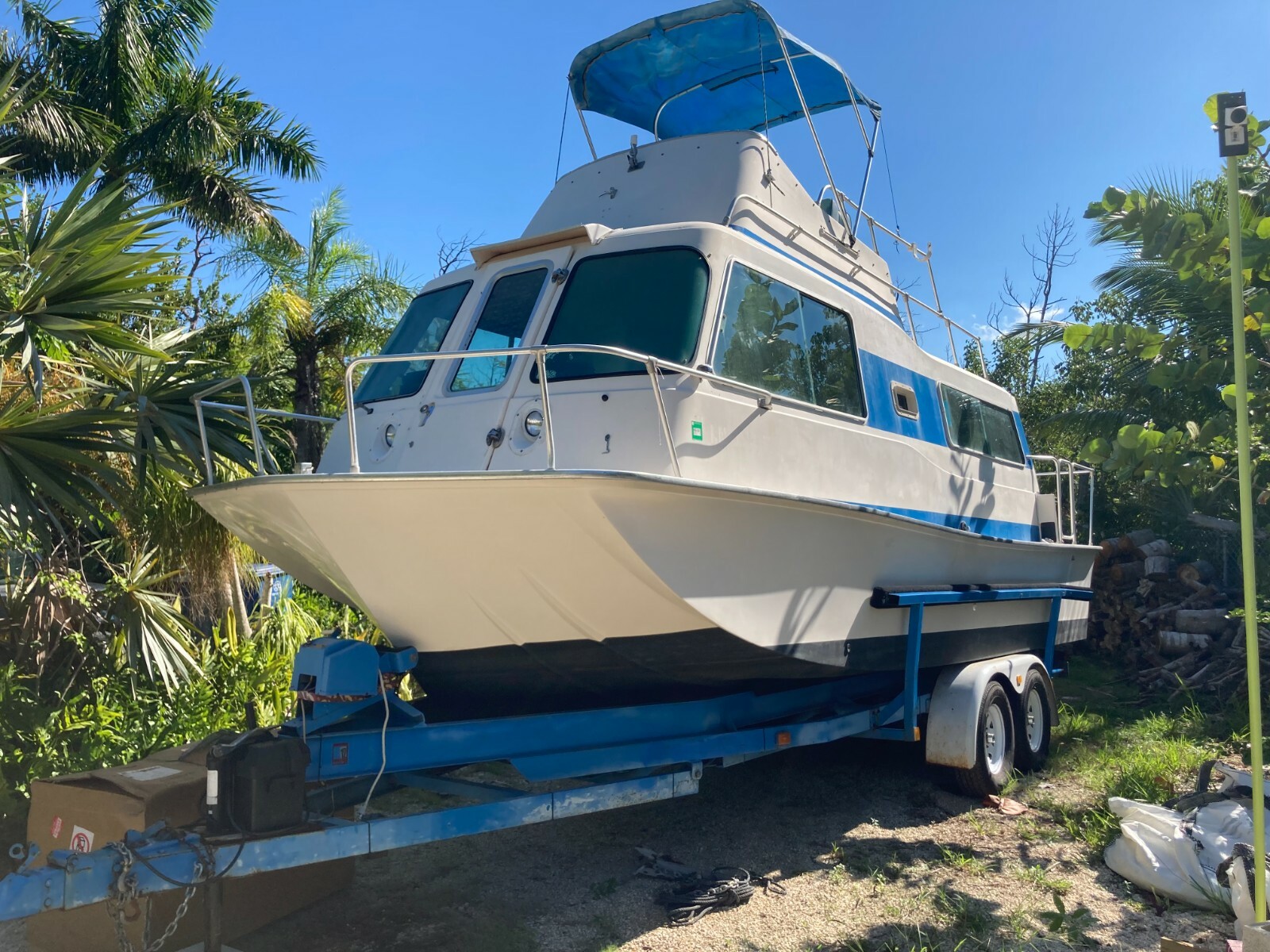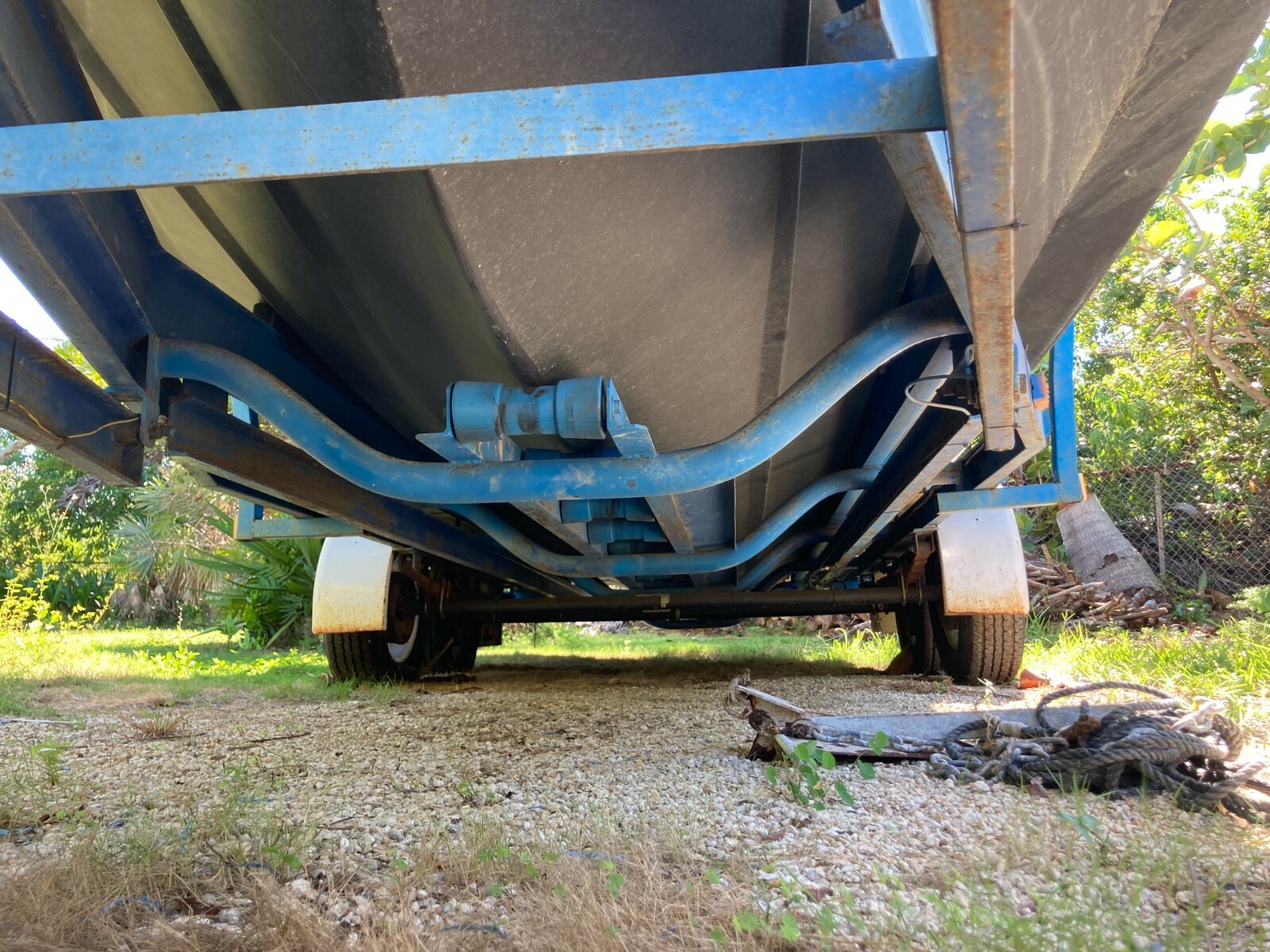 Do you want to see more pictures of this boat? Click Here
If you want to pull up in style this is the boat (OR RV!) for you! One of the very few classic Seacamper's available in the US! If not the only one that's not a piece of garbage. If there even is another one out there like this, it definitely doesn't have the fly bridge!$25,000 cash FIRM. Don't like it? Move along thanks! This is like selling my child, I know what it's worth, this is a fair number, and it took me 4 yrs to find so there's no haggling. I don't need the money like that so don't bother. Cash only.Long story, but I don't want to spend a long time on the phone answering everything 20 times. Sorry I might be all over the place, but I want to explain everything.Sleeps as many people as you want on 2 separate beds. The bow turns into a massive king size plus bed, and the galley table turns into a full size bed. Plenty of storage, Shower, sink, refrigerator, freezer. 2 burner stove, 30 amp shore power, and includes an adaptor to run it off an electric cord if need be. All systems, and electronics work. New led bulbs for all lights.I bought this a few years ago in Arizona around Lake Mohave. Fresh water boat it's entire life except the 2 months when I had it in brackish water on the Chesapeake in Maryland.I haven't had the time to finish the work on it (the way I want it) since I've been moving all over the US the last few years. I keep it clean, and work on it here and there, but I keep changing my mind about selling it, or to continue investing time in it. The reality for me is I need a very capable ocean boat to make it to the Bahamas etc. I was not planning on moving here full time when i bought this. This isn't that boat, and only it's taking up needed space.I just received a custom outboard bracket from Stainless Marine that is not installed yet. I was about to repower it with a 250 outboard, but a 150 would be more than fine. The original Volvo Penta 225D engine is fine, but I wanted a brand new outboard to use the boat as a charter with zero mechanical issues. It's a one of a kind Airbnb I'll tell you that much!I actually have several people who want the engine after posting it on CL. I was about to take it out to sell it, but at the end of the day I just need a different boat, and don't want to rip it apart until I have the time to remember wtf I was doing. In another few weeks after a bigger project of mine is done I'm making plans to get the work done on this boat so act quick if you want the engine. Or it's out, and the bracket is going on, and the price is going way up (In 5 yrs if I even want to sell at that point). This is a very common bullet proof engine you can sell in one day on craigslist. I would also replace all of the hydraulic steering cables if I switched engines. It's not necessary, but if I'm doing it, it might as well be new.The engine starts right up, but the only issue underway is the intake tube on the out drive has bad suction so it will overheat. Simple job if you have the time to dismantle the out drive. This is a common problem on these.It has spider cracks on the deck so there is a small amount of cosmetic work as well. Then "I" would repaint the topside, and it will basically be a brand new boat. But it is ready to go now if you're not ocd. I'm being honest with my plans. Take'm or leave'm.—-WORK DONE—-Any spider cracks on the hull have been fixed, and it has brand new petit barrier paint, and anti fouling layers.All fluids flushed, and replaced on the outdrive, and engine. It's a Volvo Penta 225D with a 280 outdrive. "Supposedly" around 500hrs according to the meter.New water pump for the sinks, and shower. New group 27 batteries, and charging system.New throttle, and shift cables @both helms.New impellerNew seastar helms, and steering wheelsNew Garmin GPSmap 742xs for both helm stations, but that will be a separate deal or I'll take at least one of them with me since it also works on my runabout.New upholstery on all inside cushions. Seats on the fly bridge still need to be done.New Stainless Marine outboard bracket. I'll sell this separately if you want to deduct the cost, and you keep the engine. $2000 plus that'll save you the cost of an outboard, and you're in the water asap.Trailer is ready to go across the country no problem! New axles,wheels, tires, bunkboards, carpet, and battery on the trailer. In the pics you can see a small amount of surface rust from it being here in the keys for over a year now. This has only recently appeared. It has not seen the salt water HERE on a boat ramp…yet. If kept here I was going to paint/protect the trailer to pass along more info.——This boat still needs a little more love, but not much. After that work is completed this will be the best looking seacamper out there I know for a fact, and last another 40yrs if taken care of.If you're thinking about shipping it I've done that as well. From Philadelphia to the Florida Keys was @$2k.Id say the boat weighs somewhere from 7-10k lbs for towing. They claim lower in some specs I've seen, but I've never had it weighed. I towed it around for awhile with a Ford Expedition with the heavy duty tow package….Wasn't that fun until I got a F250 diesel for long distances.You can actually find this boat online still from when the last owner before him did a major overhaul in 2009. You can see all of the specs here as well. Gas tank info, and all of that! Check it out. FYI all tanks are in amazing shape as well.This is the boat:"The adventurer"https://boats-from-usa.com/not-specified/seacamper-24-90303This isn't turn key yet…Well as an RV it actually is. Depends what way you go with it. Like I said, I was/maybe still am going the professional charter boat route. You could have it on the water for $100 tomorrow, or put in another $10-20k like I was planning on doing, and this thing is mint condition. It would be hands down the coolest f#@king boat around, and already is. The reason I love this boat, and had to have it is because it's the most livable space possible on any TRAILERABLE houseboat from this time to current days. More important is because it's a real boat that was built well, and can handle moderate seas unlike a pontoon type. DYOR! You're getting a great deal…If you're the right person.FYI the carpets are up, it's not freshly cleaned, and it could've looked exponentially better in the pics, but I am offering the underside of it all, and I exposed every flaw.If it sells I will miss her ever soooo dearly. If not I can't wait to get her on the water in Key West, and then back around the US! Look for her on Airbnb, and F the haters who flagged me;) I'm real. I personally wish all ads were this overdrawn, and honest! If they were at least just honest that would be nice! I can't stand wasting my time w bs so I have made sure neither of us has to again. This is the coolest fucking boat on the market, and it's up for grabs to some cool MF! lol. That's it. Not much else to ask me. Get here, and check it out ready to buy, or kindly go f@!k off:)Leave your number minimum, and I'll get back asap. Zero time for dreamers w/out funds. Pulling the trigger requires $25K cash. Period.