Class B RV for sale in
Scottsdale, Arizona
2014 Drover
Year: 2014
Make: Drover
Model:
Length (feet):
Mileage:
Sleeping Capacity:
Vehicle Title: Clean
Slide Outs:
Fuel Type: Gas
For Sale By: Private Seller
Leveling Jacks Included?:
Water Capacity (Gallons): 31-40
Air Conditioners:
Awnings:
CLICK HERE TO VIEW THE PRICE
MORE DETAILS ON THIS CLASS B RV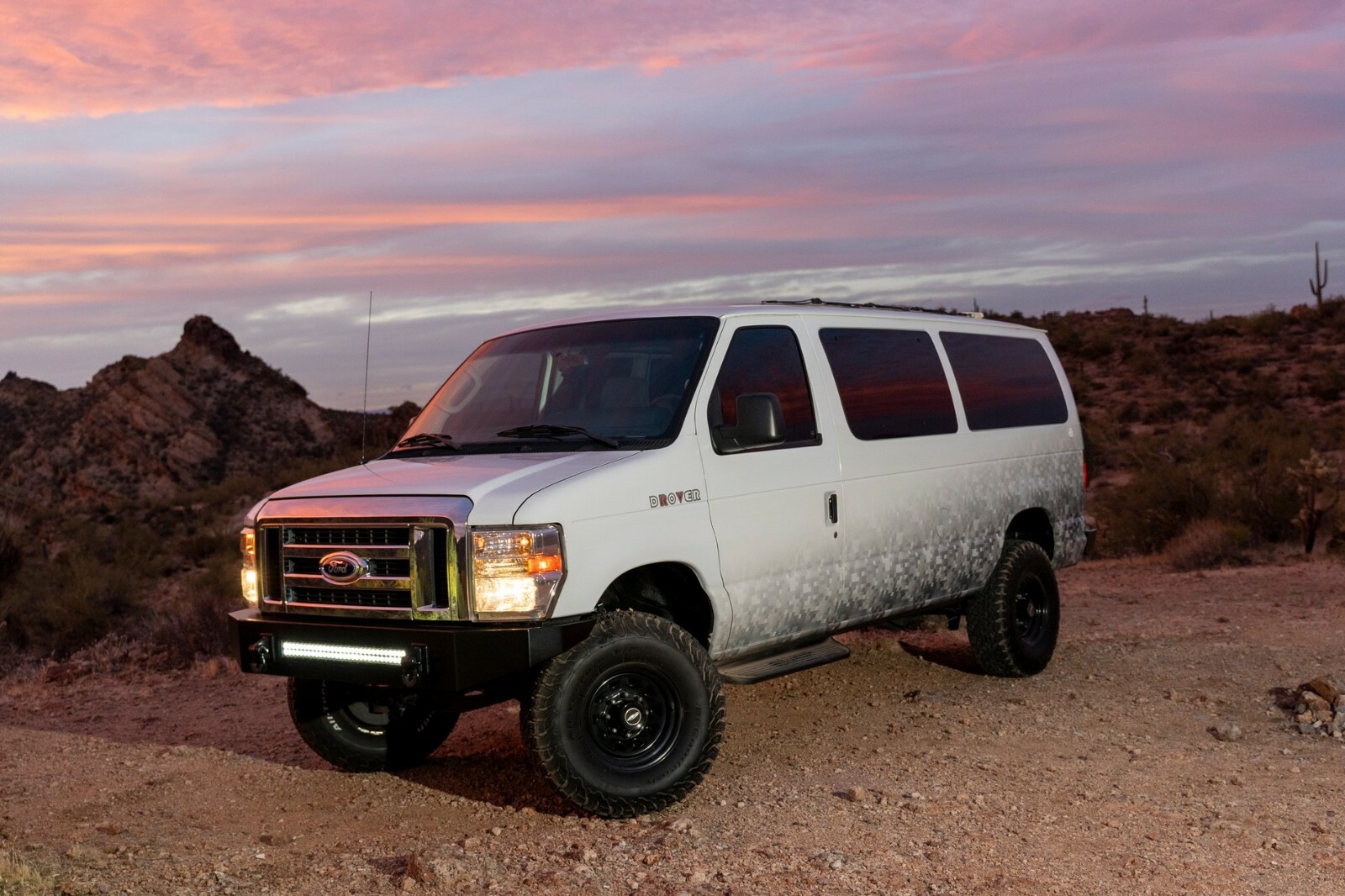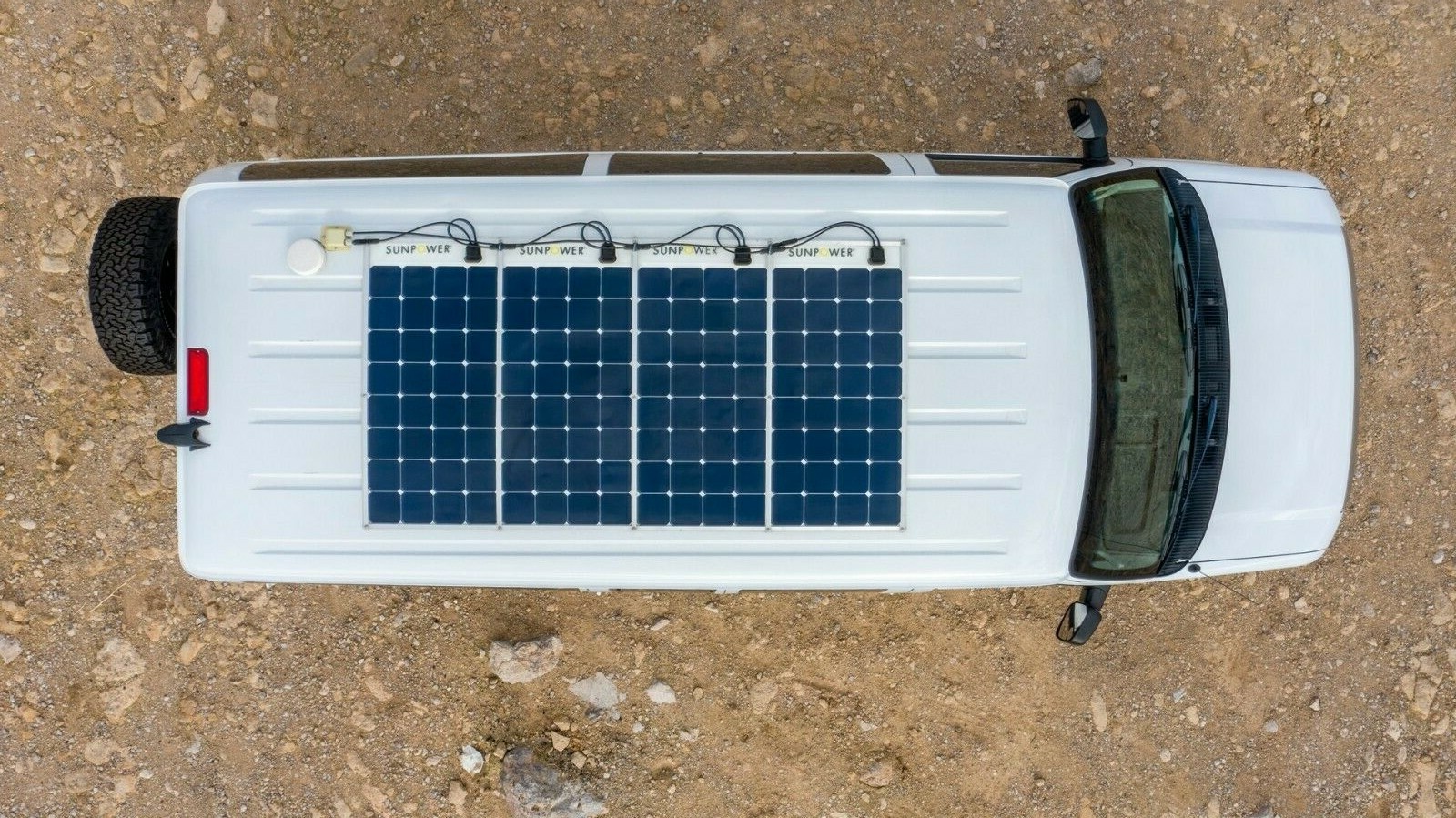 Do you want to see more pictures of this RV? Click Here
2014 Ford E350 based RV built by Drover RVonly 64k miles on van but since conversion it was only used for demo and advertising so is like new(still smells like a new car)Factory specs: 1-ton, 8-lug chassis with the 5.4 liter gas V8, power everything, cruise control, and rear AC This is my personal van that I originally purchased used in 2017 when it only had 35k miles and was a bone stock passenger van in perfect condition. It has since been converted into a fully equipped RV to use as a display/show vehicle for my company. It has also been garage kept since I have owned it and the oil has been changed regularly with Mobile 1 synthetic. There is a full list of features and options for this van below that is taken directly from the Drover website(where there are additional pictures to view as well at www.droverrv.com). But since this was a display model, there are a few extras I'll list below as well, that most likely won't be included in future builds. Built on a similar new chassis, this model van as optioned would run about $140,000. But since this one is a display model, and built on a used van chassis, I am selling it considerably less, and started the bidding at $84,000 with no reserve. Thank you for your interest! Display model extras 1. Dual rear facing cameras. Set up so one could face directly backwards like a rear view mirror and the other camera could face more towards the bumper to assist with backing up or hitching a trailer2. Optima yellowtop chassis battery3. K&N cold air intake4. Prodigy electric trailer brake controller5. Complete custom stereo system including Kenwood bluetooth 7.2″ display, JL speakers, built-in JL 10″ subwoofer, and JL amplifier6. Corbeau GTS II reclining front seats with both on swivel bases7. 5 BFG 285/75/r16 LT tires with 200 miles+/- and Discount Tire road hazard warranty 8. Viper remote start and alarm system with remote monitoring and alerts up to a mile9. 2″ receiver hitch is integrated through the bumper, includes built-in 7 round and 4 flat wire terminals Standard Equipment Solar power by Renogy With four 100 watt Renogy flex panels as standard equipment, your Drover RV will produce enough power throughout the day to run all of the electronics on board while still keeping the 200 amp/hour, safe and sealed AGM battery, topped off. So once the sun goes down, there will be more than enough juice left in the battery to continue running all of the on board electronics until the sun begins to shine again, and the cycle repeats itself. By using high quality electronics, with the lowest amp draw possible, there is no need to run a noisy, costly, and polluting generator to meet all of your electrical needs. The 40 amp Renogy controller keeps the power produced by the solar panels flowing correctly while the low profile panels create almost zero drag and are attached with all stainless steel hardware to keep everything working smoothly and reliably 1000 watt inverter with multiple outlets/USB plugs Standard equipment with every Drover RV includes a Renogy 1000 watt pure sine wave inverter. These inverters work seamlessly with the Renogy solar controller, and the pure sine wave technology means they are safe and effective power sources for sensitive electronic equipment like laptops and tablets. There are also multiple outlets and USB ports located throughout the RV, including several inside of the cabinets for secure and out of the way charging of any cameras, computers, power tools, etc… Private bathroom with composting toilet by Separette While most RVs in this size and class don't include a toilet at all, Drover RVs come standard with a private bathroom sectioned off by an accordion door that also features one of the most efficient and highest end toilets available. These composting toilets from Separett require absolutely no water at all. This means you can stay out on the road longer without having to worry about refilling your fresh water tank or emptying your gray water tank nearly as often as you would with an RV equipped with a conventional gravity flush toilet. Also, per the Separett company website: "It has benefits that the conventional toilet does not: The liquid and the solid waste are separated and stored into two different containers. When urine and solid waste are mixed, they start to ferment. In the Separett toilet no such process occurs – and thanks to that, no unpleasant smell either." This also allows Drover RVs to utilize a much smaller and more manageable 3/4″ valve and standard sized garden hose to drain your waste tank, as opposed the giant and unpleasant 3″ valves and hoses found in standard RVs. And although the composting toilet does not consume any water, as standard equipment, there is a hand sprayer located nearby which also serves triple duty as an outdoor shower and gear/equipment rinsing device. High capacity tanks: 30-gal fresh water/38-gal gray water Every tank is custom built for each specific van/floorplan, that way we are able to maximize every possible cubic inch of water storage and specify all of the fitting sizes. It is far from the cheapest option, but that approach is how we are able to equip our units with fresh water and waste water tanks the sizes of ones typically found in much larger class C and class A motorhomes. Taking into consideration that the toilets in Drover RVs don't consume any water, the 30+ gallon fresh water tank of filtered water could stretch pretty far. And likewise, it will take an awful while to fill that 38+ gallon waste water tank. Another benefit of the water system is that because of the Separette toilet, the waste tank will only contain liquid, so is able to use a simple and more manageable garden hose fitting to drain. Cataylic heater by Camco One of the most important components for keeping you comfortable out on the road and out in the wilderness is the heating system. And the Camco catalytic heater is one of the most energy efficient, eco-conscience, and high performance heaters available. Unlike forced warm air and many other types of heaters, the catalytic heating process uses absolutely zero electricity. Meaning you'll never wake up to a dead battery again from the heater fan cycling on and off over night. This heater runs off the RV's built-in horizontally mounted propane tank, and since you'll be carrying around your fuel, the 99.98% efficiency of this catalytic heater compared to the 40% efficiency of most forced warm air heaters, means you'll be able to stay out on the road and in comfort for much, much longer. And if you're doing some high altitude traveling, never fear, as this heater is effective up to elevations of 12,,000 feet above sea level, compared to the 4000 foot range for other heaters such as blue flame. Water filtration by Crystal Quest Whether you're filling up from the spigot at your home, or pumping from a remote stream or lake, it is never a bad idea to make sure you are filling up with safe, clean, filtered water. And this hi-tech stain-less steel 6-stage filter from Crystal Quest will ensure that you are. Per Crystal Quest's website, here is a brief description of the filtration process that is standard in all Drover RVs: Stage 1: Water flows through a one-micron filter pad which removes suspended particles such as silt, sediment, cyst (Giardia, Cryptosporidium), sand, rust, dirt, and other undissolved matter.* Stage 2: Water passes through coconut shell granulated activated carbon (Arsenic-Free GAC™). GAC is universally recognized and regularly used as an effective adsorbent for removing a wide variety of or-ganic contaminants, bad taste, and odors from drinking water. Stage 3: Water flows through the ion exchange resin, reducing heavy metals such as lead, copper, alu-minum, and water hardness. Stage 4 & 5: Water flows through a bed of media made of a special high-purity alloy blend of two dis-similar metals – copper and zinc (Eagle Redox Alloy® 6500 and Eagle Redox Alloy® 9500.) Stage 6: Water flows through another one-micron filtration pad for further reduction of undesirable particles. The end result is a great reduction or the total elimination of a wide variety of contaminants. The filter on all Drover RVs is located in-line between the fill valve and the holding tank, so not only will all the taps dispense filtered water, but all fresh water will be filtered before getting stored in your holding tank as well. 10 amp smart charger by Noco In case you're parked in the shade for an extended period of time, or just want to keep your rig hooked up to a trickle charger while being stored inside, the 10-amp smart charger from Noco will get the job done with ease. It is waterproof, and shock/vibration resistant, making it the ultimate charger for an RV. It can charge starter or deep cycle batteries up to 230 amp hours, and works perfectly with the sealed, AGM battery featured in your Drover RV. The charger is located out of the way on the inside the electronics cabinet, and seamlessly plugs into your wall outlet through the inconspicuous port on the driver's rear side of the RV. Keyline Pro 140amp battery isolator. And to really make sure you never run out of power and are always able to operate all of the RV's electronics, we have also included a Keyline Pro 140 amp smart battery isolator. This amazing little unit will charge your house battery off of the vehicles alternator when your rig is running. It is also smart enough to make sure the under hood main vehicle battery gets charged first before it diverts the charge to the house battery Efficient 12-volt refrigerator by Nova Kool These Nova Kool refrigerators are built in British Columbia, Canada and are absolutely great for RV's, especially ones running primarily off of sustainable solar power like the Drover RV. The 2.4 cubic ft model featured here averages just 2.2 amp/hour draw. That means that absent of any solar power, plug-in charging, or alternator charging, this amazing fridge can run for over 3 days off of battery power alone! Pentair Shurflo water pump This high end, Pentair pump is designed to be the quietest and smoothest unit around. So no "pulsating" water flow that feels like it's going to shake your whole rig about with this bad Larry. It's low amp draw also ensures that you'll barely tap into your power supply to use the sink or shower sprayer. Paneltronics waterproof switch panel. These switches have a built-in red indicator light to alert you when the power is on to each individual switch. They are also designed for use in "exposed marine environments" so they will have no problem holding up in the comfort of your Drover RV. They also have very accessible, front mounted/splash-proof fuse holders ,so changing a fuse if needed is an absolute breeze Gauges by Garnett and switches by Paneltronics Extremely accurate gauges by Garnett. Unlike many other tank monitoring systems, which seem to move between empty and full in the blink of an eye, the SeeLevel II series of gauges from Garnett is extremely accurate. In fact, it not only reports the exact percentage of liquid in your tank, but it is also accurate to within 3/8" of tank level. Paneltronics waterproof switch panel. These switches have a built-in red indicator light to alert you when the power is on to each individual switch. They are also designed for use in "exposed marine environments" so they will have no problem holding up in the comfort of your Drover RV. They also have very accessible, front mounted/splash-proof fuse holders, so changing a fuse if needed is an absolute breeze.Ceramic window film by 3MAdditional window tinting is standard on all Drover RVs. A good, quality window film could make a huge difference for an RV, where temperature control and overall efficiency are so important. That is why we use a high quality tint by 3M, which is one of the most effective window film technologies on the market. It's called a ceramic tint, and according to 3M, this is what attributes to its performance: "Great infrared heat reduction due to this absorptive nano-ceramic technology". In addition to window tinting, any builds that have cabinets or other components that cover windows, use a combination of fabric and foam to properly black-out and insulate that window. Heavy duty propane, plumbing, and electrical systems Propane system: Drover RVs utilize high quality CCST gas lines manufactured by Pro-flex. Their flexibility allows for one uninterrupted run for each appliance, meaning there is only one connection inside the RV for each gas appliance. Electrical system: Heavy duty distributions blocks are used for the both the negative and positive battery leads. Extremely heavy gauge wire is utilized as well that is capable of handling far more current than used in this system. And you definitely won't find any "bird's nest" mess of wires in a Drover RV. Everything is kept simple and meticulously organized. Plumbing system: No cheap and unreliable plastic tubing and barb fittings are used in Drover RVs, only high quality stainless steel braided supply lines are used throughout. And whenever the lines pass through the exterior of the vehicle, they are thoroughly insulated and protected from the elements. Drover has also taken the extra steps to have specific plumbing components fabricated out of food grade stainless steel to reduce the number of connections necessary and replace them with the highest quality components available. Comfort amenities and custom cabinetry throughout Jackknife sofa for sitting, lounging, or sleeping and front seats that swivel to expand the living area: This VQ-2 model features a custom upholstered leather sofa that measures 72″ long and folds out to a 40″ width for sleeping. This model also features swivel bases for both the driver and passenger seats. When parked with the seats turned around the VQ-2 feels absolutely giant, and has plenty of rooms for activities! Snap-in carpeting: The base floor of every Drover RV is coated with a highly durable and protective material by Linex. And above that lies a fully removable and modular snap in carpeting. If you're taking the dogs to the lake, or don't want to soil the carpet on a weekend snowboarding trip, the carpet simply unsnaps and rolls up in a matter of seconds so it could be safely stowed away or just removed for easier cleaning. Rear hand sprayer/shower: This rear mounted hand sprayer is great for rinsing off gear, rinsing down the composting toilet, or freshening up with an al fresco shower. It is easily accessible with or without the rear doors open and in the VQ-2 model, it is also hooked up to a 300 watt on demand electric heater. Custom cabinetry: In a rig like this, the cabinetry is one of the most important components. It not only ties everything together, but in a smaller, van based RV like the Drover rigs, it defines and sets the entire floor plan. That is why the utmost in design and build quality goes into the cabinetry in every Drover RV. Soft close hinges are used throughout, along with custom, recessed aluminum hardware, which not only looks good, but helps to keep the interior safe and snag free. These cabinets are all handcrafted with 3/4" wood. They are so well built and securely attached to the vehicle, that they likely add to its structural integrity. CAN premium RV cooktop: This is a top of the line single burner cooktop for your camper van, small trailer or even a tiny home. CAN Srl is a premium RV cooktop manufacturer based in Italy, producing the highest quality galley appliances. Constructed with industrial style components, this unit sets the bar for competing products. Quartz counter tops and under-mount sink with top of the line plumbing fixtures: As with all of the features in a Drover RV, only quality, high end components are used in the highly functional kitchen. Solid surface counter tops such as quartz, along with the undermount sink, not only look good, but they help ensure that the interior remains durable and clean. Snap-in window coverings: Another effective feature of Drover RVs has been inspired by the marine industry. The snap in window coverings help block as much light and heat as possible. They are also light weight and quiet, unlike the ineffective and noisy aluminum blinds found in standard RVs. These custom snap-in window coverings also give you the flexibility to roll them up and just leave one end attached to the RV wall , or unsnap and remove them completely 32″ LCD Television: The custom designed Drover TV mount allows for a perfect view of the TV when relaxing inside, or from outside the RV when tailgating or camping with the side door latched open. Reserve Now Off Road Package Long travel suspension by Weld Tech Design This suspension system is a true long travel design. It increases front wheel travel to 10" and also includes specifically tuned Fox shocks and rear progressive long travel leaf springs . It not only adds ground clearance, but will also allow for a 33" wheel and tire combination. A full set of 5 wheels/tires are included with this option package so you'll have a full size spare. Additionally, vans that are factory 2wd vehicles like the Ford E350, are all equipped with a rear ARB air locker, which helps to ensure that in the rare instance you do get stuck, you've probably earned it! Drover designed off road bumpers After not being able to find aftermarket bumpers that had the aesthetic look we wanted as well as the features we needed, we decided to design and build our own. These are one of a kind, purpose built bumpers, with all the right options for your specific rig. The perfect combination of form and function. We also custom design our spare tire carriers specifically for each rig, and integrate them into the existing rear door hardware for the ultimate fit, finish, and functionality.