Sailboat for sale in
Oriental, North Carolina
1982 LEGENDARY GLOBAL CRUISER MORGAN 383 MORGAN 383
Year: 1982
Make: LEGENDARY GLOBAL CRUISER MORGAN 383
Model: MORGAN 383
Type: Cruiser
Length (feet): 28
Beam (feet): 12
Hull Material: Fiberglass
Rigging:
Keel:
Trailer: Not Included
Use: Salt Water
Engine Type: Single Inboard/Outboard
Engine Make: Perkins 4-108
Primary Fuel Type: Diesel
Fuel Capacity:
For Sale By: Private Seller
Hull ID Number:
California Prop 65 Warning:
CLICK HERE TO VIEW THE PRICE
MORE DETAILS ON THIS BOAT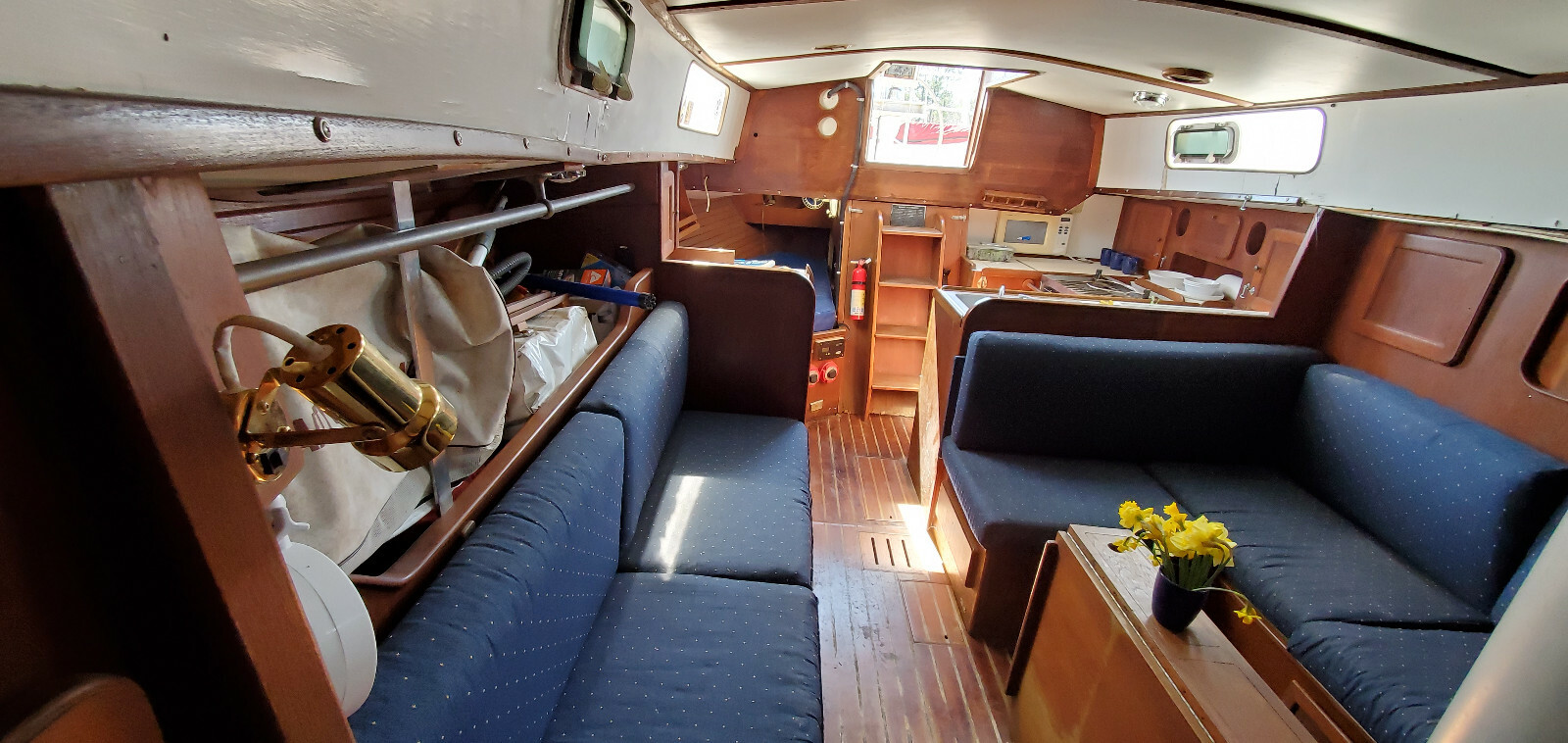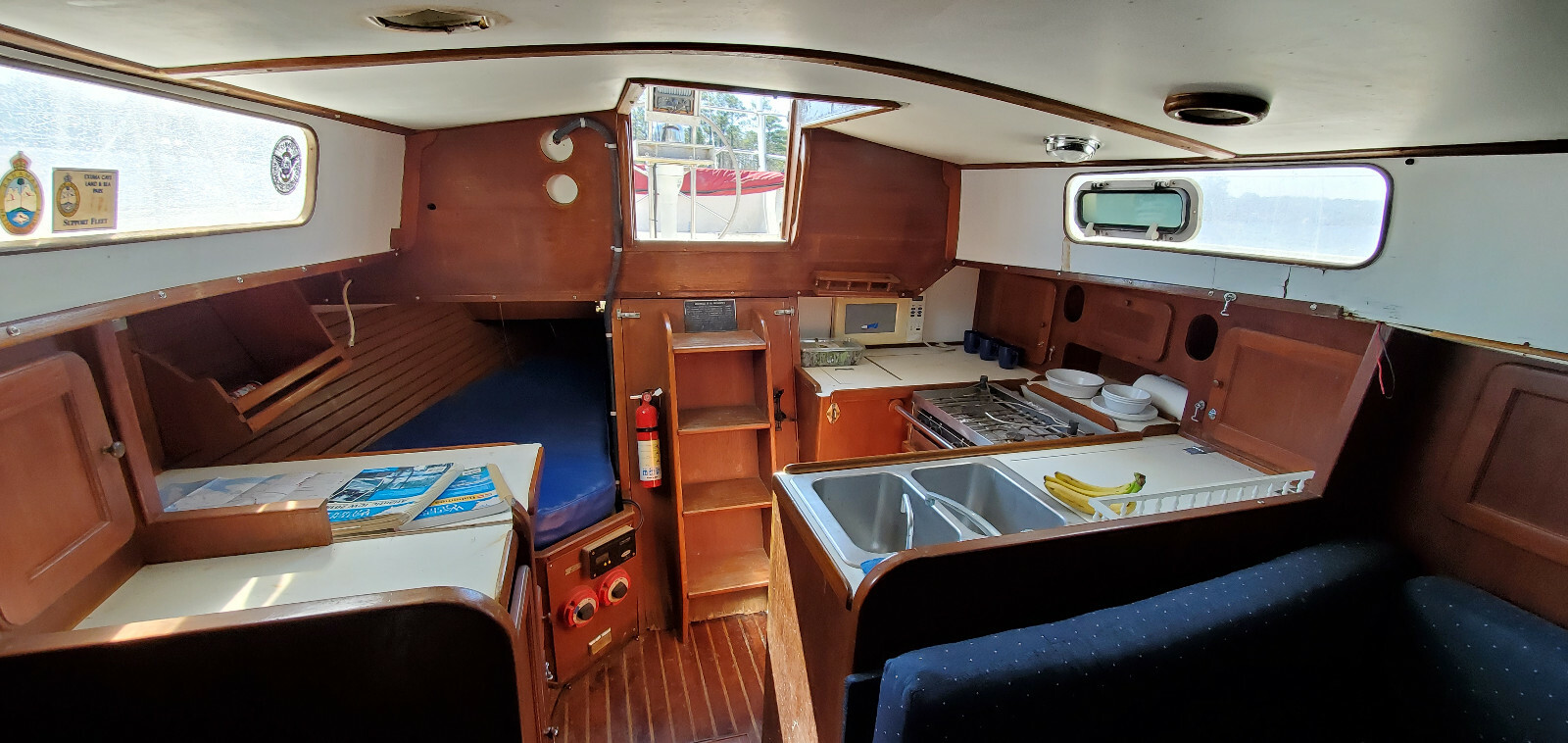 Do you want to see more pictures of this boat? Click Here
TED BREWER DESIGNED – BUILT BY MORGAN YACHTS 6800 LB LEAD KEEL. HUGE 12 FOOT BEAM FOR VERY SPACIOUS INTERIOR. COMFORT RATIO 30.94 BALLAST TO DISPLACEMENT RATIO AN INCREDIBLE 37.78 FOR VERY SMOOTH HIGH COMFORT SAILING WITHOUT SACRIFICING PERFORMANCE. This vessel is listed with an opening bid price at only 1/4 of its fair market value after you have re-commissioned it and sanded and varnished the teak. Research these fine vessels on the Cruiser's Forums and other online discussion groups. Look at the ones for sale on Yachtworld and Sailboat Listings. Read the various reviews that have been written over the years. You will see why these vessels retain their value over the years and why it is so hard to find a deal on one in less than 100% condition. Most owners maintain theirs in very good condition and it is very rare to ever find a 382, 383 or 384 go to market for less than full retail market value. Even at full price they sell quickly and their aren't many to pick from because their owners usually keep them for many decades. The Morgan 383 is spacious enough for comfortable global cruising for a couple or small family. They have enough creature comforts and enough stowage to carry all the necessities of full time cruising and make long passages to the South Pacific or to Europe, and yet they are still much easier to sail and to dock and handle on a daily basis by a couple of retired folks than a 40+ or larger vessel will be. It is thew perfect combination of enough boat to be comfortable without being so much boat that you need additional crew to manage it easily. This one is located on the Intra-Coastal waterway with easy access to the Atlantic Ocean in coastal North Carolina, and it is already south of Cape Hatteras which for folks looking at going south to Florida or the Caribbean that is a definite location selling point. On Yachtworld there is only one 383 for sale. It is in Michigan and listed for $49,000. There is a 1979 Morgan 382 (similar vessel of the same family but missing the taller rig and other structural improvements) for sale in South Carolina for $43,500 and another in Kemah, Texas for $39,990. There is a Morgan 384 in the Boston area listed at $42,500. On East Coast Yacht Sales there is a 383 in Connecticut listed at $40,000. And on Edward's Yacht Sales one in Pensacola that just sold which was listed at 39,900. And here is a video tour of one from Sea Lake Yacht Sales on YouTube https://www.youtube.com/watch?v=6iHdiEHtk5k And another video walk through tour of one https://www.youtube.com/watch?v=MbL5omJaSsc You start to get the idea why finding one of these in 90% ready to sail condition, as this one is, represents quite an opportunity at anything less than 35K. Just to sweeten the deal I am willing to offer zero APR owner financing with $12,000 down payment and 12 months of payments at $1000 per month. Total price $24,000. If you are interested in this 50% financing deal give me a call and we can discuss those options. If the boat sells at auction, the auction high bid price is a cash price. Any owner financing must be discussed in advance by phone. Give me a call. Will 970 319-6408 Morgan 38/382 Charlie Morgan's hurrah becomes Ted Brewer's success story becomes today's pseudo-classic. estaff Published: June 14, 2000 0 We receive many requests from readers to review certain boats. Almost without exception, the requests come from owners of the boat suggested. Few boats have been the object of more requests than the venerable Morgan 38. At first blush, it is difficult to determine which Morgan 38 we ought to address, as two distinct designs were built since the first one appeared 22 years ago. After some thought, we decided to trace the history of both as best we could, including also the Morgan 382, 383 and 384. History The original Morgan 38 was designed in 1969 by Charlie Morgan. He had founded Morgan Yacht Company in St. Petersburg, Florida, in 1965. The Morgan 34 was his first production model. A hometown boy, he had made a name for himself in the 1960 and 1961 Southern Ocean Racing Conference (SORC), winning with a boat of his own design called Paper Tiger. While not a formally trained naval architect, Morgan demonstrated his skill with a variety of designs. Many of these were keel/centerboard models, owing to the shoalness of Florida waters. Seventy-nine were built before production halted in 1971. In 1977, the Morgan 382 was introduced, designed by Ted Brewer, Jack Corey and the Morgan Design Team. According to Brewer, the boat was loosely based on the Nelson/Marek-designed Morgan 36 IOR One Ton. The most obvious difference between the 38 and 382 was the elimination of the centerboard and the addition of a cruising fin keel (NACA 64 012 foil) with skeg-mounted rudder. They are two completely different designs from two different eras in yacht design. In 1980, the 382 was given a taller rig and called the 383. About 1983 the boat underwent other subtle changes, now called the Morgan 384. The rudder was enlarged and the interior modified. In its three versions, the Brewer model registered about 500 sales. The company changed ownership several times during this period. It went public in 1968, was later bought by Beatrice Foods and then Thor Industries. Presently it is owned by Catalina Yachts, who built just 24 38s (three were kits) before discontinuing production in 1986. Design The first Morgan 38 was a development of the highly successful 34, which Morgan called a "beamy, keelcenterboard, CCA (Cruising Club of America)-style of yacht. We had a good thing going and didn't want to deviate; we found little interest in those days in keel boats. Centerboards have their own sorts of problems, but there's an awful lot of thin water in the world, and safe refuge and quiet anchorages are mostly in shoal water." The boat has a long, shoal keel drawing just 3′ 9″ with the board up. The rudder is attached and there is an aperture for the propeller. "Beamy," in 1969, meant 11 feet. The waterline was fairly short at 28 feet, but the overhangs give the hull a very balanced and pleasing profile. The stern is pure Charlie Morgan—a finely proportioned shape that is neither too big nor too small. In profile, the angle between the stern (which interestingly is a continuation of the line of the backstay) and the counter is nearly 90 degrees. It's a trademark look. Sloop and yawl rigs were offered, which was typical of CCA designs. The rig has a lower aspect ratio (the proportion of the hoist to the foot of the mainsail) than later designs, including the Brewer-designed 382. Yet this is a very wholesome rig for cruising. Owners responding to our questionnaire said the boat balances very well. Owners of the 382 and subsequent permutations seemed less pleased. They didn't rate balance as highly, noting most frequently the difficulty in tracking (keeping the boat on a straight course) when sailing off the wind (not uncommon with beamy fin keel designs; it's a trade-off with speed, pointing ability and maneuverability). Others said that they raked their masts forward to improve balance. One thought the problem was caused because the rudder was slightly undersized. Still, these owners liked the way their boats sail. The rig, of course, isn't the only difference between the Morgan and Brewer designs. The latter has a foot wider beam—12 feet—and a longer waterline. Two keels were offered, the standard five-foot draft and an optional deep keel of six feet. Displacement jumped a thousand pounds to 17,000 despite a reduction in ballast from 7,500 pounds to 6,600 pounds. Centerboard boats, naturally, require more ballast because it isn't placed as low as it is in a deep fin keel boat. The look of the 382 is much more contemporary. The rake of the bow is straighter, as is the counter, which is shorter than the original 38 as well. Freeboard is higher and the windows in the main cabin are squared off for a crisper appearance. Construction The hulls of the early 38s were built of solid fiberglass and the decks of sandwich construction. Some 382 hulls were cored, others not. A variety of core materials were used, mostly Airex foam. The lamination schedule was your basic mat and woven roving, with Coremat added as a veil cloth to prevent printthrough. Both designs have internal lead ballast, sealed on top with fiberglass. The early 382s did not have the aft bulkhead in the head fiberglassed to the hull, which resulted in the mast pushing the keel down. All boats "work" under load, and bulkheads bonded to the hull are essential to a stiff structure. Anyone who has a boat in which major load-bearing bulkheads are not attached to the hull should do so before going offshore. To its credit, the company launched a major recall program. Morgan 382 Specifications The owners of all Morgan 38s, as a group, note the strength of the boat. One said he hit a rock at 6 ½ knots and suffered only minor damage. Very few problems were mentioned. The owner of a 1981 model, however, said he "drilled through hull at waterline and was surprised at thinness of glass on either side of the Airex: 1/8" inside, 1/16″ outside." With the stiffness that sandwich construction provides, not as much glass is required; still, protection from collision and abrasion would recommend greater thickness outside. Brewer, incidentally, discounted the report. Interestingly, Hetron-brand fire-retardant resin was used for a time, prior to 1984; if you recall, this was blamed for the many cases of reported blistering on the early Valiant 40s. About half of the 382 owners responding to our surveys reported some blistering, none serious. The attached rudder of the early 38 is stronger than the skeg-mounted rudder of later models. But we do prefer the skeg configuration to a spade rudder, at least for cruising. A problem with skegs, however, is the difficulty in attaching them strongly to the hull. One owner said his was damaged in a collision with a humpback whale, but that is hardly normal usage! Several owners of later models commented that the mast was a "utility pole," recommending a custom tapered spar for those inclined to bear the expense. Other problems reported in our survey were only minor and were corrected by the company. In fact, owners were nearly unanimous in their praise for Morgan Yachts' customer service. Interior The layout of the Morgan 38 is quite conventional and workable. In both incarnations there are Vberths forward, private head with shower (separate enclosure in the 382), dinette in main cabin with settee, galley aft in the port quarter area and nav station with quarter berth opposite to starboard. Specifications for the first 38s included "attractive wood-grained mica bulkhead paneling, with oiled American walnut trim." This was a popular treatment in the 1960s, and practical, but often done to excess. By the 1980s, fake teak didn't play so well. Owners wanted real wood, and that's what they got in the 382. Owners of early 38s complained of poor ventilation ("I added six opening ports, and would like an additional center cabin hatch," wrote one), short Vberths ("Could be 4″ longer, but I'm 6′ 2.""), and more closet space (from a live-aboard). Owners of later models mentioned the need for a larger forward hatch to get sails through, a hatch over the galley, larger cockpit scuppers, and Dorade vents. (Teak Dorade boxes were added on the 384.) They complained of not enough footroom in the V-berths and poor location of the main traveler in the cockpit. (The traveler was moved to the cabinhouse top on the 384.) Despite these minuses, most owners cite the volume of the interior and many stowage compartments as major reasons for their satisfaction with the boat. Performance Under Sail As implied in our comments on balance in the "Design" section of this review, the centerboard 38 sailed beautifully. She is dry and seakindly, stable and relatively fast for her generation. Its PHRF rating ranges from 145 to about 150. The yawl rig is probably not as fast as the sloop, but for the cruising couple, the mizzen sail gives the skipper another means of balancing the boat, as well as a means to fly more sail when reaching if he's prepared to fuss with a staysail. The 382 rates between 128 and 150, about 137 on average. The Morgan 383 and 384, which are grouped together, rate a mite lower at 135, on average. Morgan Owners' Comments It is not surprising that Brewer's redesign is faster, even though it's 1,000-2,000 pounds heavier. This is due to it's deeper fin and higher aspect rig with the ability to carry larger headsails. There is also less wetted surface. Performance Under Power The centerboard 38 was powered by the seemingly ageless Atomic Four gasoline engine, though a Perkins 4-107 or Westerbeke 4-107 was available at extra cost ($1,940 in 1969). The early 38s cruise at about 6 ½ knots. A first-generation Yanmar—the 3QM30—was used on some 382s, and as owners of those engines know, they tend to be noisy and vibrate a great deal. Yanmar engines improved a great deal after the manufacturer redesigned and retooled the entire line. But the most common powerplant was the magnificent 50-horsepower Perkins 4-108. If we were looking for a Morgan 38 to purchase, we'd certainly lean toward one with this engine. Both designs handle reasonably well under power, as well as most sailboats do, meaning that backing down with a two-blade prop is a necessarily cautious procedure. A number of owners recommend changing to a three-blade prop, but that will affect sailing performance. One should examine his sailing style closely before making the move. Conclusion The Morgan 38, in any incarnation, is a handsome boat that sails well and is built strong enough for most people's purposes. Some may pause before taking a centerboard boat far offshore, but it has certainly been done—recall, if you will, Carleton Mitchell's hugely successful racer Finnisterre. Both centerboard and fin keel versions seem to us to have advantages and disadvantages that are essentially tradeoffs. On the one hand, we like an attached rudder for cruising, as it provides the best protection from collision with logs and other hard objects. On the other, we recognize the importance of placing ballast low, as in the fin keel version, and we appreciate Brewer for giving a nice slope to its leading edge so that damage from hitting logs will be minimized. Brewer said that a 382 that passes survey is capable of cruising just about anywhere. "They've crossed oceans," he said. To our eye, we admit to being fond of the CCA designs with low freeboard and graceful sheer lines. The yawl is a versatile rig that is especially attractive, though it does require more in the way of tuning and maintenance. An early Morgan 38, in good condition, should sell in the high 20s. Expect to pay a thousand or so more for the yawl. For sellers, considering that in 1969 the base price of the boat was $22,995, that's not a bad return on investment. Fifteen years later the price had jumped to $84,995 (1984 model). Those boats today are advertised in the mid to high 60s, and occasionally the low 70s. (What anyone is actually getting for these days is another matter entirely). Considering the changes in the economy, that's still not bad performance. What it means most to the prospective buyer is that the Morgan 38 and 382 are popular, much admired boats that should, we expect, hold their value as well as or better than most others. Darrell NicholsonDarrell Nicholson, editor of Practical Sailor, grew up boating on Miami's Biscayne Bay on everything from prams to Morgan ketches. Two years out of Emory University, after a brief stint as a sportswriter, he set out from Miami aboard a 60-year-old wooden William Atkin ketch named Tosca. For 10 years, he and writer-photographer Theresa Gibbons explored the Caribbean, crossed the Pacific, and cruised Southeast Asia aboard Tosca, working along the way as journalists and documenting their adventures for various travel and sailing publications, including Cruising World, Sail, Sailing, Cruising Helmsman, and Sailing World. Upon his return to land life, Darrell became the associate editor, then senior editor at Cruising World magazine, where he worked for five years. Before taking on the editor's position at Practical Sailor, Darrell was the editor of Offshore magazine, a boating-lifestyle magazine serving the New England area. Darrell has won multiple awards from Boating Writer's International, including the Monk Farnham award for editorial excellence. He holds a U.S. Coast Guard 100-ton Master license and has worked as a harbor pilot and skippered a variety of commercial charter boats. AUCTION CLOSES A BIT AFTER 11PM EASTERN TIME ZONE ON THURSDAY NIGHT. IF YOU WANT TO SECURE YOUR OPPORTUNITY TO ACQUIRE THIS AMAZING CRUISING YACHT AT EBAY AUCTION PRICES MAKE SURE TO EITHER GET YOUR VERY BEST BID IN SAFELY BEFORE THE CLOSE OF THE AUCTION OR STAY UP LATE WITH THE ALARM SET ON YOUR PHONE TO ALERT YOU TO LOG INTO YOUR ACCOUNT AND MONITOR YOUR BIDDING STATUS IN THE MINUTES BEFORE THE AUCTION CLOSES PAYMENT IS DUE WITHIN 24 HOURS AFTER AUCTION CLOSES SO MAKE SURE TO LINE UP YOUR FUNDS IN ADVANCE. SOMETIMES THE LAST FEW MINUTES OF THE AUCTION CAN DETERMINE THE WINNER OF THE AUCTION, SO IN ORDER I run a consulting service helping mostly retiring couples and summer-vacation cruising families to prepare for the cruising lifestyle and to find the right boat to suit their needs and budget. I even occasionally will train people how to fully utilize and restore all the aspects of their recent boat acquisition. If you wish to hire me to help you get ready for voyaging or to teach you the ropes (literally) give me a call and we can discuss the options. -Will. I'll be happy to speak to you by phone also about any questions you have. Just call me at the number above or message me with a number to call you back at. 50% owner financing at zero APR is available at the $24,000 purchase price. See above. Call to discuss that option if you are interested in that.For auction sale Payment due within 24 hours after close of auction via Venmo or Cashier's Check with managers receipt as proof of payment at any Wells Fargo Bank. If you are the high bidder at the close of the auction please call me right after auction closes to discuss the details of the transaction & tell me what name/ address you want on the Bill of Sale. Will 970 319-6408 CLEAR OWNERSHIP PAPERS. ATTENTION BUYERS: A $300 vessel processing and storage fee is due at the end of the auction in addition to the auction closing price. Please pay the $300 fee via Paypal. The purchase price is due via any of the methods listed above/in the Item Payment terms. WHO YOU ARE BUYING FROM We are serious blue water ocean sailors with thousands of miles and many years experience offshore and doing coastal cruising. It is our passion to help other people discover the sailing lifestyle, and especially the more serious cruising lifestyle. Sailing is typically considered a rich man's sport, and it certainly is if you pay full price for everything and make the necessary investments in proper off-shore equipment and a safe "Blue Water Capable" vessel in turn key condition. However, there are ways to make this lifestyle possible and affordable to middle class people and retirees who dont possess a three million dollar investment portfolio. But doing that properly and safely and knowing where to find your savings and where to "not skimp" is the knowledge that can sometimes make the difference between catastrophe or pleasant exploring once you set out on your adventure of a lifetime. We are passionate about sharing our knowledge and helping people discover this amazing lifestyle…and doing so in a way that keeps them safe, happy and in the black. We already have our keeper boat and don't need another one, but every once in a while we discover through our friends and connections at boatyards, marinas and marine insurance companies a boat that is a terrific bargain that isn't getting the love and attention and exercise that it deserves, and we will try to help find a new home for it. This is one of those rare boats. If you want to call me and discuss your cruising or sailing plans and dreams and whether or not this boat might actually work to suit your needs I will be happy to speak with you and give you my honest opinion about the feasibility of your plans and whether this vessel might or might not work for you. Feel free to call and chat. WILLIAM AT 970 319-6408 IF A PHYSICAL INSPECTION IS A REQUIREMENT FOR YOU PRIOR TO MAKING PAYMENT, THEN INSPECTIONS SHOULD BE MADE PRIOR TO THE CLOSE OF THE AUCTION AND PRIOR TO PLACING YOUR BID. PAYMENT IS DUE IN FULL WITHIN 24 HOURS. SEE PAYMENT TERMS. MOVING A BIG SAILBOAT WITH A BOAT MOVER CAN BE VERY EXPENSIVE. OFTEN $4 OR MORE PER MILE. I AM HAPPY TO HELP YOU UNDERSTAND THE OPTIONS IN THAT REGARD IF YOU WANT TO GIVE ME A CALL. By far the most affordable way to move a sailboat is by water, so please consider whether your location is accessible to move the boat by water or whether you will need to pay the higher cost of having it moved by truck and trailer. Also consider the time it will take to prepare for a voyage and whether your sailing skills or those of friends or other sailors you might find through the yacht crew websites are at the level necessary to make a safe voyage from the ocean where the boat is located to your home port. AND NOW IF YOU AREN'T YET TIRED OF READING A FEW INSIGHTS TO SHARE ABOUT BUYING BOATS AND CHOOSING THE RIGHT BOAT FOR GLOBAL CRUISING: A little about what we do: Our passion is to assist folks who are making a transition from day sailing or coastal cruising to becoming full-time live-aboard world cruisers. We also assist new sailors who are just getting into the sport of sailing by advising them on how to develop their skills and how to make plans to pursue the dream of cruising and world traveling full-time. We have extensive contacts and resources for finding good world cruising boats at far below their fair market value, and occasionally we discover an amazing neglected vessel at a price that we know may enable a cruising family or a retired couple on fixed income the ability to pursue the dream of cruising without the sort of means and savings normally associated with pursuing this lifestyle. In those cases, like this boat, we work to try and find a new home for a good "below market value" boat, with people who will fully restore the vessel, and hopefully use it for the serious cruising that the boat was designed for. There are many aspects of life where experience really matters, but none so much as global cruising. When you are planning to take a small boat across vast oceans and visit foreign ports of call on your own terms you must truly learn to become Master's of your Own Destiny. It doesn't matter how wealthy you are or how talented you are at managing large organizations or companies with dozens of staff people. When you are on a boat in the middle of the ocean, the choices you have made, the choices you will make and your own internal skills and the undeniable truth of how well or poorly you have planned for your expedition, are the factors that will determine whether your experiences become a positive adventure or a frightening (or even life threatening) catastrophe. When you are looking at a boat parked peacefully at a dock or on jack stands at a boat yard, you will be tempted to judge it based on whether the lines are nice and whether it is pretty or ugly and whether it is new or old and well kept or run down. The ocean however, operates according to immutable laws of physics. The ocean does not care whether it sinks a pretty boat or keeps an ugly one floating. It does not care whether you are a skilled sailor with dozens or years experience under your shade hat or whether you are an amateur on your first weekend pleasure cruise. You will be served exactly the same conditions of wind and waves whether you were born wealthy or if you were raised in a cave by baboons. The only control you have over these situations is knowing when to sail and when not to sail, and you can prepare yourself so that when the wrong situation strikes, if it ever does, you are skilled and prepared to deal with it and have a vessel that is prepared to handle the same. For people who are wanting to go cruising full-time, or who want to go from being pleasure sailors to competent seamen and seawomen, choosing the right boat is the first and sometimes ultimately most important decision of their nautical lives. Of course you can always sell or trade a boat and then buy a different one, but still the choice of each boat will influence the experiences you have and it will determine in many ways the capabilities or limitations of what you can or can't do while you have that boat for your home—even if it is only home for a few weekends here and there. There are many nuances and subtleties to sailing, as well as to each individual vessel. A boat that may be just exactly perfect for one sailor or family of sailors, may be completely the wrong boat to suit another person's dreams. By nature, boats require a lot of maintenance and upgrades, and if you are someone who wants all the possible bells and whistles, boating can be a very expensive occupation. However, there are also ways to save a lot of money and still pursue the dream effectively and safely and create a new floating paradise for yourself. But each person or each couple's needs are different. There is no such boat as a boat that is not a project boat. A cruiser friend I know well (a relatively wealthy man at the time) purchased a brand new Beneteau 46 for his family to live on for years and to cruise the world on, the first thing he did to a brand new half million dollar boat was to spend another $27K on equipment upgrades, new electronics installations and custom modifications. No boat, no matter how shiny and brand new, is exactly right for everyone's individual tastes and needs, and no boat comes straight from the factory completely ready to do anything other than Wednesday afternoon beer can races. I often get asked by people who are shopping for a used boat to go cruising the world, "Is this boat ready to cross the Atlantic?" or "Does it need anything before it is 'Ready to Sail." The very nature of that question is a showcase of their naivety. Even if the answer were "Yes, the boat is ready." (which would be impossible to have any boat ready unless you have spent thousands of dollars on a cruising chandlery and provisioning service ahead of time) the greater question is "Are such ignorant sailors who need to ask such questions ready themselves?" Even if they had the absolutely perfect boat, prepared ahead of time by die-hard professionals to get it ready to cast off the lines and sail to points distant and exotic, would the sailors know where everything is at on the boat and how to operate those systems and how not to break them with ignorant mistakes or how to fix them once broken? And if they knew all those things, would the boat be equipped with the necessary repair tools and supplies as part of the process of getting it ready to sail? So all these are big questions, and the only easy answer is that any sailor must become intimately familiar with their vessel prior to making long voyages beyond sight of land. The easiest way to become familiar with a boat so that it is not a stranger but rather a trusted old friend is to do a lot of weekend coastal cruising with it, while you work all the bugs out. Also, the more projects and upgrades you do yourself the more familiar you will be with how they work, how to maintain them and how to fix them again if anything every goes wrong. To depend on the expertise of professionals left behind in a port in a distant country you cleared out of months ago is only to invite future disaster…and its also much harder on the wallet. So any time you can add to your own skills and knowledge of your own boat by doing your own work, or hiring a professional to help you do it yourself, you are preparing yourself for future success as a cruiser. Any boat, even a brand new boat, will have things about it that you want to change or upgrade or move or install prior to making long voyages. The better questions to ask are: "What is the proper amount of maintenance and upgrades that I will make to my vessel prior to setting sail? How many things need to be changed or fixed before I leave the continental US? How many projects will I work on, as little projects along the way, when I have a slow day at a boring anchorage and there are no cruiser parties to attend and no interesting conversations of the side channels of the VHF. How many projects are absolutely vital to get accomplished before I begin actively using the boat as a full time residence and a floating RV that can sail to any country with a coastline?" How many projects do I want to tackle myself if it means I can save literally tens of thousands of dollars on the purchase price of a boat, and how much more ultimate value do I get for my money by buying a larger or more seaworthy boat with a few bigger projects to tackle than if I buy a smaller or more flimsy boat that is cleaned up nicer and has fewer problems to address. (Remember the ultimate cosmic law of boating – even if you can't see any problems at all with a boat, and no projects needing doing, as soon as you own it and begin to sail it, you will start to find those quirks and bugs) So don't fool yourself into believing that you can simply buy a shiny new boat from a broker at full market value, or even by paying more than boat blue book value, to avoid ever having to make repairs or upgrades. Any experienced sailor or boating professional other than someone selling fancy new boats will admit to you that there is no such boat other than a "project boat." The only question is "What are the projects and how much money will I save by doing them myself versus hiring someone else to complete them?" Every boat that I have ever bought or ever sold, which is now many dozens of them, had varying degrees of things needing to be improved about it. Even the brand new boats straight from the showroom floor or boat show sales dock will need bottom painting and new zincs and fuel cleansing treatments and oil changes and manifold and riser inspections within a matter or months of casual weekend use. The longer any boat sits without the proper level of loving regular maintenance the faster it will deteriorate, and tiny 15 minute projects will turn into hour-long projects and hour-long projects will turn into day-long or week-long projects due to continuing neglect. The quality of the build is also important. A cheap boat will have cheap boat problems, and it will have serious issues far faster and more frequently than a very well built boat from an esteemed yacht designer and builder even if the better boat looks worse initially. In many ways you are better off to buy an older and more well regarded vessel in worse "first impressions" condition than to buy a shiny and well kept cheaper new boat. In the long run the better boat will cause far fewer headaches once you have it restored fully and you are taking care of it yourself, whereas the cheap but glossy boat may still look new and shiny for years, but begin having serious and costly problems that cannot be seen even while it still looks great in Facebook boat pictures. Boating is like riding a horse or driving a high performance sports car. You always have to be involved in the life of your boat whether you use it frequently or not. But this is not a bad thing, because it is part of the pride of ownership, and the regular maintenance and upkeep and small projects is what enables you to avoid the big ones or to at least know which big ones you need to do sooner and which ones can wait till later. — As you will guess by now, I'm a bit of a philosopher sailor when it comes to helping folks find just the right boat to serve their needs. I am currently writing a book on that very topic which will be called, "The Seven Questions of Cruising (or) the Seven Questions you should ask yourself before buying a Boat." Here is a quick preview of the questions you should be trying to answer from the introduction to my new book. — When you go to buy a boat, especially if it is your first boat, there are a lot of decisions to be made and hard choices to figure out. Before you begin searching for the correct vessel to serve your needs, you need to first ask yourself, (and your cruising partners/ spouse etc) some important questions which will help you immensely in the quest to find the perfect small ship to suit your needs. Question # 1- Where do you want to sail to (now and also possibly in the future)? #2 – Who might be going with you and/or who might want to visit you and stay on the boat with you once you get to that exotic foreign port (if global cruising is your goal) or that incredible weekend getaway spot (if weekend cruising is your thing). #3 – How much do you want to spend on this adventure called boating/sailing/? Also, how much "can" you afford to spend if you happen to take a wrong turn with the adventure and "need" to spend more money to fix a problem or get yourself or your stalwart side-kick (your boat) out of trouble? #4 – How handy are you? (i.e. – Are you someone who naturally takes pride in your ability to figure it out yourself, or are you the person who would rather call an "expert" and pay them to solve whatever problem you are having? #5 – How much time do you have to save yourself money, because in sailing, as well as in life in general "time often equals money." #6 – Are you a weekend warrior and/or charter sailor, or do you want to cruise full time? #7 – Do you care more about Getting There or more about "Being There" once you have arrived? A bit on the designer Ted Brewer from TedBrewer.com About Edward "Ted" Brewer Ted was born in Hamilton, Ontario in 1933. In 1957 he was a Lieutenant in the Canadian Army but resigned his commission to return to his first love, boating. He was lucky to get a job as yacht broker with George Cuthbertson, who later founded C&C Yachts. At the same time, Ted was working on the Westlawn School of Yacht Design course. Ted learned a great deal about design from George and also from Dick Telford, a boat builder, very capable designer, and good friend, who also worked there. During his years with Cuthbertson, Ted was racing aboard 8 meter yachts in Lake Ontario and sailing his own small boats up and down the lake. Then, in late 1960 he had a chance to move to Connecticut and work for A. E. "Bill" Luders Jr. as assistant designer. While with Bill he worked on everything from 5.5 meter sloops (about 50 of them), to 12 meter America's Cup racers, ocean racing yachts and power boats. He assisted in the modification of WEATHERLY for the successful 1962 Cup defence and did all the drawings for the Bill Luders' designed 12 meter yacht AMERICAN EAGLE, and supervised her construction. While with Luders, Ted raced aboard Bill's swift and lovely STORM, and crewed on other Luders designs in the Miami-Nassau, Annapolis-Newport and similar distance events. order from USA or overseas order from Canada In 1967 Ted moved to Brooklin, Maine to hang out his shingle but still did all of Luders drafting, including the conversion of EAGLE to an ocean racer. In partnership with Bob Wallstrom he produced over 100 custom and production designs, from 18′ catboats to the exquisite 62′ teak ketch TRAVELLER III and, from the sublime to the ridiculous, even a 64′ 3 masted schooner approved by the USCG for daysailing 125 passengers. In the mid 1970s Ted pioneered his, widely copied, radius bilge method of building metal hulls and, over the years, designed dozens of steel and aluminum craft from 30 to 100 feet. One of these yachts, GLOBE STAR, circumnavigated the globe in 1981 without the use of sextant, compass or instruments of any kind. In 1979 Ted moved to Washington state and, in the next 20 years, produced 160 more designs including the beautiful Whitby 55 ketch, the handsome 45′ schooner SOPHIA CHRISTINA and the fast and powerful 70′ schooner TREE OF LIFE, winner of the 2000 Antigua Race Week. In 1999 Ted and his wife Betty returned to Canada and settled on Gabriola Island, B.C. where he designed a few more custom yachts, sold stock plans, wrote for boating magazines, and donated time, lecturing at the Silva Bay Shipyard School. In June 2006 they moved to Agassiz, BC. In addition to completing over 270 designs, Ted has written three books; one of them, Understanding Boat Design, is now in its 4th edition and has been a popular design primer for 30 years. He is now mainly retired, although he still sells stock plans to those who are interested in them. Ted has raced and cruised in waters from Hawaii (3 Trans-Pacs) to the eastern Mediterranean, and from the Caribbean to the Great Lakes. Some info on Charley Morgan and Morgan Yachts: Charley Morgan on WikipediaEarly life Morgan was born in Chicago in 1929 and raised in Florida.[2] Morgan built the yacht Brisote and completed a St. Petersburg, Florida to Havana, Cuba race with Bruce Bidwell.[2] Morgan attended the University of Tampa[2] [3] and took a job with Johnson Sails, located at the Jean Street Shipyard on the Hillsborough River.[2] In 1952 he founded Morgan Racing Sails in Tampa, FL.[2] While making sails Morgan met yacht designer George Luzier, who got him interested in designing boats. [4] Racing In 1957, Morgan, along with Charlie Hunt, designed and built Brisote, a 31-foot plywood yawl. [5] After successfully appealing disqualification due to a lack of engine, he entered the Havana race and took second in Brisote's division.[2][3] In 1960 Jack Powell commissioned Morgan to build the 40 foot centerboard fiberglass yawl Paper Tiger..[2][5] The "famously successful"[5] Paper Tiger won the SORC Southern Ocean Racing Conference in 1961 and 1962.[4] Morgan Yachts Unable to find a builder to manufacture the Tiger Cub, a smaller version of Paper Tiger, Morgan founded the Morgan Yacht Corporation St. Petersburg, FL, 1965 after graduating high school and starting his own sail company.[5] Morgan suffered the misfortune of falling ill with tuberculosis, delaying production.[4] Morgan asked Bidwell to join the business, delivering the first yacht in 1965.[4] Early models included the Tiger Cub and fiberglass sloop Morgan 34.[4] The company grossed 1.7 million in 1965.[2] The company's first model was the Morgan 34 built in fiberglass. This was followed by the Morgan 24, 30, 41, and 45. The Morgan 41 designed by Morgan, his most popular design, became a standard in the sailing charter industry for its strength, simplicity, and space belowdecks. In response to customer feedback while operating Morgan Yacht, Morgan designed the shallow draft Morgan Out Island 41, "the most popular boat over 40 feet overall ever built."[5] First built in 1971 the spacious boat became popular with charter companies, becoming "the standard charter boat."[2][5] The Out Island 33 was designed and first produced in mid-1971 as part of the Morgan Out Island series. [6] Morgan's involvement in the company ended in 1972.[citation needed] Ownership of Morgan Yacht was sold to Beatrice Foods in 1968, providing funds for Morgan to design and build the wooden 12-meter yacht Heritage to compete for selection as defender of the America's Cup.[2] Morgan acted as skipper during the defender selection trials but lost to Intrepid. After Morgan left the company was passed from one corporate entity to another, until it came into the hands of Catalina Yachts in 1984. Catalina continued manufacturing a few models, including the Out Island 41, before the Morgan name was retired. Later life Morgan left Morgan Yachts in 1972.[5] Beatrice Foods sold the company to Catalina Yachts in 1984 and sold a redesigned Morgan Out Island 41 from 1986 to 1993.[7] Morgan found Heritage Yacht Corporation in 1975, producing trawlers and sailing yachts. The company was forced into bankruptcy and ownership transferred to Catalina Yachts.[2] Heritage Yachts sold the tooling for their line of Morgan Trawlers to Chris-Craft [8] and Morgan began working for Chris-Craft, doing design work on their trawler line.[2] Morgan later designed the Com-pac 35 under contract for Hutchins Yachts.[9] For sailboat designer Charley Morgan, life's still a breeze By Times Staff WriterPublished Sep. 9, 2014Charley Morgan, who calls himself "the ancient mariner," felt like a kid again. Eighty-five candles will grace his next birthday cake, but when he noticed the palm trees swaying beyond the window, he marched outside to look at Boca Ciega Bay. Standing on his dock, he saw Blue Cloud prancing at the end of a rope like a rambunctious colt wanting to leap the corral fence. "Let's go sailing," Morgan said. He took hold of the tiller. Tim Horsman, his stepson and owner of the 24-footer, unfurled the sails. Catching the wind, Blue Cloud bolted toward open water. Seconds later, she — Morgan observes the traditions — was slicing through waves fast enough to lean over. The old man grinned. "We're honking along." He felt like a rambunctious colt himself. A year ago, he felt older than his age. He saw blood in his urine. He needed a nap after breakfast. A high-energy optimist by nature, he wondered if his friends might soon be reading about him — in the obituaries.//"Let's get the jib up," he yelled to his stepson, who raised the forward sail.In his younger days, Morgan was among the world's premier designers of sailboats, fancy ones for millionaires and modest ones like Blue Cloud. Self-taught, in 1960 he built Paper Tiger for famous New York yachtsman Jack Powell. In 1965 he founded Morgan Yachts, the company that made him famous. He was a renowned sailor as well, competing in the Southern Ocean Racing Circuit and sailing's most celebrated event, the America's Cup. He was so aggressive at the tiller, a competitor once said, that Morgan wouldn't have let his mother win even an insignificant race. Fortunately, Mom didn't sail.In 1968, Morgan sold his company and became an exceedingly wealthy man. Then he designed a 12-meter wooden boat for himself, Heritage, to race in America's Cup trials in 1970. He didn't advance, though Heritage won other races elsewhere. His masterpiece is still in use in Newport, R.I., to raise money for charity. Sometimes Morgan sits on his couch in Treasure Island with a legal pad and redesigns Heritage for fun. With tweaking, the still-driven Morgan is sure it could be faster."Charley isn't the type of person who is going to just sit there and relax," his wife, Maurine, always tells friends. "He always has something going." He was born in Chicago in 1929 but grew up in Tampa. He was a boy when his uncle took him sailing on Lake Conway near a sleepy town called Orlando. At 10 he built his first sailboat out of discarded orange crates and sack cloth.Professionally built sailboats were a rare sight during the World War II era in Tampa Bay. He never saw more than eight at once. Sometimes he got a loaner and sailed to St. Petersburg. At 19 his confident parents let him sail on a boat called the Red Bird — to Havana.The adventurous boy also was enamored by the romance of deep-sea diving. During the childhood summers he spent with relatives on Florida's Indian River, he built his underwater helmets out of tin buckets. "Kid, you're going to drown," yelled his uncle, hauling him from the water. "It was a different world," Morgan says. "So different from today's Florida. The old-timers ate turtles and turtle eggs. My aunt and uncle drank their water from a cistern — except for the time a cat drowned in it." The future sailboat designer to millionaires made root beer money by catching toadfish on a cane pole and selling them as crab bait for a nickel a pound. His Cracker kin ate so many mullet their stomachs fluctuated with the tide.At the University of Tampa, Morgan tried focusing on engineering. Then a sailing friend enlisted him in a sailmaking operation. Morgan quit college and opened a sail shop on the St. Petersburg waterfront. Sailmaking led to Morgan Yachts. His best-known sailboats ranged from 24 to 54 feet. He even built the submarines Disney World used in its 20,000 Leagues Under the Sea ride.As a businessman, his credo was "You don't get your boat until I get my money." Even now he subscribes to the Harvard Business Review.//"Luff up," he yelled to his stepson, who arranged the sails.Blue Cloud headed into the wind, bucking like a bronco, though not enough to affect Morgan's delicate equilibrium. His thousands of nautical miles over the decades have included many spent retching over the side. How does he manage? Throw up and focus on what's important. On one voyage to Cuba, a sail split in a storm and he came inches from being lost at sea.In 1956, he met Sally Crawford, who did all their marketing. Their marriage lasted until her death from cancer in 2001. In Europe he spent months grieving and looking at art masterpieces. Perhaps because he is Charley Morgan, he wondered about reinventing himself as an artist. After all, he had enjoying drawing as a kid. He studied, took lessons from Tarpon Springs maestro Christopher Still, painted like a maniac. In 2006 he married Maurine Horsman, an artist who paints on one side of the Florida room while on the other side he works on a painting inspired by seeing a panther near the St. Johns River when he was a boy.His bookshelf is lined with art books and volumes about sailing and design. He likes nothing more than discussing the engineering involved in boat building, using the word "theorem" or mentioning "the propagation of gravity waves" or puzzling over the "vorticity in trailing eddies" that slow otherwise fast sailboats."Charley Morgan is a vibrant young man who is so tense with ideas, thoughts, philosophies, ambitions and self-improvement projects that on a clear, quiet night you can almost hear him hum as though he were a human generator, which, indeed, he seems to be." The late sailing writer Red Marston published that elegant sentence in the St. Petersburg Times more than a half-century ago.//A little more than a year ago he saw blood in the toilet bowl. Doctors were puzzled about his urine. Bewilderment frustrates Charley Morgan. Tell him what's wrong and how it can be fixed.At the Moffitt Cancer Center, he got an answer. There was a tumor on a kidney. Doctors removed the kidney. He rested, felt weak, got stronger. Weeks and months passed. He started painting, started looking out the windows at Blue Cloud.She is not the Heritage, and Boca Ciega Bay is not the North Atlantic. His days of sailing in the America's Cup are long behind him.It didn't matter.Out on the bay, the old man grinned and brought her home. ******Standard Legal Disclaimer – Vessels are sold "As Is" with no warranty either express or implied. The Company listing this vessel for sale offers the details of this vessel in good faith but cannot guarantee or warrant the accuracy of this information nor warrant the condition of the vessel. A buyer should instruct his agents, or his surveyors, to investigate such details as the buyer desires validated. This vessel is offered subject to prior sale, price change, or withdrawal without notice.PAYMENT TERMS – Payment due within 24 hours after close of auction via Venmo or Cashier's Check with managers receipt as proof of payment at any Wells Fargo Bank. Paypal deposit due immediately after close of the auction. If you are the high bidder at the close of the auction please call me right after auction closes to discuss the details of the transaction & tell me what name/ address you want on the Bill of Sale. Will 970 319-6408 CLEAR TITLE.