Boat for sale in
Oklahoma, Ok
Make:
CLICK HERE TO VIEW THE PRICE
MORE DETAILS ON THIS OTHER BOATS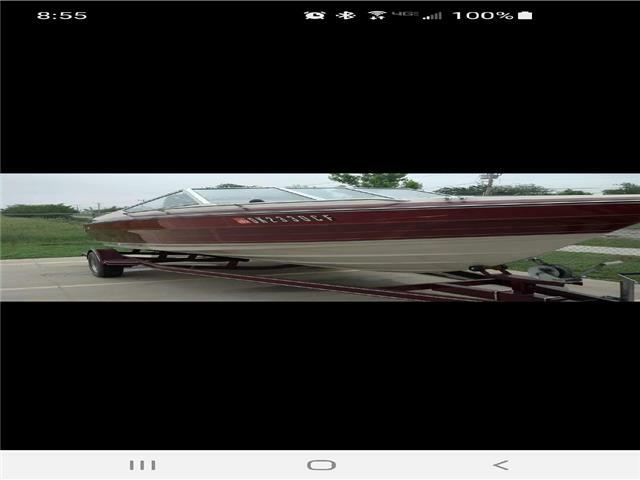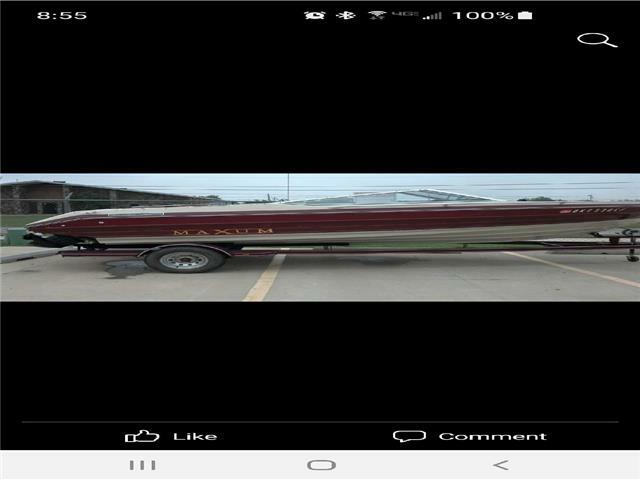 Do you want to see more pictures of this boat? Click Here
(866) 637-4096(866) 637-4096 123of3 View full size images 1990 Maxum Boat 20'7 Mileage: 0 Vehicle Warranty Most new vehicles come with a factory warranty and some used vehicles have a remaining factory warranty. Please contact us for the warranty vehicles specific to this vehicle. This Item Is Sold "AS IS" and Must Be Picked Up In or Shipped From:Oklahoma City, OKC0VID-19 UPDATESBoatsDonated is taking all steps necessary to allow boat donations and purchases to take place in a safe manner. Payment and pickup deadlines will remain in effect however the ability to comply with local, state and federal shelter-in-place rules may differ from state to state. For these reasons, we ask that you only bid on local items and if you are experiencing any issues regarding pickup, please message us through eBay. Thank you for your assistance as we all navigate these very challenging times together. ATTENTION NEW EBAY USERS and THOSE WITH FEEDBACK UNDER 10New eBay users and those with little eBay experience have a tendency to not read listings in their entirety. Accordingly, new users (accounts created in the past 90 days) and those with feedback score under 10 MUST contact us through eBay messages with their 1) Contact Name, 2) Working Phone Number and 3) Valid Mailing Address. BoatsDonated reserves the right to cancel your bid and block you from bidding on all items listed by BoatsDonated if you fail to contact us in advance of your bid. If your contact information does not match the information with eBay, your bid will be cancelled. This Ad Description Reflects 100% of Information Furnished By the Donor from Our QuestionnaireBoats listed by BoatsDonated have been donated to benefit charity. The donor has provided BoatsDonated with all the information about this boat and all statements regarding the listing are under no guarantee unless otherwise stated. The donor is not a mechanic or marine professional. His or her statements may contain inaccuracies due to lack of knowledge of boat maintenance repair. The donor also has provided BoatsDonated with the pictures. Please review all pictures in this listing for the most accurate description of the item. PURCHASE PROCESS The winning bidder will be immediately invoiced for the deposit which is due within 24 hours. Following the deposit payment, the winning bidder will receive a separate invoice for the balance, which is due within 3 days of the close of auction. This invoice will be sent to your email address registered with eBay and will appear within 1 business day after deposit payment. Failure to pay the balance on time will result in a late fee. The winning bidder will receive donor contact information once all funds have cleared (deposit, balance). PayPal payment is the only method of online payment and we prefer use of a credit card or Paypal balance (payment with an eCheck or other funds can cause undue delay). Upon pickup, please inspect your purchase for any material differences between the listing information and the actual boat condition. Moving the item OR putting Title/Registration documents in your name voids our refund policy (see "Local Pickup" and "No Warranty" sections in the terms and conditions below). If you win the auction and have any questions, please email us at info@BoatsDonated. FREQUENTLY ASKED QUESTIONSQ: Do you charge any additional fees?A: BoatsDonated does charge an admin fee of $299 in addition to the winning eBay auction price. Q: What does "no reserve" mean?A: No reserve means the final bid is the winning bid. Yes, boats do sell for the initial list price. Q: Why is the deposit sometimes $1.00 less than the starting bid?A: BoatsDonated charges a deposit on all boats. eBay Motors automatic invoicing system does not function correctly when the deposit amount matches the final bid. Accordingly, you will be able to pay the deposit directly through eBay, and we will invoice you for the remaining balance (yes, even when it's $1.00). Q: Can you hold the boat longer than seven days?A: No. BoatsDonated requires the winning purchaser to pick up the boat within seven days of auction close (unless otherwise noted above). Q: Can I see the boat/inspect the boat/contact the marina before I win?A: No. In order to respect donor privacy, we do not provide any donor contact information to anyone except the winning bidder following payment. This includes boat location, marina information, etc. Additionally, the IRS rules that govern donated auctions require the transaction to occur at arms-length. Accordingly, we cannot and will not provide any individual with more information or access over another prospective bidder. Q: Can I pay with a check or cash when I pick up the item?A: No. BoatsDonated only accepts payment through Paypal. Q: When is BoatsDonated open?A: BoatsDonated is located in California and is open Monday thru Friday from 9:00am to 4:00pm PST. BoatsDonated is closed for all federally recognized holidays, which are listed above. All questions are generally answered the following business day. Q: Can I Purchase a Vessel that is Not Local?A: We STRONGLY recommend only purchasing local items. While you can purchase any of our vessel listings, local purchases allow you to see the boat before transporting and give you an opportunity to inspect the vessel without incurring substantial cost. Only personal inspection will qualify for a full refund. Statements by marina employees and the like will not be accepted as valid representations of the vessel. BoatsDonated will not reimburse any costs or travel expenses associated with moving the boat (including but not limited to gas, lodging, purchase/rental of trailer, airfare, outside consultation, survey, etc.). Q: Do you provide shipping?A: We do not provide shipping. While we are not affiliated with any shipping companies, we recommend you contact KF Servicez LLC at (727) 424-4782 for transport costs. They are DOT and MC licensed and all they do is move boats. Give them a call or check out their website at www.kfservicez.com. We strongly recommend purchasing local so you can personally inspect the boat because once you move the boat, it is yours and you will not receive any refund for any claims. Please also check out www.shipitweb.com for alternate shipping options. Q: What happens if the boat is not as described?A: If the winning bidder arrives and the condition of the boat is grossly different from the listing description, do not move the boat and do not take possession of any documents. Take clear pictures of any discrepancies and message us the photos in full resolution through eBay. We will not refund a deposit without photos of the discrepancies (verbal statements will not suffice for a refund). Marina testimonies of a vessel are not acceptable. Once you move the boat, it is yours (see terms and conditions). Q: What happens if my payment is late?A: BoatsDonated relies on your timely payment as does the donor. Late payments will be subject to the filing of an unpaid item, relist of the vessel and/or an additional late payment fee. BoatsDonated understands unforeseen circumstances do occur so please call us if you are experiencing a payment issue. TERMS and CONDITIONS General information, surveys (if included) and photos are included to help you approximate the general value of this item and are not intended to be used by the donor or BoatsDonated as a definitive list of equipment, accessories for valuation or final sale inventory. Additional items displayed in the provided photographs are not necessarily included in the auction unless specified in the item description details above. BoatsDonated does not guarantee or warranty the presence of any item that is not specifically listed by the donor in the item description details above. It is the sole responsibility of the buyer to not assume the inclusion of any item unless specifically listed in the item description details. If your bid is contingent on the inclusion of an item not listed in the item description details, please contact BoatsDonated through the questions forum. If BoatsDonated cannot provide verification that an item is included in the auction, the buyer/bidder must assume the item is not intended to be included. Almost every BoatsDonated auction starts at one dollar. Please consider your bid before you finalize. If your question is not answered in a timely manner, please refrain from bidding or assume the question is not part of the listing. Items are often donated because they are not being used and are not in working condition. Many of the donated items need work with varying costs. Bid accordingly. BoatsDonated discloses ALL information provided by the donor. The donor of this item has provided all information regarding the listed item. BoatsDonated does not physically inspect any items and cannot verify or validate these statements. Statements are under no guarantee. Items is sold as is and must be picked up at the specified location. Payment Deposit is due within 24 hours of auction close and balance payment is due upon invoice. BoatsDonated only accepts payment via PayPal and does not accept checks, cash, money orders, or any other form of payment. You will receive a PayPal invoice the email address affiliated with your eBay account (check your spam if you don't see it in your inbox) Click the yellow "pay" button in your email which will link you to Paypal; on the invoice, click the blue pay button. The deposit is a non-refundable deposit, and purchaser will forfeit said deposit for failure to comply with any terms. BoatsDonated reserves the right to relist any item if purchaser fails to meet any of the deadlines including, but not limited to, security deposit payment within 24 hours of auction close, full payment within 3 days of auction close and pickup within 7 days of auction close. Failure to pay the initial deposit and/or balance on time will result in a late fee. BoatsDonated is happy to work with purchasers but purchaser must contact BoatsDonated. Local Pickup or Shipping Local pickup or shipping is the responsibility of the purchaser and purchaser must take physical possession within seven (7) days of the end of the auction. Purchaser is solely responsible for arranging the local pickup of this item and should contact the donor before taking any steps towards picking up the boat. The donor and BoatsDonated will not provide any delivery options. Donors make their item available for pickup and purchaser agrees to work with donor to arrange pickup. If you choose to use a shipping company or a third party to remove the boat, please be sure they inspect the boat before they move the vessel; once the boat is moved, you own the boat and void any chance for a refund. If purchaser believes the item is grossly misrepresented, purchaser should not take possession of the item and needs to contact BoatsDonated through eBay messages immediately with a description of the misrepresentation. Purchaser will also need to include clear images that document the misrepresentation for verification purposes. Failure to contact us through eBay or provide photographs that clearly document the discrepencies will result in forfeiture of the deposit. Verbal statements will not qualify as evidence of discrepancies. Statements by marina agents will not be accepted as accurate representations of vessels. Please do not rely on representations by agents, harbormasters, and the like as they are not the owners of the vessel. If the purchaser or purchaser's agent fails to take possession of the item within the 7-day time frame, the purchaser is liable for any costs donor may incur for storage and/or moving the item to a longer-term storage facility as well as a $98.00 relisting fee, unless the boat is misrepresented (and purchaser contacts us through eBay and provides photos that clearly document the misrepresentations) in which case all purchase amounts will be refunded to the purchaser). Only United States purchaser's and no international purchasers. We will not mail documents or create documents for international purchasers…no exceptions. Fees and Taxes Purchaser is responsible for any and all local, state and/or federal taxes and/or fees associated with the purchase, registration, title transfer or licensing of this item. Please check your local tax obligations before bidding. Transaction Cancellation BoatsDonated reserves the right to cancel this transaction at any time and shall not be held liable for any such cancellation. In the event that a boat is not available following payment, purchaser agrees that ItsDonated liability is limited to the purchase price. ItsDonated will immediately refund the entire purchase price through PayPal to the purchaser. Purchaser may forfeit both deposit and balance purchase price if vessel becomes unavailable after the 7 day pick up window. Purchaser agrees that BoatsDonated liability is limited to the purchase price. BoatsDonated will not reimburse any costs or travel expenses associated with moving the boat (including but not limited to gas, lodging, purchase/rental of trailer, airfare, outside consultation, survey, etc.). No Warranty There is NO WARRANTY provided with this auction item. The item is sold as is with no warranty, express or implied. BoatsDonated is not responsible, and bidders shall not hold BoatsDonated responsible for any warranty items, including, but not limited to the correct description, authenticity, genuineness, or defect of any item sold herein, and makes no warranty in connection therewith. No allowance or set-aside will be made on account of any imperfection, defect or damage. Any descriptions or representations are for identification purposes only and are not to be construed as a warranty of any type. BoatsDonated makes every reasonable effort to disclose any known defects associated with the item at the purchaser's request prior to the close of sale, but these efforts too shall not be interpreted as a warranty of any kind. BoatsDonated assumes no responsibility for any repairs whatsoever. Unless otherwise indicated, boat listings do not include title to either the boat or trailer. Trailer, if included in auction, does not include title and should be considered as a free item included with vessel. Unless otherwise stated, trailer is only included for storage purposes. BoatsDonated attempts to resolve any issues whatsoever in purchaser's favor. Gross misrepresentations will be viewed in favor of the purchaser. BoatsDonated attempts to resolve any issues whatsoever in purchaser's favor. Purchaser agrees they will contact BoatsDonated directly by e-mail at info@ BoatsDonated with any problems before leaving any negative feedback through eBay. Leaving negative feedback of any kind before contacting BoatsDonated, whether founded in truth or not, constitutes libel and purchaser agrees to compensate BoatsDonated accordingly for any injury. Please note BoatsDonated has not physically inspected the item or the engine and cannot verify their functionality. If the listing indicates the engine is not functional, it may or may not be repairable. Accordingly, by bidding, you agree the engine condition is as is with no guarantee. Terms and Conditions Payment Options We accept the following payment methods: – Cashier's Check/money order Vehicle Pickup & Shipping All shipping charges are buyer's responsibility. Finance, Warranty, Shipping question? Call the dealer at (866) 637-4096 General Terms Notice to Bidders: The vehicles we list for sale at eBay are also for sale at our retail location. Please contact us to confirm vehicle availability. We reserve the right to end an auction early. Deposit: We require a non-refundable $500 deposit within 48 hours of winning the auction. Please call to make arrangements for payment. We accept the following forms of payment: Cash in person, certified funds, institutional financing. All sales transactions must be completed within 7 calendar days of auction close. Prices are subject to change without notice. Although every effort is made to present accurate and reliable vehicle information, use of this information is voluntary, and should only be deemed reliable after an independent review of its accuracy, completeness, and timeliness. It is the sole responsibility of the customer to verify the existence of options, accessories and the vehicle condition before time of sale. Any and all differences must be addressed prior to time of sale. No expressed or implied warranties, including the availability or condition of the equipment listed is made. EPA mileage estimates are for comparison purposes only. Actual mileage may vary depending on driving conditions, driving habits, and vehicle maintenance. Fees and Taxes State or local taxes, title, license fee, processing fees, registration fee, dealer documentary fee, finance charges, emission testing fees, and compliance fees are additional to the advertised price.