Sailboat for sale in
Little River, South Carolina
1975 Gulfstar GS50
Year: 1975
Make: Gulfstar
Model: GS50
Type: Cruiser
Length (feet): 50
Beam (feet): 13.7
Hull Material: Fiberglass
Rigging:
Keel:
Trailer: Not Included
Use: Salt Water
Engine Type: Single Inboard/Outboard
Engine Make: Yanmar
Primary Fuel Type: Diesel
Fuel Capacity:
For Sale By: Private Seller
Hull ID Number:
California Prop 65 Warning:
CLICK HERE TO VIEW THE PRICE
MORE DETAILS ON THIS BOAT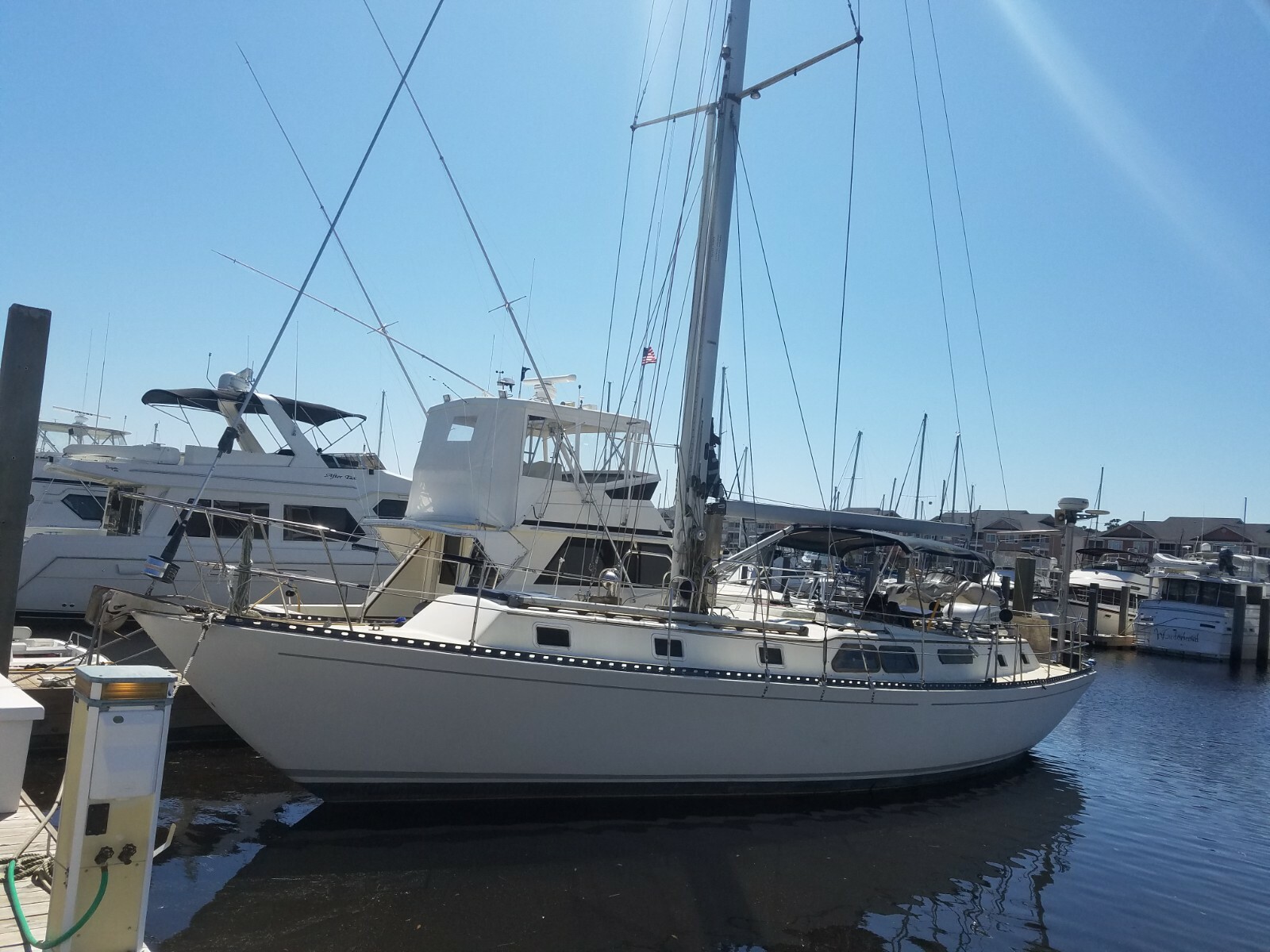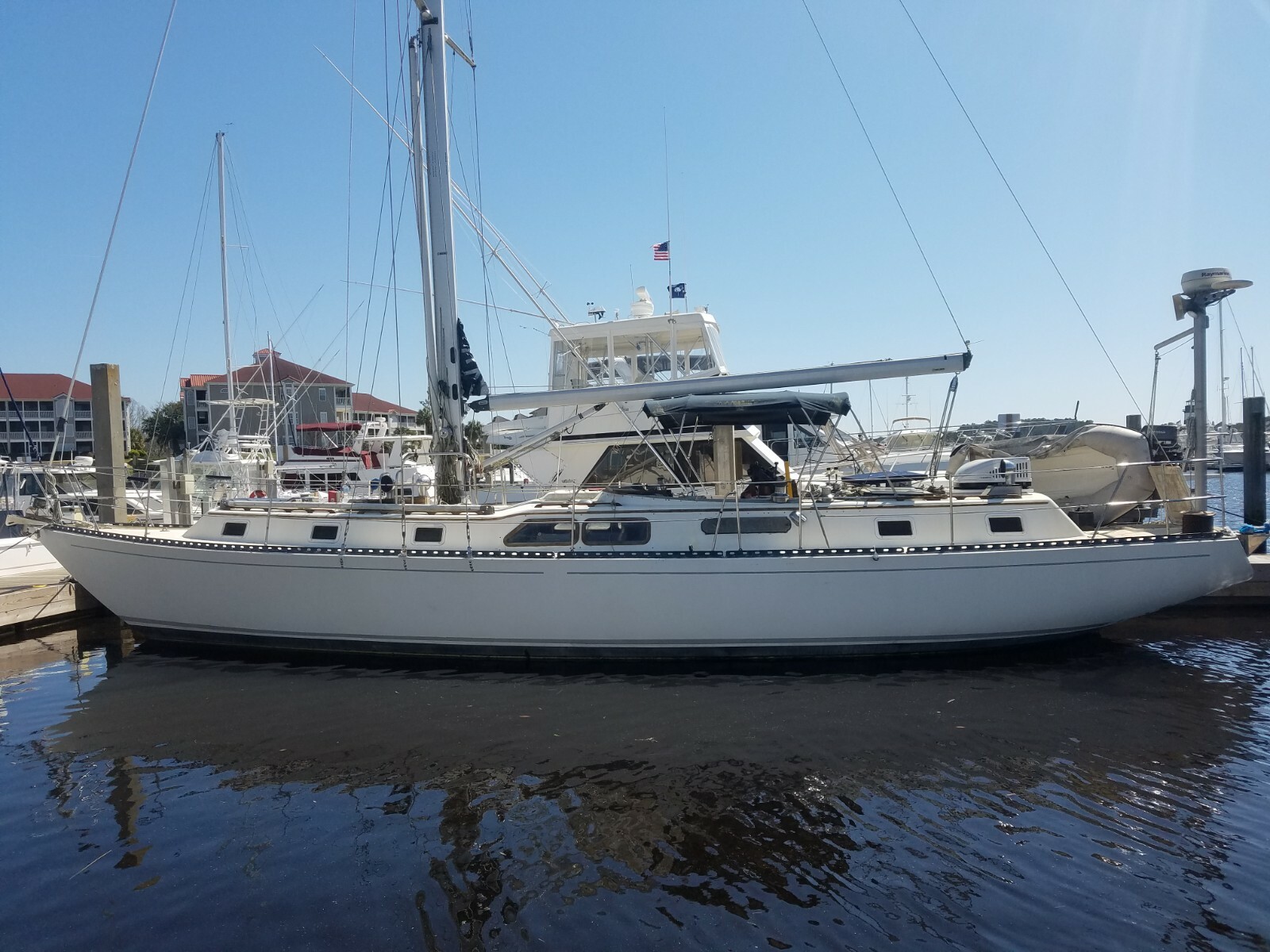 Do you want to see more pictures of this boat? Click Here
I'm basically selling our home.My uncle always said you get a lot of boat for not a lot of money with Gulfstar, and that is definitely true with this boat.Here's the basics:The boat has essentially a new-ish engine with less than 60 hours of use. The engine has been in the boat for 6 years, but doesn't get out much.The mainsail is in great condition and rolls up in the mast. The jib is original and is still holding together, but it is really old. This is a Sloop! It is not a ketch. I know that is less common, but I'm certain this was built as a sloop originally.I believe the mast must have been replaced at some time because I don't think the original had a roller furling in the mast.We've been living on this boat for 2 years and I've owned it for about 5 years. It was a project when I got it.It makes a great live aboard boat, very comfortable and spacious and everything works.It's a beast out in the ocean. She's heavy, has a big fat solid keel, and a strong solid fiberglass hull. Here's a list of good things:Like-new Yanmar 4JH4-TE turbo diesel installed in 2018New ZF30 transmissionnew-ish main sailMast boot replaced 5 months ago and very dry – no leaking.Cleaned the inside of the two diesel tanks in 2018 and installed a small day tank by the engine for extra security and reliability.All pumps on the boat are new: AC water pump, macerator, shower drain pump, bilge pump, freshwater pressure pumpBoth toilets replaced in 2018, Jabsco, work greatNew water heater 2018Two new Air conditioners in 2018: 16,000btu Marine Air Conditioner forward and a Dometic roof-top style 13,900btu air conditioner on top of the rear cabin.All freshwater plumbing worksThere is a great shower in the aft cabin bathroom with a faster no-clog drain and pump.Pretty much all lighting is LED, with most cabinets also having LED lights in themhand-held radioThe dickenson propane stove works great, but the lower oven does not.New propane tanksLots of teak cabinets on this boat.Top bimini is in good conditionAll rigging works, plenty of winches2 100ah agm batteries, and 1 flooded lead engine batterysmall portable generatormini fridge/freezer and microwave still like new The bad things you should know:probably ready for bottom paint – we don't get a lot of growth in the marina we stay at, but she's probably about ready.This is an old boat, so you know, there's good and bad to go with that.Soft spots on the deck. I don't think they're bad, but I weigh 140 pounds.There is some wood damage around the windows where they possibly used to leak, or someone simply left them open during the rain. The windows do not currently leak. The two skylights currently have a very slow drip leak.The floor creaksThe main aft bathroom has an "aroma".The jib sail is original, so it is like really old. I patched a couple very small holes in it and stitched the sunbrella material on real well last year. She still works great, but she is ooooold.No internal genset.No major refridgeration, just the mini fridge.No fancy electronics, just the basics: multiple depth meters, wind direction, compass, etc.The wood has kind of grown over the years, so most doors don't fit the way they did when they were first built. Most cabinets do close correctly. Here is a link to a website for this boat that has a lot more photos and descriptions of the whole boat: (please check it out)https://stjoscience.wixsite.com/gulfstar50 If you're still interested, here's a little more story for you: (please read this before you ask questions, so you don't waste my time)So I bought this boat back in the fall of 2016. The wife and I like living on a boat. It was quite a fixer-upper.Nothing worked, and the brand new engine was just sitting in the engine room without a transmission or even attached fuel lines.Basically, the previous owner abandoned this project with out completing it.I did not get to meet the previous owner. I bought it at a marina where it had been left incomplete. I like to think I got a really good deal.So, I finished the engine install, got a new transmission, and refit the interior: air conditioners, water heater, toilets, and other live-aboard essentials. It took me a while and we finally started living on the boat in late 2018.We live here for a couple months at a time since I travel for work and the family comes with me when I travel.I've sailed it a small hand full of times. Once, my brother and I took this beast 40 miles out into the Atlantic. That was a memorable adventure to say the least. We had 20 to 25 knot winds with gusts close to 30. I had the sails fully open. Rock and Roll.We recently took the boat out in October 2020 for a small day sail. That was right after I did a bunch of stitching on the old jib and added some sunbrella to the tip of the main sail. Everything worked great.The engine room is one of the best parts of this boat. It is huge! Basically, Gulfstar had two floor plans for the 50 ft 1975 sailboats: One had 3 bedrooms and a small engine room, but this one has only 2 bedrooms and a big engine room. I love it. You can't stand up in there, but you can easily work on the engine, the backs of both electrical panels, most water pumps, the battery system and anything else in the engine room. I like to say, "This boat has a true 'Engine Room' instead of an 'engine access panel' like most boats."The engine on this boat is super reliable. It always starts right up. It was new when I got the boat in 2016. Usually, I keep the rpm's around 1800 and it just puts right along. Uses very little fuel.The hull of this boat is the solid fiberglass version. I heard Gulfstar eventually started using a cored hull on later models, but this one is fortunately solid FG.The deck does have a core to it. There are some soft spots on the sides where people get on and off the boat. To me, it's not a big deal. It's not like my foot is about to go through the deck.Most of the interior looks good, but there a plenty of spots that don't look good. There's a little deterioration around a few of the ports, and the floor looks old.We've really liked living on this boat, but we have decided it is about time to become land dwellers. Or family is slightly increasing in size, and eventually this boat will not be suitable for us. Also, we are probably going to re-locate some where else in the US. Overall Summary:This is the boat for some one who wants to live on a boat and go sailing occasionally without spending a ton of $. It's good for two people, but can also work for two people plus a kid. My kid is only 2 years old and it's hard for them to get on and off on their own.I hope some one will buy this boat to live on it. I spent a lot of my time making it "homey".I'm selling it for an asking price in the mid $33k because it is not a great condition boat. Please keep in mind this is not a $60,000 boat that I'm selling for $33,000. This is a $33,000 boat and it looks like a $33,000 boat. That means it is old, and some spots are ugly.BUT, it works, you can live on it, and you can go sailing on this ugly old boat. If you are a person looking for a boat to live on, and you can take care of this boat, then you can shoot me an offer and I might accept it.If you are a person looking for a really nice boat at a bargain price so you can leave it rotting in a marina, please do not try to buy my boat unless you are willing to pay double. lol Please look at my website. Or ask questions. contact details are on the website so you have to look at it to get my details. Good luck.