Sailboat for sale in
Grenada, WI
1985 Wauquiez Hood 38 – MKII
Year: 1985
Make: Wauquiez
Model: Hood 38 – MKII
Type: Bluewater Cruiser
Length (feet): 38
Beam (feet): 12
Hull Material: Fiberglass
Rigging:
Keel:
Trailer: Not Included
Use: Salt Water
Engine Type: Auxiliary
Engine Make: Perkins
Primary Fuel Type: Diesel
Fuel Capacity:
For Sale By: Private Seller
Hull ID Number: LHA381560785
California Prop 65 Warning:
CLICK HERE TO VIEW THE PRICE
MORE DETAILS ON THIS BOAT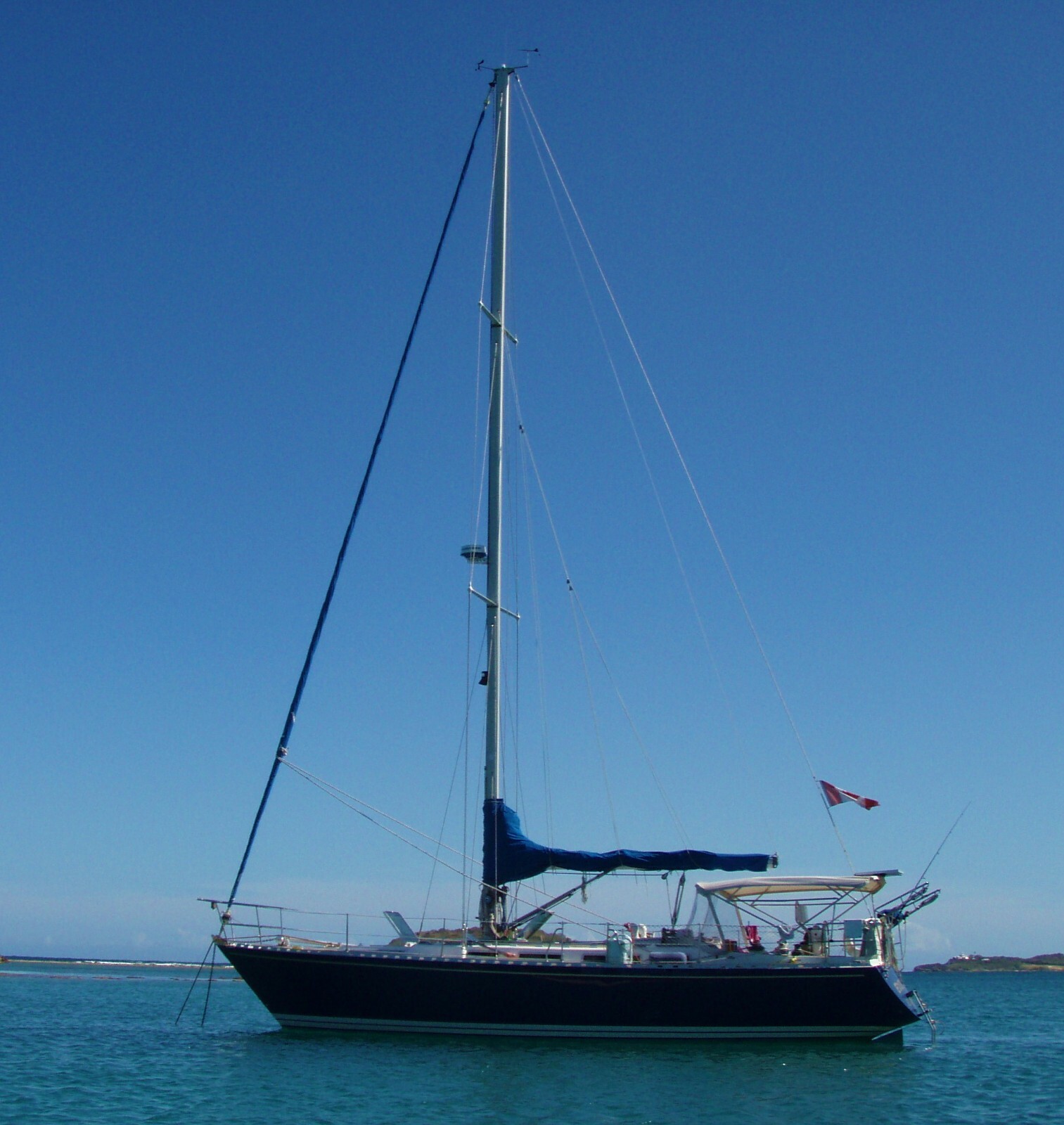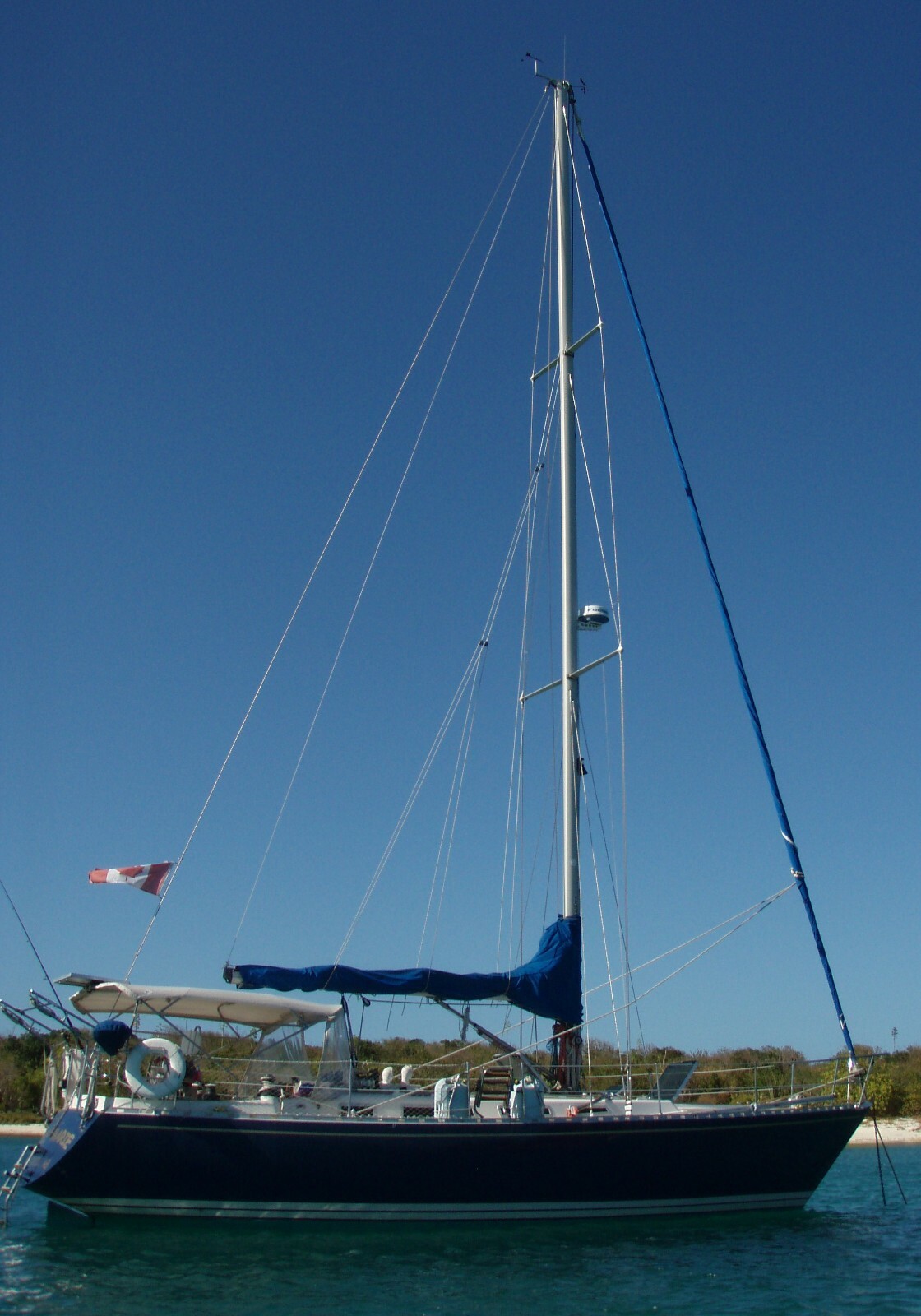 Do you want to see more pictures of this boat? Click Here
Yachts built by Henri Wauquiez have long garnered a strong reputation for exceeding the demands of ardent sailors worldwide. Known for their superior construction and joinery, The Hood 38, designed by Ted Hood, offers an exceptional opportunity for those seeking a fast, "go anywhere", shallow draft cruiser built to high custom standards. The Mark II version offers direct access to the companionway steps from the cockpit and a more spacious layout below. The solid FRP hull, thick gel coat, exceptional tabbing and finish workmanship are all of premier quality. A tall powerful rig offers great light wind (and upwind) performance yet she is stiff, well balanced, and comfortable in a strong blow. These characteristics are what combine to have highly accomplished Navel Architect Robert Perry tell the owner that the Wauquiez Hood 38 MKII "is an exceptionally robust and well built yacht, and is amongst his favorites in this class". After 1987, this successful design went on to be produced in the US as the Little Harbor 38, and the Bristol 38, but the Wauquiez Hood 38 MK II remains the only one to offer the private aft cabin arrangement below. Current Hood 38 listings range from $55000.00 to $85000.00 USD. ITEM LOCATION: Grenada, West Indies / Full-Service Marina – On the Hard / Please review entire listing and information contained in this add before bidding. Do Not bid if you do not intend to buy. This boat is free from any liens and/or encumbrances, has had no claims, and is being sold As is Where is. No Shipping included. It is the buyer's obligation and responsibility to arrange for shipping and/or transportation from its current location including all associated costs. Contact Information: All winning bidders must fill out their buyer information at the end of the auction and furnish seller with working phone numbers. If such contact information is not received, the item will be subject to and eligible for relisting and resale. Winning Bidder Instructions/Terms: Non-refundable deposit is due within 24 hours of auction close. Full payment is due within 7 days of auction end. Payments may be sent via direct deposit, wire transfer, cashier's check, money order, PayPal, or cash (in person only). In the event contact by winning bidder is not made within 24-hours of the end of the auction and/or deposits or payments are not made by the times specified in this listing, the seller reserves the right to re-list and re-sell the item. The seller also reserves the right to re-list the item if the buyer's contact information and telephone number provided from eBay information is incorrect or incomplete. All funds rendered to eBay Motors as per its regulations are considered deposits until the buyer takes possession and/or the transfer of ownership is complete. Unless otherwise agreed, the Seller's terms for transfer are 10 days from the auction end. Delivery: Unless otherwise specified in the descriptive text or via written mutual agreement between the buyer and seller prior to auction end, this item is being sold as is where is. The buyer is solely responsible for arranging shipping and/or transportation from its current location and for all associated costs. If the buyer or buyer's agent does not take possession and/or complete the purchase within the specified time frame, the buyer shall be liable for any costs the seller may incur for storage and/or for moving the item to a longer-term storage facility. Auction Terms: For motor vehicles (eBay motors items which includes watercraft) and real estate, a bid or offer initiates a non-binding transaction representing a buyer's serious expression of interest in buying the seller's item and does not create a formal contract between the buyer and the seller. Winning this eBay auction or transmission by any bidder or buyer by any means whatsoever does not guarantee or promise to the bidder the completion of the sale or grant the buyer any rights not afforded by the eBay terms. No performance or promise of performance to complete sale is implied by the listed seller. Under eBay stated terms, a sale is only completed when item is either physically transferred/delivered by the seller to the buyer or picked up by the buyer or buyer's agent. If deposits are made and seller does not complete the transaction for any reason whatsoever, the seller reserves right to return any and all buyer funds made without recourse without promise or reimbursement of any expenses. Seller also can refuse to accept any funds, even after a winning bid has been made, for any reason whatsoever from any bidder.Unless otherwise agreed to in writing by the Buyer and the Seller, provided the purchase price has been paid and received by the Seller within the specified timelines, the transfer of title to the item as per the Seller's terms for transfer listed above, will occur 10 days after the auction ends ("Closing"). The buyer must take possession on the Closing day. Items left for longer than the Closing date at the storage yard, marina, repair shop, or designated storage facility by the buyer shall be deemed abandoned and shall render any Bill of Sale void except if the buyer, prior to the Closing, enters into a contract for storage with the current marina, storage yard, repair facility, etc. which includes a release by the marina, storage yard, or repair facility in favor of the seller, a copy of which must be provided to the seller prior to the Closing day. In this case, the item shall not be considered abandoned and the buyer shall pick it up on such date as is in his or her determination not subjecting the Seller to any fees after the Closing. Deemed or other abandonment of the item will cause any proceeds paid to the seller to be forfeited and the item shall then be at the sole discretion of the seller to be available for resale.Unpaid Items: If you fail to complete the transaction, or pick up the item from its posted location, or choose to exercise your eBay right and request your deposit to be returned either partially or in full, the seller reserves the right to file an unpaid item case and block you from future auctions. All funds transferred to seller are considered deposits until transaction is complete and ownership transfers. Sale must be completed, and item picked up according to seller's terms within the specified timelines of this listing. Seller assumes no liability for buyer's ability or inability to pick up posted items. All funds rendered to seller according to eBay Motors regulations are considered deposits until the buyer takes possession and/or the transfer of the item is complete. Unless otherwise negotiated and agreed by all parties, the seller's terms for transfer are 10 days from auction end. Warranty: AS IS WHERE IS – NO WARRANTY. This item is being sold as is, where is, with no warranty, expressed written or implied. Seller shall not be responsible for the correct description, authenticity, genuineness, or a defect of any item sold herein, and makes no warranty in connection therewith. No allowance or set aside will be made on account of any incorrectness, imperfection, defect, or damage. Any descriptions or representations are for identification purposes only and are not to be construed as a warranty of any type. Seller shall and will make every reasonable effort to disclose any known defects associated with this item at the buyer's request prior to the close of sale, but this too, shall not be interpreted as a warranty of any kind. Seller assumes no responsibility for any repairs regardless of any oral statements about the item. Taxes and Fees: All applicable taxes or fees associated with the purchase, registration, title transfer, or licensing of this item is the responsibility of the buyer. Auction Cancellation: The Seller reserves the right to notify bidders and cancel this auction and shall not be held liable for any such cancellation. The Seller also reserves the right to refuse to sell to any and all bidders using Auction Sniper programs. Blocked Bidders: If you have been placed on our blocked bidder list and bid using any other user ID, we will not complete the sale. Limitation of Liability: The Buyer understands and agrees to limit the Seller's liability arising from or related to any sale hereunder to the total amount paid by the seller and agrees and acknowledges that the Seller will not be liable for any losses or damages, whether indirect, incidental, special or consequential, in profits, goods or services, irrespective of whether or not the Buyer has been advised or otherwise might have anticipated the possibility of such loss or damage. Governing Law: This Agreement, these terms, and the contemplated sale transaction will be governed by and construed in accordance with the laws of the Province of Alberta and the federal laws of Canada applicable therein. For the purpose of any legal proceedings, this Agreement will be deemed to have been made and performed in the Province of Alberta and the courts of the Province of Alberta will have exclusive jurisdiction to entertain any action arising under this Agreement. Each party hereby attorns to the exclusive jurisdiction of the courts of the Province of Alberta.SELLER NOTICE: Any repeat buyers/bidders are not eligible to make repeat purchases/bids. If you have failed to pick up or move the item within the specified time, or if you have failed to take the necessary steps to allow for transfer of legal ownership within the posted terms and timelines, if you have requested a return of deposit funds or failed to make a timely payment for any reason whatsoever, or if you have no eBay purchase history or a poor buyer rating you will be blocked from purchasing. In addition, if we have received a call/report that you were difficult to work with your account can be blocked from all future purchases. If you attempt a bid, eBay will notify you if your account is blocked. If you use another account to work around any seller placed bidding restrictions, we reserve the 100% right to deny the transaction and return any funds deposited to us through PayPal. We reserve the right to report the transaction as unwanted bidder interference. INVENTORY:This 1985 Wauquiez Hood 38 MkII is being sold by auction on an AS IS WHERE IS BASIS. The boat is a Canadian registered vessel and is currently on the hard in a secure boat yard in the Country of Grenada in the West Indies, Caribbean. The seller makes no representations or warranties as to the current condition of the yacht or to the condition, state, or function or completeness of equipment listed below. The equipment and information listed herein is all the known information about the yacht and was last verified to be aboard the boat in late 2017. The boat has no known insurance claims, has never suffered any major impact, and has never been involved in a named windstorm or hurricane. The boat requires an engine rebuild or repower. The title to this boat is free and clear of any liens or encumbrances, and the seller has complete authority to sell the yacht as listed on this auction site. Specs, Equipment and Information: Builder/Designer: Builder: Henri Wauquiez Shipyard, France Designer: Ted Hood Dimensions: LOA: 38' (11.60m) LWL: 30'5" (9.15m) Beam: 11'10" (3.6m) Displacement: 23,336 (15.5T) Draft: 4'6"/11'6" (1.40m) Ballast: 11,000 (7T) Sail Area: 882.6 sq. ft. Hull Speed: 7.5 Engines: Engine(s): Perkins Engine(s) HP: 50HP Engine Model: 4-108 Tankage: Fuel: 44 USG (SS) Water: 150 USG (SS) Holding: 27 USG Accommodations:Beginning forward, aft of two watertight collision bulkheads, is the large and comfortable V-birth with filler insert. It is trimmed with varnished teak and presents a terrific use of space. This cabin includes divided upper teak storage shelves port and starboard, a large hanging locker and night table/shelf with personal item locker to port. There are two easily accessible large lower storage lockers port and starboard, and a third midline locker currently housing spare sails. Overhead (26"x26") Goiot aluminum framed Lexan escape hatch provides great ventilation and starlight views. Aft of the V-birth to starboard is the marine head, which offers direct access to/from the V-birth and the main salon. It features a Raritan PH II manual head, and ivory colored basin, faucet, mixers, and counters. A teak grate covers the shower pan – which drains via a 12v shower pan pump. There is a Goiot opening hatch, and louvered teak cabinets overtop the head and under the sink. Many port lights and hatches, including a second (26"x26") Goiot Lexan escape hatch overtop the salon table. Most forward to port, are two full length hanging lockers with louvered teak doors, and another end table that sides to the port settee which makes a great sea birth with lee cloth included. Above the port settee is a partitioned storage shelf, and there is further storage underneath/behind the settee. The foot of the port settee acts as the seat for the aft facing navigation station. Forward to starboard, is a U-shaped settee which is ideally suited for dining and entertaining. Partitioned shelving sits above this settee with more storage below. There is a huge teak drop down table which opens to port and starboard and incorporates wine/bottle storage and cup holders. The starboard settee pulls out and converts to a full-size double birth with additional storage below. The private aft cabin is to starboard and aft of the main salon. It offers the skipper or guests a double birth (great sea birth), two huge storage lockers with shelves and hangers, two port lights, and two Goiot opening hatches. There is a personal SS sink, and thru hull valves for a second head if desired. The private aft cabin allows the Wauquiez Hood 38 Mk II to stand out over the Mk I layout. All births and settees are outfitted with "Froli" brand sleep systems, which offer increased support, comfort, and ventilation. -Espar Diesel Heater -Brass Reading Lamps -"Froli" brand sleep systems -Lee Cloths -Cockpit Stereo Speakers -Abundant secure storage -Cockpit VHF Speaker -Brass Clock, Barometer, and Mirror -10 Overhead Lights -Clarion CMD4A AM/FM/CD/iPod/ Sirius satellite ready Stereo. Galley: Aft of the Nav. station to port, and opposite the aft cabin is the L shaped galley which has Wauquiez trademark tile counters. There is a lined and insulated fridge box with Waeco/Alder Barbour 12v low amp refrigerator/freezer with evaporator plate. The space offers an abundance of secure storage. -ENO LPG stove with oven -Double SS Sink -Double SS Propane Locker with Vent & Tanks -Sea and Fresh H20 Foot Pumps -Raritan 11 gal. Hot Water Tank -Waeco Refrigeration -LPG Solenoid -SS Magma LPG Grill -Place Settings for 7 -Pots, Pans, & Small Appliances Hull and Deck: Hull: The hull of the Wauquiez 38 is a solid laminate of polyester resin and is reinforced by way of the centerboard trunk, fiberglass floors, and longitudinal stringers. The 11000 lb lead keel is encapsulated in fiberglass, and the 1000 lb+ centerboard adds to her windward performance. Teak decks show no signs of leaks and no screws showing. Re-calking would provide many more serviceable years. A perforated aluminum toe rail that runs the full-length on port and starboard. Awlgrip on topsides. Bottom was stripped and epoxy barrier coated. No blisters on the underside and the bottom is well maintained – last professionally hard sanded and 3 coats of anti-fouling applied. Ground Tackle: -45 lb (20KG) Bruce primary with 150' of HT chain and 200' rode. -35 lb (16 KG) Simpson Lawrence CQR secondary with 50' 3/8" BBB chain, and 200' rode. -Fortress FX16 stern anchor with 250' ¾" nylon braid rode. -Custom SS double bow rollers with headstay tang and lock pins. -Lofrans manual horizontal winless with capstan and wildcat. -Double deep chain lockers (with overboard drains). -Jabsco 4gpm wash down pump. Rigging, Spars and Winches: Deep comfortable cockpit has a high bridge deck and houses a total of seven winches – two Lewmar 48ST primaries, two Lewmar 46 secondary winches, one Lewmar 40, one Lewmar 16, and one Merriman centerboard winch (oversized SS cable). There are 14 large horn cleats on deck and in the cockpit. Keel stepped Kemp anodized aluminum mast, double air foil spreaders and oversized 1×19 SS wire standing rigging. Braided Spectra halyards run internally with SS exits leading to two mast mounted Lewmar 40's, and one Lewmar 16 with line stoppers and cleats. -Profurl furler mounted on the headstay. -Backstay fitted with a Harken crank adjuster. -Inner headstay for further tuning adjustment. -Kemp anodized aluminum boom. -Rigid Quick Vang. -Harken traveler mounted forward of the companionway. -Triple quick reef system. -Lazy Jacks. -Adjustable reaching Selden whisker/spinnaker pole. -Running rigging. -Spare mainsheet (unused). -Spare Vang (unused). -Numerous other spare lines. Sails and Canvas: -Hood "Vectron" 130% Genoa with turtle bag. -Atlantic Sails battened mainsail with 3 reef points. -140% Genoa. -Hood "Code One" drifter spinnaker with snuffer sock. -Full storm sail inventory (never used). -Retractable Sunbrella Bimini with SS frame and Isinglass panels. -Second SS dodger frame not currently mounted or utilized. Other: -Yamaha 8HP two stroke outboard. -5 gal gas tank with prime bulb and fuel line. -SS Martec Dinghy Davids. -Stern rail engine mount. -Removable engine mounted Nav. -Avon foot pump, dinghy bilge pump, 2 oars, anchor with rode. -5/8' double braid dock lines. -Plastimo steering pedestal with brake. -Twin lever engine controls. -Ship's Compass on binnacle. -Engine panel with tach, temp, key, stop, and alarms. -Teak fold down cockpit table. -Teak cockpit grate covering cockpit sole. -Teak storage shelve for hatch boards. -Custom folding boarding ladder mounted amidships. -Closed cell cockpit cushions. -Hatch screens and wind scoop. -3 high back folding cockpit cushions. -Bosons chair. -Nav. Lights. -Mast mounted steaming and foredeck lights. -Perko SS rail mounted fishing pole holder. -2 cockpit stereo speakers. -2 Fishing Rods/reels. -Sea grade cockpit VHF speaker. -4 Inflatable fenders. -7 Self venting Jerry Cans (H20, Diesel, Gas). Engine and Mechanical: -50HP Perkins 4-108 four-cylinder diesel. -High pressure CAV fuel pump. -Jabsco raw water pump. -Impeller & spares. -44-gal SS fuel tank. -Alternator Belts & spares. -Prop and Shaft Zincs & spares. -Racor Primary Fuel filters & spare filters. -Vetus sea water strainer. -Airsep diesel genset. -Feathering Bronze Maxprop. -Hurth V-drive transmission. -H20 Temp/ Oil pressure gauges with Alarms. Electrical: The electrical system was replaced to ABYC standards from the batteries to and including the breaker panels and battery switch in 2004. -Three group 31 AGM House batteries -One group 27 AGM Start battery. -120 amp Powerline alternator -Aqualine smart regulator -Blue Sea charge divider & battery condition monitor -50' 30 amp shore power cord -Statpower battery charger -50 amp to 30 amp pigtail converter -30 amp to 120v plug converter -Perko 1/All/2/Off Battery switch with lock Electronics and Navigation: -Raymarine ST60 Wind, Speed, Depth. -Raymarine ST4000+ autopilot. -Raymarine replacement autopilot still in the original sealed bag. -Garmin 492 GPS Chart plotter mounted at helm. -Garmin Bluechart G2 vector chart covering Venezuela to Newfoundland, Canada. -Furuno 1721 mile radar. -Garmin GPS 180 Chart plotter at Nav Station, interfaced with Maptech electronic charts. -com IC-M34 waterproof/floating handheld VHF. -Standard Horizon Eclipse+ VHF. -VFH speaker in cockpit. -Paper charts and guidebooks from Venezuela to Canada. -Skymate passive satellite communication and monitoring system* *The Skymate satellite allows detailed weather reports to be received, and emails to be sent and received from anywhere in the world while at sea. Skymate will also generate and send position reports, monitor and report bilge levels, battery levels, and shore power connections when you are not aboard, and allow a distress signal to be sent from anywhere – subscription required. Safety Equipment: All Canadian Coast Guard/Department of Transport required safety equipment is aboard, plus: -Category II ACR 406 EPIRB -Flare kit -3 fire extinguishers -Jacklines – run bow to stern -Double SS lifelines -Life Ring with Strobe Light -Lifesling MOB retrieval -Life vests & harness with tethers -Bosuns chair -Ships Bell -Horn -12v high output search light -Blooper radar reflector -Nav. Lights -3 manual Bilge Pumps -Custom mounted folding Boarding Ladders amidships and at transom These terms and written terms agreed to in writing regarding the sale hereunder constitute the entire agreement of the Buyer and the Seller. Other than these terms and any terms of sale which are expressly agreed to in writing by the Buyer and the Seller, there are no representations, warranties, terms or otherwise which form part of this agreement. Any amendments to any of these terms or the sale shall be in writing agreed to by the Buyer and the Seller and no amendments shall be validly made otherwise. Please READ THE ENTIRE LISTING before bidding or sending questions. Most questions being asked are answered in the details of the listing or in the inventory list provided. If you don't receive a reply to a question, it is because the answer is in the listing, or the answer is unknown. Due to volume of questions asked, replying to each message separately is not possible. The boatyard is not the seller's listing agent – this is a private sale. General information about fees charged by boatyards in Grenada for storage or services for budget purposes are readily available on the internet or by calling or emailing boatyards directly. The boat is currently stored at a Secure Full service boatyard. *I do not know: how long a flight it is from your location, or the cost of flights, or what airline to use, or what COVID travel restrictions between different countries are, or what the currency conversion is from one currency to another. *I can not say: "what work needs to be done to the boat", as this is subjective and what one sailor finds important, another may not. *I do not offer financing – this is a cash sale and full payment is due as outlined in the listing terms.*If winning buyer wants an inspection prior to the Closing date / transfer of ownership, this can be arranged by the buyer, at the buyer's cost, in advance of the seller's terms for transfer outlined above.*I will not accept private offers extended via email, or outside this eBay listing.